Best Pokemon GO spoofers for iOS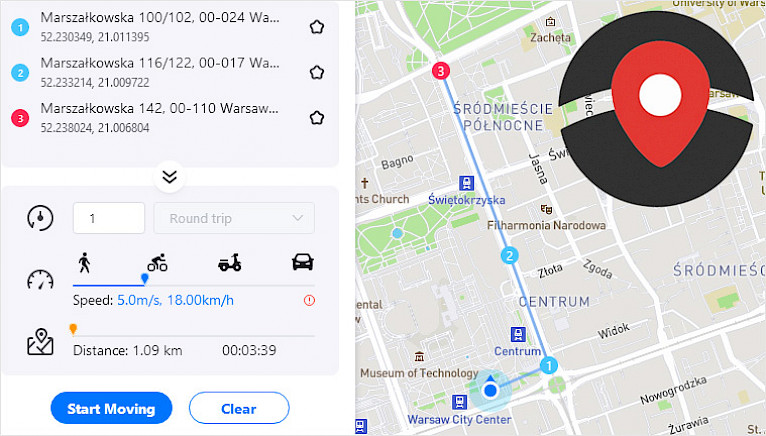 iSpoofer for Pokemon Go was the most popular spoofing app for iOS that added a lot of useful features to the official Pokemon Go app available in the App Store. One of the most appreciated features of the tweak was the option to teleport to spoof your location.
iSpoofer was the must-have mod for POGO players. It allowed you to use a joystick for walking around the map, scan in real-time the availability of Gym Slot, simulate walking, cycling, or driving movement without the need to leave your home, teleport to any GPS coordinates, etc.
The POGO spoofer for iOS was released in two editions: Free and Pro. iSpoofer Free offered features such as Joystick, Teleport, IV list, Encounter IV Checker, Enhanced throw, and Auto-Generate GPX. While iSpoofer Pro added more features including auto-walking, Pokemon nearby radar, nearby Gym Slots scanner, coordinates feed radar, or fast catch trick.
iSpoofer for Pokemon Go was forced to shut down in connection with a lawsuit, but there are other tools that you can use as a Pokemon Go Spoofer. Some of them work on iDevices, others require a computer. Below you can find the list of the best iSpoofer Alternatives for iOS.
Pokemon GO spoofer apps
iPogo for Pokemon GO
iPogo is one of the best, and definitely most popular, iSpoofer Alternatives for iOS. Use this Pokemon Go Spoofer to teleport to any place on the map, change the speed of moving, create favorite routes, activate enhanced throw, enable Go Plus, Fast Catch, and Stats Inventory, and hide elements from the main screen like shortcuts, joystick, buttons, spoofing, etc.
What's more, activate dark mode for the interface, display the feed of Pokemon, Raid, and Quests, and include the map. There are a lot of options to configure. With iPogo is easy to feed locations of PokeStops including Grunts, Pokemon, Items, Stardusts, and Mega Energy points.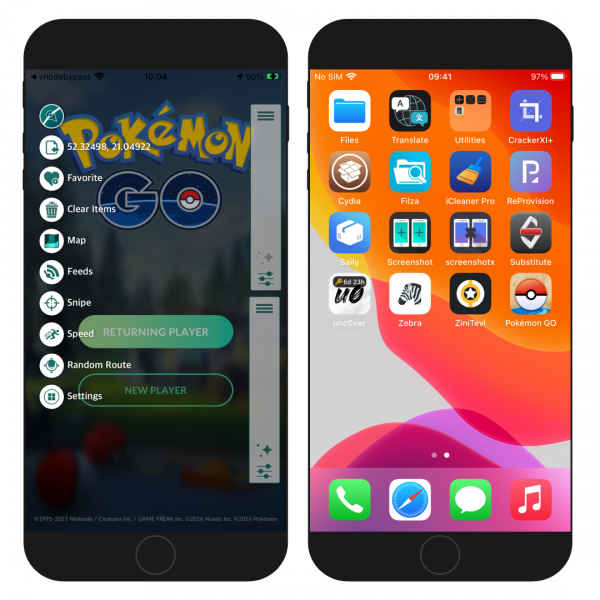 Select a PokeStop like a Pokemon see the distance from your location, and tap to auto walk to its actual place or teleport there. There are over 60 Pokemons locations available including Ferroseed, Mantine, Snubbull, Eevee, Squirtle, Spearow, and Vulpix. Bulbasaur and Pikachu.
iPogo for Pokemon GO is highly inspired by the iSpoofer app. The tweak offers similar features and on top of that, it offers also a tweak that allows you to run its all features on a jailbroken device. iPogo tweak is available for free as an IPA package but there is also a paid VIP version with more features available. You can also install the POGO Spoofer for iOS without a computer.
Official website: ipogo.app
SpooferX for Pokemon GO
SpooferX is another on-device Spoofing App for iOS and Android that allows you to simulate movement or teleport to any location for the Pokemon GO app. This iSpoofer Alternative for iOS is packed with a lot of powerful features you could find in the original spoofing app.
It works with all devices running iOS 13, iOS 14, and iOS 15. Jailbroken devices are also supported. Everyone in the Pokemon GO community knows the iSpoofer for POGO, which was canceled. Today we have a few alternatives offering similar options such as SpooferX.
Use SpooferX for Pokemon Go to set fake GPS coordinates in the game, teleport to any region of your city or change the location to any place on Earth. There is also an option to move with a joystick. The free version allows you also to change user speed when virtually walking, display IV Previews, Curve Ball, and enable modified throws (Normal, Nice, Great, Excellent, Random).
Spoofer Pro version of this Pokemon GO iOS Spoofer comes with a lot more features. These include block Non Shiny and Non Hundo, Fast Catch, Freeze Pokemon, Pokeball Settings, Spawn Booster, Remove AR Scan Quests, Remember Last Ball, use My Ball - Poké Ball, Great Ball, or Ultra Ball, PokeX, and Nearby Live Feed, Cooldown Warnings, Virtual Go Plus, and more.
Official website: spooferx.app
3. iToolab AnyGo
AnyGo is a win/mac based product. Connect the PC terminal and the mobile terminal together so that AnyGo can offer a very stable virtual locating feature. He will also be a fantastic iSpoofer substitute for iOS. You can use AnyGo to modify your iPhone's GPS location without jailbreaking it, and of course he can modify the location on many devices.
AnyGo includes a lot of unique features, including the ability to simulate motion speed, create a custom motion cycle, import GPX files, use Spoof over Wi-Fi, use Realistic Mode, and more. With the robust privacy protection features offered by AnyGo, application tracking is better avoided. You may alter your location while sharing on social media, and AnyGo can also improve your game experience.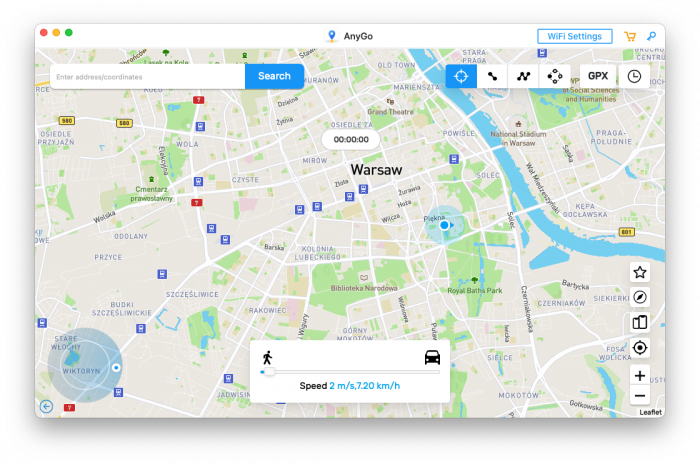 In terms of price, AnyGo chooses a more affordable price. Compared to Dr.Fone Virtual Location, Tenorshare iAnyGo, AnyGo brings better features at a lower price.
Official website: AnyGO
3uTools Virtual Location
3uTools is an iPhone Helper offering a lot of features such as managing files, downloading apps, installing IPA files, flashing iOS firmware, jailbreaking iOS, and more. One of the tools available in the app's toolbox is VirtualLocation. Use it to Spoof the location as in iSpoofer for Pokemon GO.
VirtualLocation tools in 3uTools can be used to change the GPS coordinates globally on the iOS system. This way you can teleport to any location in your city or in the world without modifying the POGO app itself. This feature requires you to connect your iDevice to the computer via USB.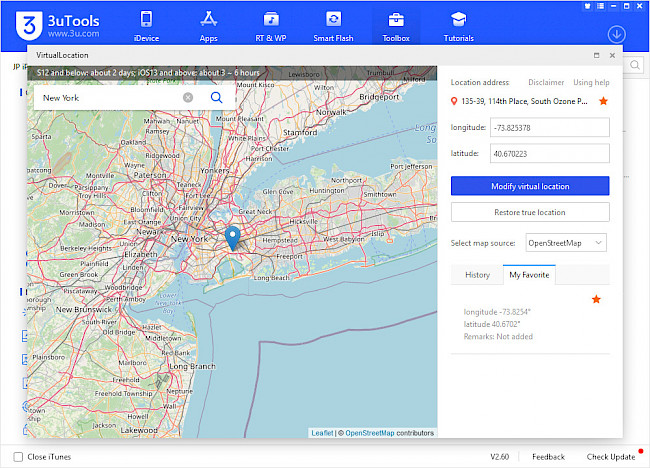 Setting a virtual location with 3uTools is not permanent. When you running on iOS 12 and below the new GPS coordinates will work for 2 days. iOS 13 and above allow you to set a fake location only for 3-6 hours. The same feature is available in i4Tools iPhone Assistant.
Use the map to find the desired location, or enter exact longitude and latitude coordinates. Tap on modify the virtual location button to apply changes. Please be aware, that this feature isn't safe to use on long distances that you can't reach in 3 hours. I would recommend using this kind of software to move a couple of miles from your real location.
Official website: 3u.com
Dr.Fone Virtual Location
Dr.Fone Virtual Location is a paid application for Windows and macOS allowing you to play Geo-Based Games such as Pokemon GO without going outside. This is a great Spoofer for POGO that doesn't modify the app itself but rather it changes your location live on the device.
Unlike 3uTools, this app comes with security features to move from your location without going outside. Select the destination on a map, or provide GPS coordinates and define if you want to walk, or drive with a car or bike to the selected location. Select the moving speed and watch on the screen how you are changing your position in the POGO app.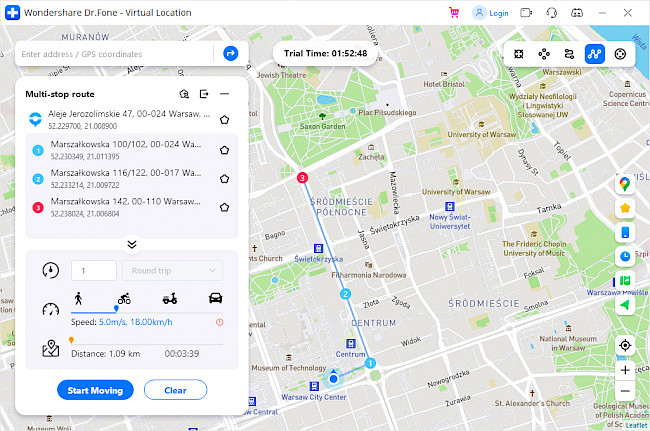 Virtual location can well meet the needs of iOS users, such as games, social media, etc., and it is simple and effective, without jailbreak. It supports one track route. Set the default start and end location on the map, then the GPS will move according to the automatically generated real route to help the game users complete different tasks.
On top of that, you can plan a route by selecting multiple spots on the map, then the GPS will move along with different simulated speeds, like walking, cycling, driving, etc. Use Joystick to simulate GPS movement flexibly for more fun in AR games. Dr.Fone Virtual Location is fully compatible with the latest iOS 15 and Android 12. Great iSpoofer Alternative.
Official website: drfone.wondershare.net
Tenorshare iAnyGo
iAnyGo is a Desktop app that allows you to play safely Pokemon GO without moving. This is an excellent iSpoofer Alternative for Windows and macOS packed with a lot of features to play your favorite game without leaving your home. This is a paid software with support for iOS 15 and the possibility to change locations for up to 15 devices. Tested also on iPhone 13/13 Mini/13 Pro Max.
It works with all location-based apps including Pokemon GO. Use the GPS joystick to control the direction of movement flexibly. iAnyGo provides two types of route planning. This is useful when your location-based game requires you to go outside but you just want to stay at home.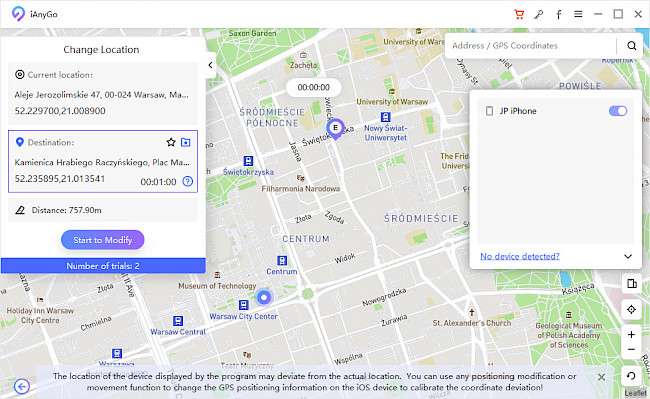 iAnyGo comes also with a few more advanced features such as Cooldown Timer, Joystick Movement, Historical Records, Import GPX File, Adjustable Moving Speed, and setting Fake GPS on Pokemon GO. The Cooldown Timer, known from the iSpoofer, prompts you not to change your iPhone location too frequently.
With iAnyGo location changer, you can change your location on your iPhone with only 1 click. This enables you to move anywhere in Pokemon GO without actually walking. Depending on the selected speed of movement you can simulate walking, running, cycling, or driving a car.
Official website: tenorshare.net
Relocate Reborn
Relocate Reborn is a free jailbreak tweak allows you to change the GPS location override globally in the system or only in selected apps. Once installed, you can use it to teleport to any location on Earth in the official Pokemon GO app. What's important, the tweak doesn't modify the app itself. All changes are added to the system.
Relocate works in two modes Global and Application override. You can set the fake GPS locations on your iPhone globally in all apps, or on per-app basic. Simply enable the override, select a location on the map, and save it to start working. Jailbreak required!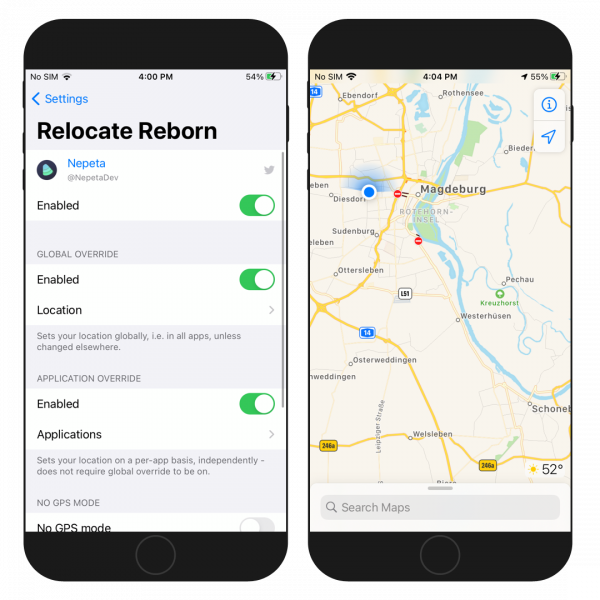 There is also a built-in search to spoof specific GPS coordinates and change the altitude (m). What's more, in the Relocate repository is also available a Relocate Module to toggle the tweak from the Control Centre. It allows you to switch quickly between locations.
Relocate Reborn works only on jailbroken devices. Because Reborn is a jailbreak tweak it works natively on your device without connecting to any VPN server. It hooks into the system changing the GPS data. This iOS Spoofer is a great alternative for the iSpoofer app.
Official website: repo.stkc.win
Sponsored links
Post a comment