iSkip is a free checkm8 iCloud Bypass for iOS 15 - iOS 16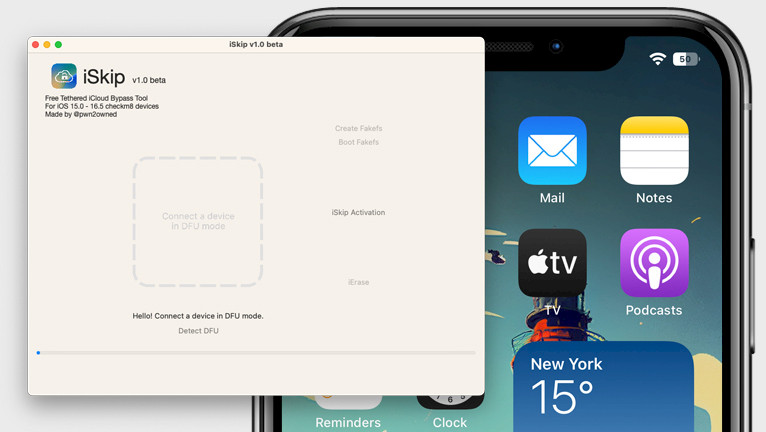 While there are numerous paid iCloud Bypass tools for iOS 15 – iOS 16 available that promise to remove the activation screen or activate the device's signal, it's important to exercise caution before making a purchase. Some of these paid solutions could be fake or fail to work after payment. iSkip is a free iCloud Bypass for checkm8 devices.
Download iSkip iCloud Bypass for iOS 15.0 – iOS 16.5:
What is iSkip?
iSkip is the newest iCloud Bypass tool available for iOS 15 to iOS 16.5, created by Mr. Creator. With iSkip, you can now remove the activation screen on all checkm8 devices with ease. This free tool has been released for both macOS and Windows PC, but keep in mind that the two versions require differently approach depending on the platform you are using.
It's important to note that iSkip is only compatible with older devices running on A9 to A11 SoC. Additionally, the tool only provides partial activation and does not enable the signal. However, what sets iSkip apart is its ability to bypass the new Apple server-side patch, making it an indispensable tool for those looking to bypass iCloud activation on their compatible devices.
iSkip uses palera1n app to jailbreak your device and execute all required scripts and hacks to remove the Activation Lock Screen from your iPhone. While using iSkip for macOS the jailbreaking process is automized, using the tool on Windows it requires you to jailbreak the device using palera1n-c before bypassing the iCloud Activation Screen on your iPhone.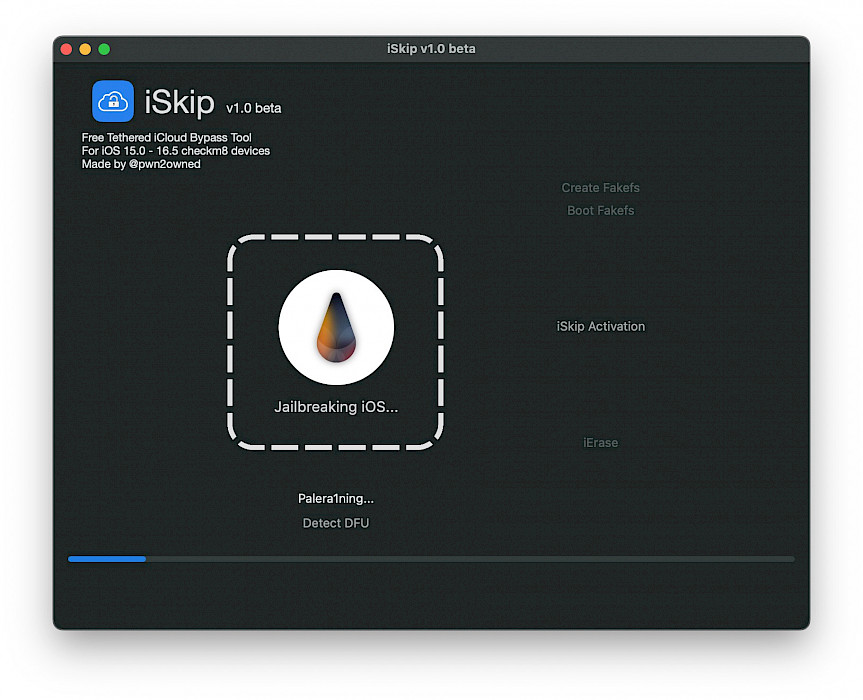 Warning: It is important to note that bypassing iCloud security measures using iSkip is not ethical and could potentially compromise user data. Additionally, such activities may be illegal and could result in consequences for those who engage in them.
The recommended method to jailbreak your device from a Windows PC is by using the Palen1x Live USB drive. It contains a compact Linux distribution of approximately 25 MB, designed for jailbreaking iOS devices using the new palera1n-c jailbreak, also from a PC. Once the jailbreak process is completed (create fakefs, boot) use iSkip for Windows to activate the device.
While iSkip is similar to other iCloud Bypass tools, it's not compatible with devices newer than the iPhone X. However, if you have a locked iPhone 5 up to iPhone 8 or iPhone X, iSkip can be used to bypass the Activation Lock screen and gain access to the Home Screen.
iSkip is specifically designed for checkm8 devices running iOS 15 up to the latest iOS 16.5. It's important to note that the tool does not support SIM bypass, meaning that there will be no service available. While the Activation Lock Removal process is simple, it does require a basic knowledge of using Palera1n-c to jailbreak your device and entering DFU mode.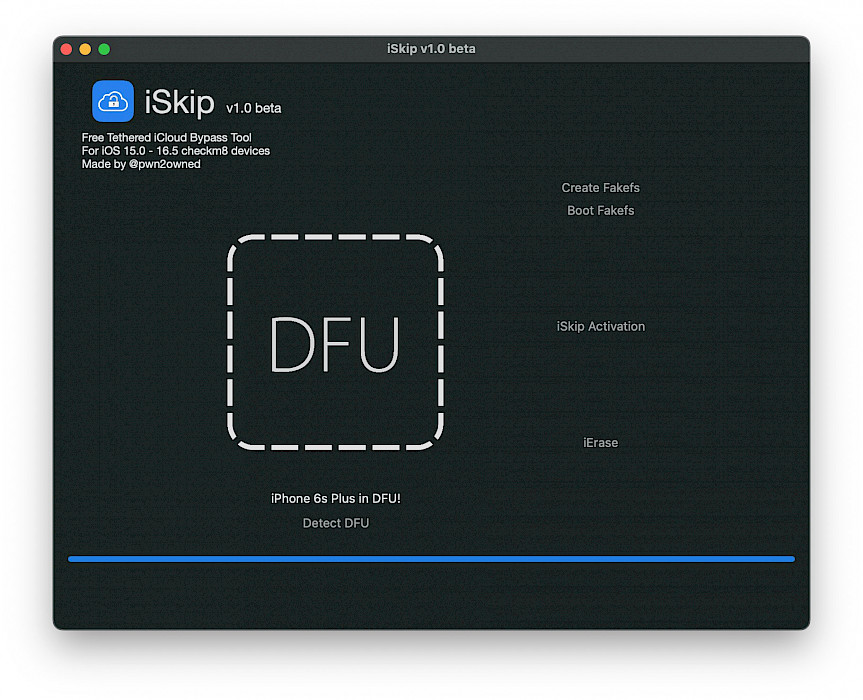 If you are having trouble removing the iCloud Activation Lock, you might consider using the iRemoval PRO iCloud bypass tool for Windows. It's based on the checkra1n jailbreak and is compatible with iOS 12 through iOS 16. Unlike iSkip, it offers full signal support on iOS 16.
Supported devices
iSkip is compatible with all systems on a chip (SoC) of A11 and below. The following iPhones are known to work with the iCloud bypass tool, which has been thoroughly tested and proven to be functional without any issues on iOS 16. While iSkip is currently available for macOS and Windows, it's worth noting that on a PC, you will need to jailbreak your device separately.
for iOS 16.0 – iOS 16.5
A11 – iPhone 8, iPhone 8 Plus, and iPhone X.
for iOS 15.0 – iOS 15.7.2
A9 – iPhone 6S, iPhone 6S Plus, iPhone SE, iPad (2017) 5th Generation.
A9X – iPad Pro (12.9 in.) 1st generation, iPad Pro (9.7 in.).
A10 – iPhone 7 and iPhone 7 Plus, iPad (2018, 6th generation), iPad (2019, 7th gen).
A10X – iPad Pro 10.5" (2017), iPad Pro 12.9" 2nd Gen (2017).
A11 – iPhone 8, iPhone 8 Plus, and iPhone X.
How to use iSkip to bypass iCloud
iSkip is an activation tool based on the Palera1n Jailbreak. The macOS version of iSkip comes with prebuilt Palera1n-C, whereas on Windows, you will need to jailbreak your device using a Palen1x Live USB drive. This USB dongle can be booted from a PC to jailbreak your device before. Next, you can activate the iCloud Bypass for iOS 15 and iOS 16 using iSkip.
Tip: Just boot fakefs or have the system jailbroken rootful, and then you can use iSkip to activate iDevice. If rebooted, boot fakefs using palera1n-c jailbreak for iOS 15 – iOS 16. Detailed instructions how to run the app and jailbreak are available in the readme file.
Jailbreak and create fakefs (Palen1x USB or macOS).
Boot fakefs (Palen1x USB or macOS).
Use iSkip Activation feature (Windows or macOS).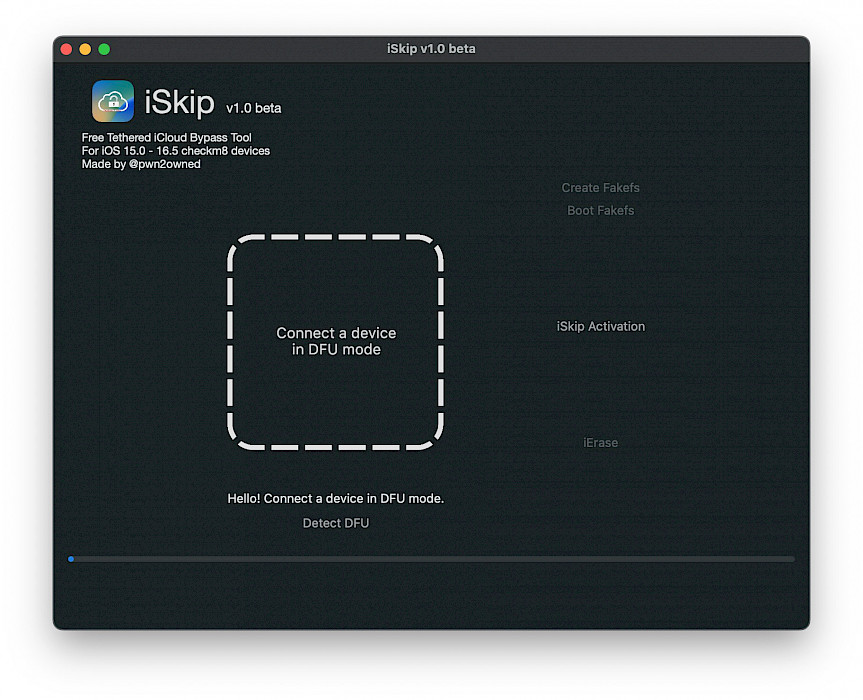 Troubleshooting
If you receive an error message that reads "Unhandled exception was occurred in your application. If you click Continue, the application will ignore this error and attempt to continue. If you click Quit, the application will close immediately. scp: / usr/ libexec / mobileactivationd: Read-only file system." it's likely that you failed to create and boot fakefs.
This error will occur for those who are using rootless jailbroken on their devices.
What's new
Initial release of iSkip Beta 1.0 for macOS.
Initial release of iSkip Beta 1.0 for Windows.
Added bypass for the new Apple's server side patch.
Overall improvements and bug fixes.
Sponsored links
Post a comment