iRevive is a passcode bypass tool for iOS 12 - iOS 16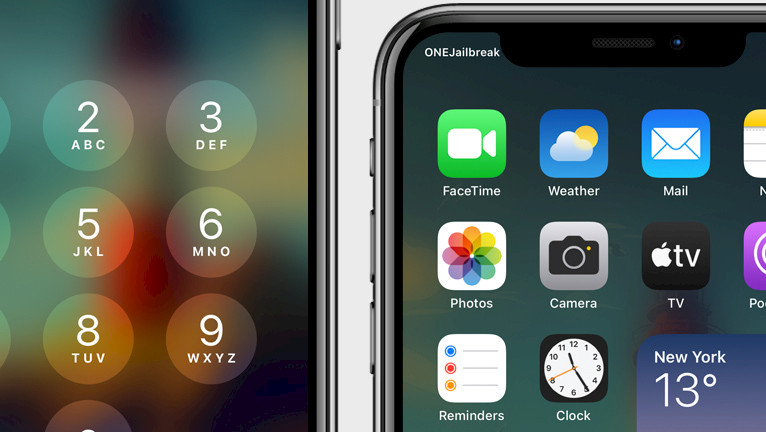 The passcode feature on iOS serves as a safeguard and additional layer of protection against unauthorized access by a third-party to your iPhone. However, tools like iRevive provide the capability to bypass the passcode on iPhone 6S to iPhone X running iOS 12 to iOS 16 by utilizing a jailbreak method and executing specific scripts.
What is iRevive?
iRevive is an innovative passcode bypass tool designed specifically for iOS 12 to iOS 16, leveraging the power of checkra1n and palera1n jailbreaks. By utilizing the robust checkm8 exploit as its main engine, iRevive exclusively caters to Apple devices powered by older A9 to A11 SoC processors. Be aware that this isn't a bypass Activation tool for iOS.
The passcode on iOS serves as a security measure to protect the data and personal information stored on the device. It acts as a barrier that prevents unauthorized access to the device. By setting a passcode, users ensure that only individuals who know the correct passcode can unlock and access the device, its apps, messages, photos, and other sensitive data.
iRevive is designed with the objective of bypassing the passcode and circumventing the additional layer of protection, granting users unauthorized access to the device's Home Screen and all installed apps. This tool uses palera1n or checkra1n to boot the device with multiple patches. On first run, it'll boot a ramdisk which dumps your onboard blob, creates a fakefs, installs the loader app, and patches your kernel. iRevive was released for macOS and Linux.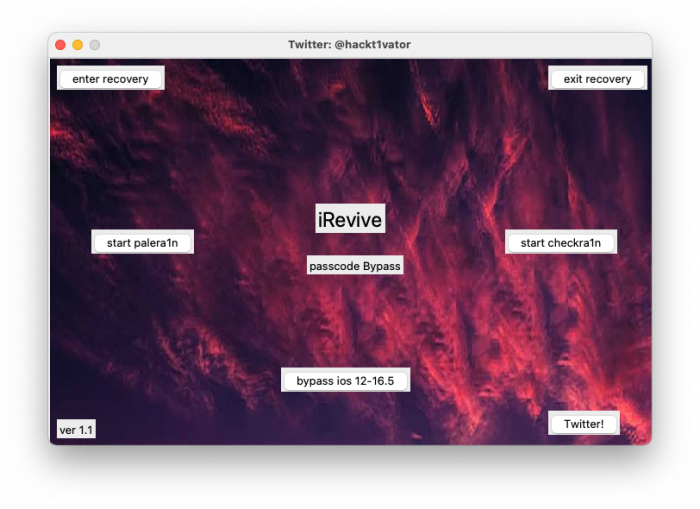 iRevive is designed to operate with well-known jailbreaks that utilize the checkm8 exploit, thereby restricting its compatibility solely to A9 to A11 devices running iOS 12 – iOS 16. Everything released between iPhone 6S and iPhone X is compatible and allows you to bypass the passcode security feature on iOS. This is not an iPhone Activation bypass.
Newer devices like the iPhone 14, iPhone 14 Pro, iPhone 13 Mini, iPhone 13, iPhone 13 Pro, iPhone 13 Pro Max, iPhone 12, iPhone 12 Pro, iPhone 12 Mini, iPhone 12 Pro Max, iPhone 11 Pro, iPhone 11, iPhone 11 Pro Max, iPhone XR, iPhone XS Max, and iPhone XS are not currently supported by iRevive and will not be supported in the future.
iRevive was developed by Hackt1vator and introduced as an open-source project released under the GPL-3.0 license. All files associated with iRevive can be found on its dedicated GitHub Repository. The source code of this free passcode bypass tool for iOS 12 to iOS 16, is built using the Python programming language and leverages shell commands to execute various exploits.
Supported devices
iRevive is a passcode bypass tool for iOS 12 – iOS 16 with support for all checkm8 compatible iPhones. Be aware that, some models require a DSCD cable that allows communication between a computer and an iOS device in order to access the device's file system.
Supported iPhones
| | |
| --- | --- |
| SoC | Device |
| A6 | iPhone 5, iPhone 5C |
| A7 | iPhone 5S, iPad Air, iPad Mini 2, iPad Mini 3 |
| A8 | iPhone 6, iPhone 6 Plus, iPad Mini 4 |
| A9 | iPhone 6S, iPhone 6S Plus, iPhone SE |
| A10 | iPhone 7 and iPhone 7 Plus |
| A11 | iPhone 8, iPhone 8 Plus, and iPhone X |
Download iRevive
iRevive passcode bypass tool, designed for iOS 12 to iOS 16, is currently available for download on macOS and Linux platforms. However, it should be noted that there is no Windows version available, and it appears that there are no plans to release one in the foreseeable future. To utilize this script, it is necessary to install Dependencies of Silver on macOS and Linux.
Download iRevive for macOS or Linux, from the links provided below:
How to bypass passcode on iOS
To ensure smooth functioning of the iRevive passcode bypass tool for iOS 12 to iOS 16, a few preparatory steps are necessary. On macOS, install certain dependencies and grant trust to the app. For Linux users, it's recommended to follow the instructions provided in the included README file, which will guide them through the process of executing python3 commands.
To install iRevive on macOS, follow those steps:
Install the Dependencies of Silver from command line tool.
Extract ZIP and drag and drop the iRevive.app to the Applications folder.
Open terminal and execute commands to allow the app to run on macOS:


sudo xattr -r /Applications/iRevive.app
sudo xattr -rd com.apple.quarantine /Applications/iRevive.app
sudo xattr -d com.apple.quarantine /Applications/iRevive.app
sudo xattr -r com.apple.quarantine /Applications/iRevive.app
chmod 755 /Applications/iRevive.app

Open the iRevive app from the Applications folder.
Follow the on-screen instructions to jailbreak.
When your device is jailbroken click on the "Bypass iOS 12 – iOS 16".
Save the activation files and restore them after iTunes restore.
What's new
Updated to version 1.1.
Fixed connecting issues.
Added detection if files were successfully saved.
Added README file.
Added passcode bypass support for iOS 12 – iOS 16.
Sponsored links
Post a comment