IAPStore rootless in-app purchase cracker for iOS 15
Many apps in the App Store appear to be "free" but require in-app purchases to unlock even basic features. It simply not fair. In this case, the IAPStore tweak can be particularly useful as it cleverly emulates an authentic transaction within an official App Store app to test if those features are even worth it. IAPStore rootless supports Fugu15 Max.
What is IAPStore?
IAPStore is a jailbreak tweak that enables users to bypass in-app purchases in applications downloaded from the App Store. Although the add-on interface is currently only available in Chinese, using the tweak is a straightforward process. IAPStore rootless was designed for Fugu15 Max (Dopamine) running iOS 15 – iOS 15.4.1, and it's a great alternative for Satella.
Once installed IAPStore tweak adds a dedicated preference pane to the Settings app, providing you with full control over apps to crack. From here you can access the instructions for the tweak and enable in-app purchase injection into selected apps running iOS 15 and newer.
IAPStore tweak can crack only some of App Store apps. It's crucial to keep in mind that for IAPStore's iAP purchase crackers to function effectively, the targeted app must be vulnerable to local purchases. iAP stands for "in-app purchase." It refers to the ability to buy additional content or features within an application after it has been downloaded.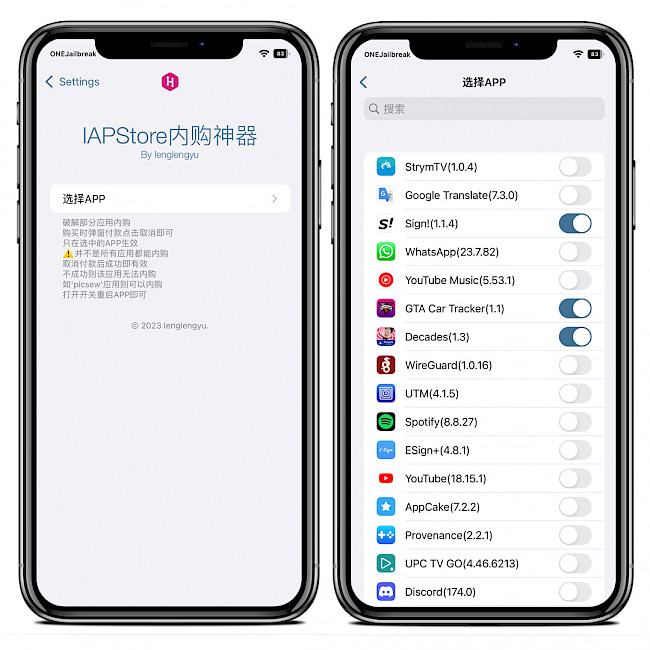 To hack some in-app purchases using IAPStore first enable the targeted mobile application in tweaks settings and restart the app. Next tap cancel on the pop-up payment when purchasing a feature or additional content inside the targeted app. The purchase will be valid after successful cancellation of payment. If it is unsuccessful it means that the app is not supported.
Info: IAPStore was tested by the developer on the Picsew app available in the App Store. It is provided for educational purposes only, and only you are responsible for any illegal actions taken with the use of this iOS in-app purchase cracker.
Alternatively, If you have a rootful jailbreak on iOS 12.2 up to iOS 16, you may want to consider trying Satella as an alternative option. This highly efficient iAP purchase cracker for iOS is compatible with all the latest jailbreaks, including unc0ver, checkra1n, palera1n, and more.
Furthermore, Satella also provides a Satella Jailed package that can be injected into any IPA file and sideloaded on your device, even without a jailbreak. This feature allows you to enable in-app purchases without the need for a jailbreak. It works with iOS 12 up to iOS 16.
Add Repository
IAPStore rootless in-app purchase cracker was released a free package available for download from the private Lenglengyu Repository. Add IAPStore for iOS 15 Repo to your package manager and install the tweak. To enable in-app cracker in an app you must activate injection into the app from tweak's settings. IAPStore was designed for rootless jailbreaks such as Fugu15 Max.
To install IAPStore tweak on iOS 15, follow those steps:
Open the Sileo app from the Home Screen.
Tap on the Sources tab, then select Edit.
Add the following repositories URL:


https://lenglengyu.com/

Install IAPStore tweak from the newly added Repo.
Respiring your iPhone to apply changes.
Access IAPStore tweak preferences form Settings app.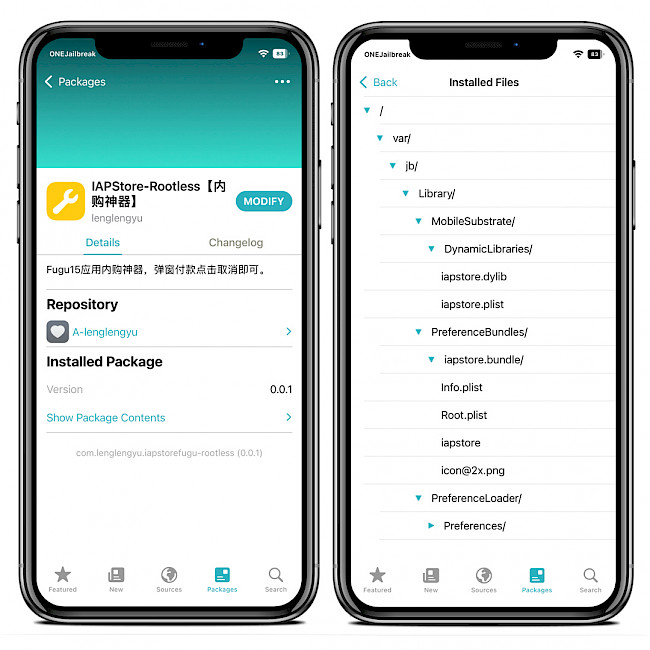 For added convenience, you can quickly add the repository to your preferred package managers (Cydia, Sileo, Installer, Zebra) by using the convenient quick links provided below. With just one click, you can easily add the repository and download IAPStore tweak.
What's new
Initial release of IAPStore tweak.
Sponsored links
Comments
Post a comment