HalFiPad

qbap |
Cydia Tweaks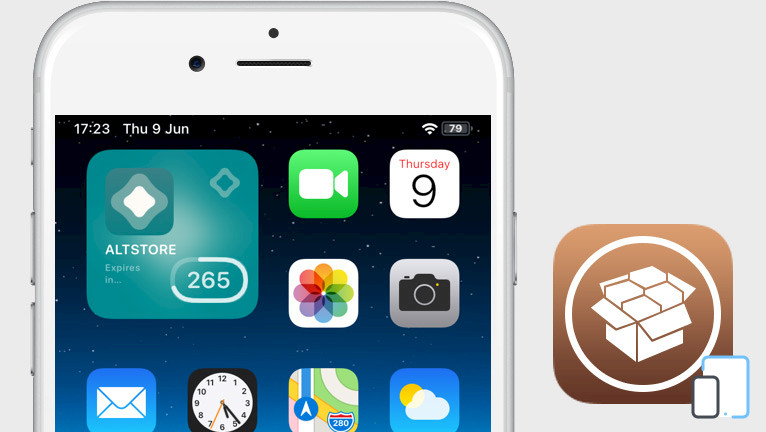 The older iPhone interface looks ancient and it may not be the most attractive to use in those days. Thanks to HalFiPad tweak you can change it and add many unique features to your device by installing useful hacks to the status bar, dock, app switcher, etc.
Add HalFiPad Repo to your package manager.
What is HalFiPad?
HalFiPad is a jailbreak tweak that brings modern gestures and a lot of new features to your jailbroken iPhone. The tweak was designed to work on all modern jailbreaks running iOS 13 and iOS 14. HalFiPad can customize gestures, status bar style, keyboard, battery, and more.
After installing the HalFiPad tweak on your device, a dedicated preference pane will get added to the Settings app where you can customize the system features to suit your needs. The design of the tweaks settings page can repeal, but it offers some amazing features to activate.
From here, you can toggle HalFiPad on or off on demand and respring your device to save the changes you make. There are options to change the gesture style from Original to Modern, Left, Right, and Miniature (similar to iPhone X gestures). You can also disable all gestures.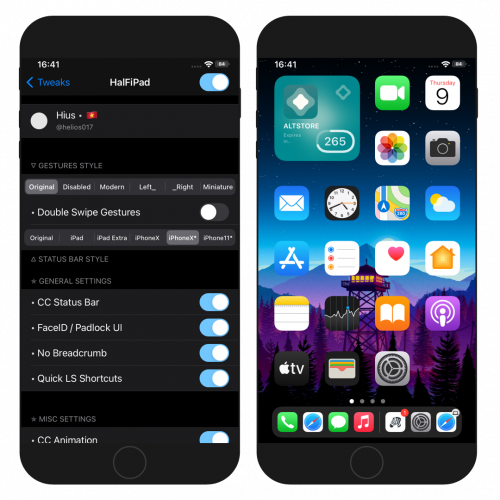 With HalFiPad it's easy to change the look of the status bar of your iPhone. There are five status bar styles available: iPad, iPad Extra, iPhone X, iPhone X*, and iPhone 11. Each one makes the status bar look on older devices more fresh and modern. iPad and iPhone X are my favorites.
The tweak includes hacks to disable system elements such as CC Status Bar, FaceID / Padlock UI, Breadcrumbs, Quick LS Shortcuts displayed on the Lock Screen, CC Animation, CC Grabber, and CC Status Bar. In modern gesture mode, you can also activate swipe to Reachability.
HalFiPad can customize the appearance of the battery indicator. From the dedicated configuration pane, you can change the border color from default to dynamic or static, hide the charging indicator, display only the percentage in CC, or hide the percentage on the status bar.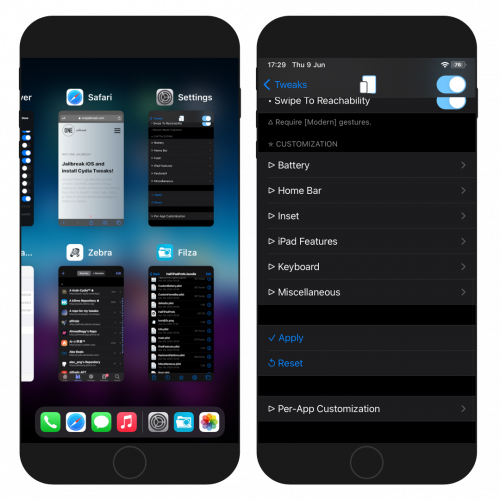 Home Bar comes also with many options to customize. Activate auto-hide, in-app, lock screen, or change the size of the column (width, height, radius). One of the most exciting configurations tabs of the HalFiPad tweak is iPad Features. Here you can enable some amazing features.
Activate Floating Dock, Split View/Slide Over, Landscape App Style, Grid Switcher, or Picture in Picture on your jailbroken iPhone. The Dock can display recent apps and can be accessed from any active app. This feature comes really handy and is a must-have for jailbroken systems.
It's not the end of system hacks provided by the tweak. What's more, you can enable a dark appearance, change the Camera app interface to match iPhone 11, allow more icons to be accessible from the Dock, disable the Dock background for a new look, no icons fly while unlocking, and reduce the icon row on the Home Screen.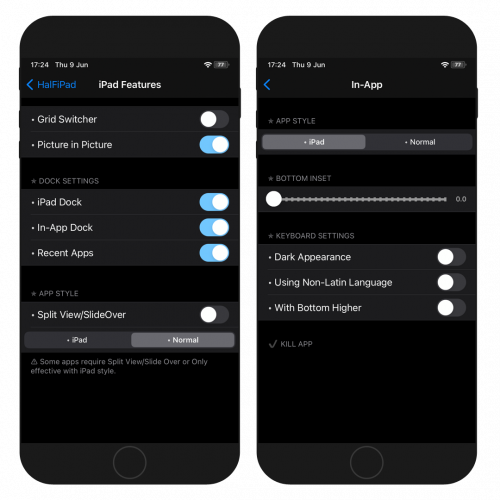 On top of that, using the HalFiPad tweak you can force the device to lock to landscape orientation, disable app launch animations, and disable page dots and icon labels on the Home Screen. There is even an option to customize app style and keyboard look per app.
HalFiPad combines the functionality of a few different tweaks in one complete and free package. Alternatively, you can try MiniXS, FloatingDockPlus, or ProKeys. The tweak works great on unc0ver jailbreak, but it should work also stable on other jailbreaks also checkra1n.
Repository
Vũ Huy Hiếu released HalFiPad tweak through his private Hieuvh Repository. Add HalFiPad Repo to your package manager and customize the look of your jailbroken iPhone running iOS 13 or iOS 15. This is a free tweak that adds unique features to your device.
From the Home Screen open your package manager.
Switch to the Sources tab to add the repository.
Tap Sources → Edit → Add the https://cypous.github.io Repo URL.
Cydia will automatically refresh packages available in the repo.
Search for HalFiPad package and install the tweak.
Restart the Springboard to apply all changes.
Enable HalFiPad from the preference pane in the Settings app.
Alternatively, please use the quick links available at the top of this page to add the repository to your favorite package manager (Cydia, Sileo, Installer, Zebra) with just one tap.
Source Code
HalFiPad was released as an open-source project through GitHub Repository. The source code was written using Objective-C 57.2% and Logos 41.7%. To build the project by yourself it's required to install the latest cross-platform theos binaries on your system.
The recent changes to the code were committed by the developer on 24 Mar 2021. Feel free to fork the project and use it as a great source to learn about creating tweaks with a variety of hacks for the iOS system. The tweak can be compiled for arm64 and arm64e devices.
What's new
Fix dock not rounded.
Fix CC animation.
Added support for iOS 14.
Reset preferences if you have any issues.
Performance improvements and fixing bugs.
Post a comment