H3lix Jailbreak RC6 for iOS 10.0.1 – 10.3.4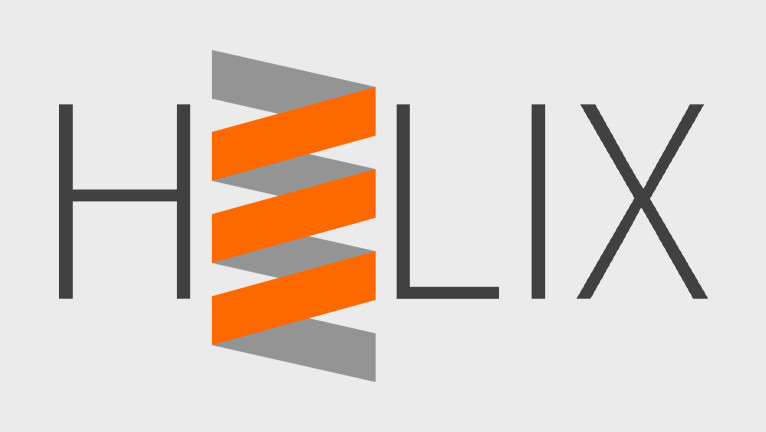 To jailbreak iOS 10 and install Cydia tweaks and apps on your iPhone or iPad, use an app like H3lix. Download Helix RC6 and install the IPA file with Sideloadly when Cydia Impactor is not working. Helix jailbreak is created by tihmstar and siguza.
H3lix RC6 Download
What is H3lix?
H3lix Jailbreak is a free tool to exploit iOS 10.0.1 up to iOS 10.3.4 and install Cydia on iPhone or iPad. This jailbreak was released in two versions dedicated to 32-bit and 64-bit iOS systems. Installing Cydia on your iOS 10 device is simple and really straightforward.
Release RC6 is dedicated to the 64-bit platform. For other 32-bit devices (iPhone, iPad, and iPod Touch) download H3lix RC5 with support for iOS 10 or later. If you are having issues with Cydia and want to re-install the H3lix remove /Applications/Cydia.app. H3lix Jailbreak doesn't have a marker file you can remove to re-jailbreak, it checks for Cydia.
V0rtex exploit used by the Helix allows executing a semi-untethered jailbreak. After each restart of your iDevice, it's required to re-jailbreak the iOS 10 system to access all features. H3lix installs the Cydia app, allowing you to access tweaks and apps from popular repositories.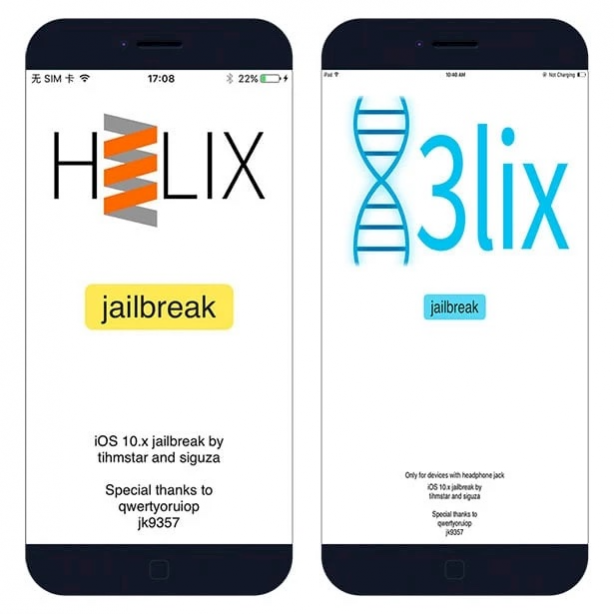 doubleH3lix RC8 supports iOS 10 – iOS 10.3.4 64-bit devices with the headphone jack (A7-A9). It offers the same features, as installing Cydia on your iPhone or iPad device, and allows you to access the best Cydia Repos with tweaks, apps, themes, etc.
This is a jailbreak for iOS 10.x 64bit devices without KTRR. This is the mechanism used in Apple's A10 chips and later to prevent modification of an iOS kernel. doubleH3lix supports iPhone 5s, iPhone 6/6s, iPhone 6/6s Plus, iPad Air, iPad Air 2, iPad Pro, and iPad Mini 2/3/4.
Alternatively, you can try sockH3lix jailbreak. This is the best variant of H3lix jailbreak and doubleH3lix for iOS 10 with additional support for iPhone 5. I would definitely recommend using it instead of the original projects, but feel free to test them both.
How to download H3lix IPA?
To download H3lix RC6 and install the jailbreak on your iPhone, it's required to use a computer to sign and install the IPA file. With this method, you have a 100% success ratio.
Weblinks (no PC) are 97% of the time revoked and not working. Therefore, I don't recommend using weblinks because it will not install the jailbreak app.
Sideloadly is a Cydia Impactor alternative that allows you to sideload IPA files through Wi-Fi. No matter if you downloaded the macOS or Windows version, the workflow is the same.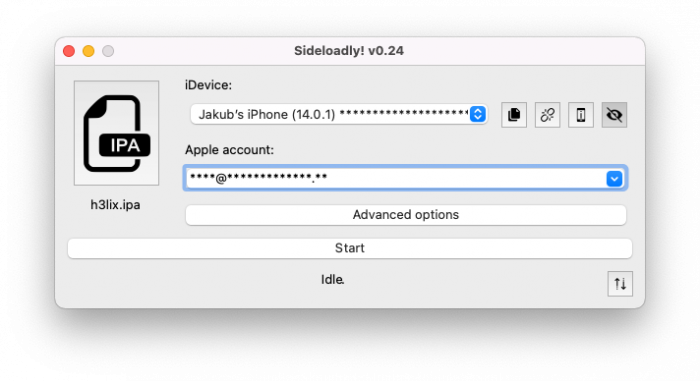 Step 1. Navigate to the top of this page.
Step 2. Tap on Install via Sideloadly and tap Allow.
Step 3. Sideloadly will automatically download H3lix RC6 IPA.
Step 4. Enter your Apple ID to sign IPA file.
Step 5. Click the Start button to install the IPA file on your device.
Step 6. Provide the password for your Apple ID.
Note: After the file is verified and installed on your iPhone or iPad, it's required to trust the developer account certificate connected with your Apple ID to open the jailbreak.
Step 7. Open Settings app from the home screen.
Step 8. Navigate to General → Profiles & Device Management.
Step 9. Click on the developer app with your e-mail.
Step 10. Tap on Trust to allow the application to run.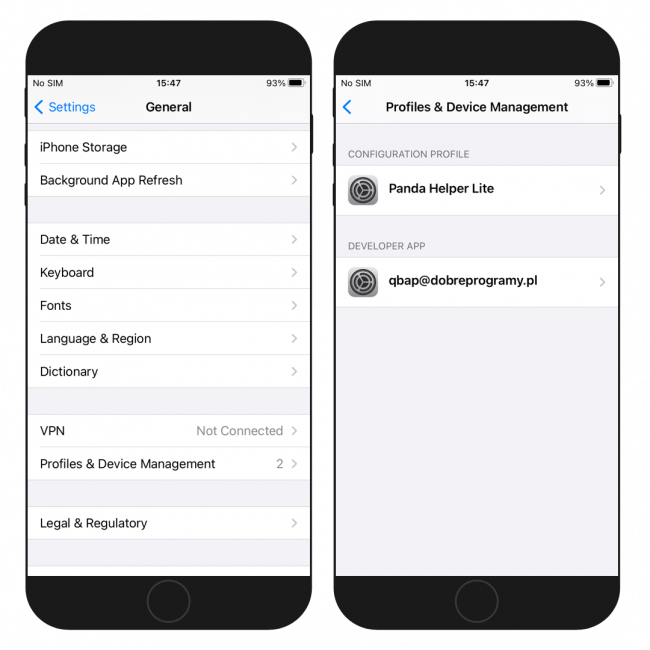 Patching the H3lix IPA
H3lix IPA was designed to work with Cydia Impactor, but because the app is not working anymore with free accounts, it's required to modify the IPA. This is how to patch H3lix IPA to make it work with Sideloadly. We provide for download only the patched RC6 IPA version.
Step 1. Make sure the IPA and the patch.sh file is downloaded onto your computer.
Step 2. Drag the IPA and the patch.sh file onto your desktop.
Step 3. Open up a terminal window and run the command:

cd ~/desktop
Step 4. Run the command:

chmod +x patch.sh
Step 5. Execute the patch.sh script with command:

./patch.sh h3lix-RC6.ipa h3lix-RC6-patch.ipa
Step 6. The file should show as h3lix RC6-patch.ipa on your desktop.
Step 7. Install the IPA in Sideloadly.
How to jailbreak iOS 10
To jailbreak iOS 10 using H3lix app is very simple. After you install the IPA file on your iPhone, you are just a few steps from jailbreaking and installing Cydia with access to apps and tweaks.
Open H3lix app from the Home Screen.
Tap on "Jailbreak" button to install Cydia.
Wait for the exploit to finish and respring.
Open Cydia package manager and install tweaks.
Info: Whenever you reboot the iDevice, the jailbreak will be removed. Open the app again and tap on "Jailbreak". If the app expires, install it again with the preferred method.
Install H3lix RC6 without a computer
Links provided to popular 3rd party App Stores can install the jailbreak app without a PC or Mac. The problem with using this method is that the IPA file is signed with a globally available certificate, mostly used to pirate apps and games available in the official App Store.
Therefore, Apple is revoking the certificate and all links are most of the time not working. This will disallow you to open or install the H3lix app on your device. You can try to use this link below to install H3lix RC6 without a computer. The direct web link is updated frequently in 2022.
After installation, the app can be revoked and will stop working or opening. Therefore, it is a good practice to use a jailbreak tool like ReProvision to sign H3lix Jailbreak directly on an iOS 10 iDevice. Reborn will do it automatically, so you will never forget to do it.
Step 1. Navigate to the top of this page.
Step 2. Tap on "Install via ReProvision" and tap Open.
Step 3. ReProvision will download H3lix IPA automatically.
Step 4. Tap on the Install button to sign and install.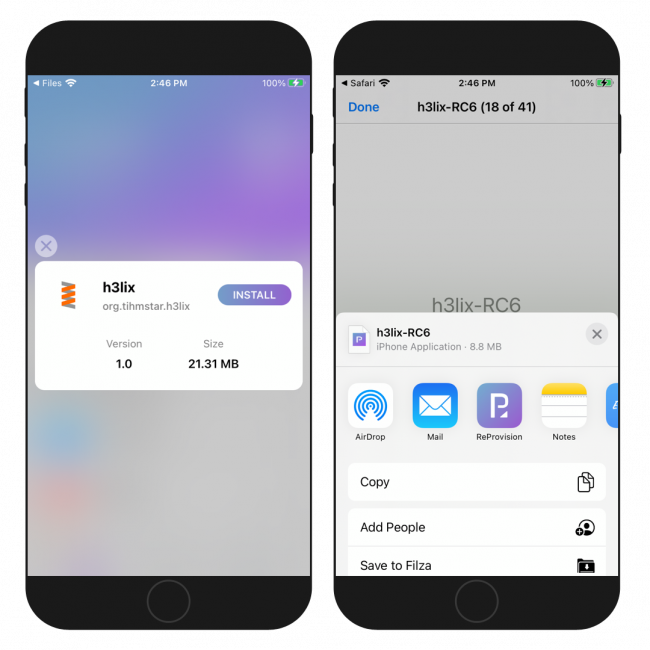 What's new
Updated H3lix to version RC6.
Added support for iOS 10.3.4.
Fixed a bug related to programs requiring JIT.
Fixed crash on patching amfi on iOS 10.0.2.
Added support for iOS 10.2.
Only running exploit if system was up for at least 80 sec.
Running uicache manually from the app clears Cydia caches.
Sponsored links
Comments
Post a comment