The intuitive interface guides users to backup and transfer iPhone data in just a few clicks, so you don't need to have computer experience to get started. FoneTool provides flexible iPhone backup and transfer methods, you can also easily manage iPhone data with photo deduplication, HEIC converter, erase iPhone and other functions. FoneTool supports Windows 7 – Windows 11. There is also a dedicated version of FoneTool for iOS devices.

FoneTool offers two editions: FoneTool Free, which allows for limited backup with a cap of 30 files per day, and FoneTool Pro, priced at $53.95, providing unrestricted backup and transfer features. The Pro version of FoneTool includes exclusive features such as one-click iPhone-to-iPhone data transfer, WhatsApp message migration, secure private data erasure, universal data restoration capabilities, and enhanced suitability for business use.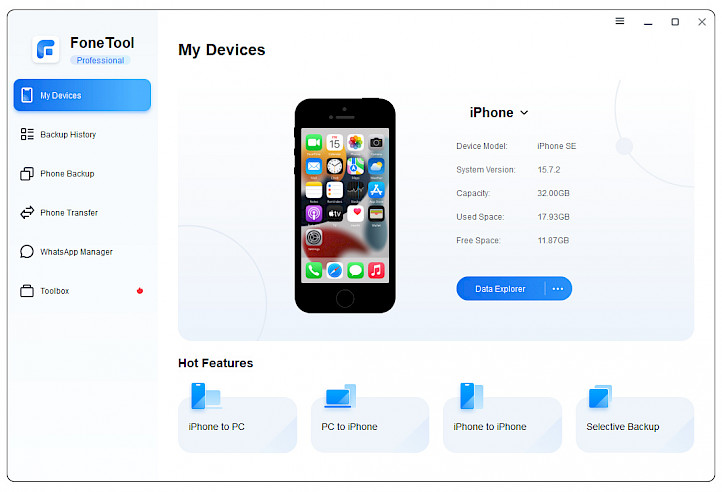 FoneTool's Impressive Features:
Comprehensive Data Transfer – Seamlessly transfer data between iPhones and PCs, whether you prefer a complete transfer or the option to select specific items.
Effortless iPhone-to-iPhone Transfer – With just one click, transfer data from one iPhone to another without any risk of data loss.
Versatile Data Types – FoneTool supports the transfer of a wide range of data types, including photos, contacts, music, and more, making it your all-in-one data management solution.
Universal Compatibility – Enjoy FoneTool's compatibility with all iOS devices, including the latest iOS 16, no matter the model or operating system version.
With FoneTool for Windows, you can manage your iPhone data easily. It allows you to transfer files from your iPhone to your PC, freeing up valuable storage space. Moreover, the app simplifies the process of creating backups of all your data directly onto your computer. Additionally, the one-click data transfer feature, which enables seamless migration from your old iPhone to your new one, provides a comprehensive solution to all your data management needs.
Info: FoneTool Pro is available for ONE Jailbreak users for free, but it must be activated before October 6, 2023, after that, the code will not be able to activate anymore. It is a 1-year license code for FoneTool Pro version. There is NO automatic renewal.
While iTunes has traditionally been the go-to choice for iPhone users to transfer data, it often runs sluggishly and demands substantial system memory resources on a Windows PC. iCloud, on the other hand, suffers from slow syncing speeds and can be costly for some users. FoneTool stands out as a great alternative to both iTunes and iCloud.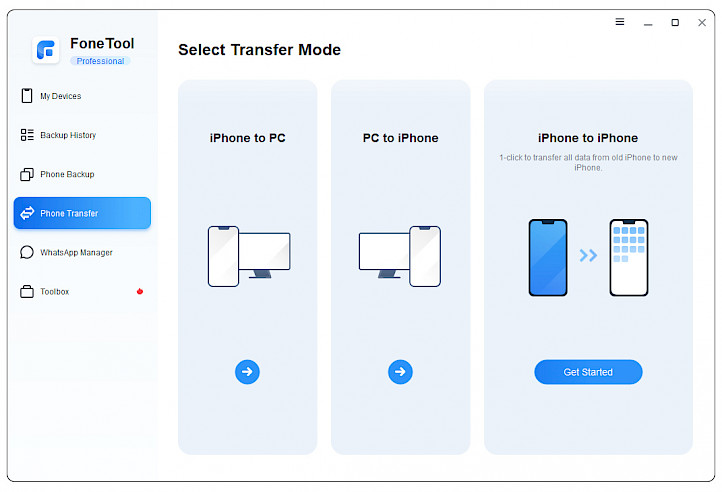 FoneTool includes a built-in HEIC converter that allows for batch photo conversion to formats like JPG, JPEG, and PNG, all while preserving the original photo quality. There is also a free duplicate photo finder and cleaner, capable of identifying and removing duplicate photos on both iPhone and PC, including the removal of similar images, even those with subtle differences.
Finally, the last but certainly not the least tool within the comprehensive FoneTool Professional toolbox is the Data Eraser, a versatile utility that empowers you to either selectively erase private data or effortlessly wipe your entire iPhone clean with just one click.
I would also like to introduce you to another software from AOMEI such as AnyViewer. It stands as the best choice for Remote Desktop app on iOS devices. With just a single click, users can effortlessly access and take command of their PC, simplifying remote management tasks.
What's new
Updated FoneTool to version 2.4.1.
Overall improvements and bug foxes.
Post a comment