Folder X tweak customizes folders on iOS 15 - iOS 16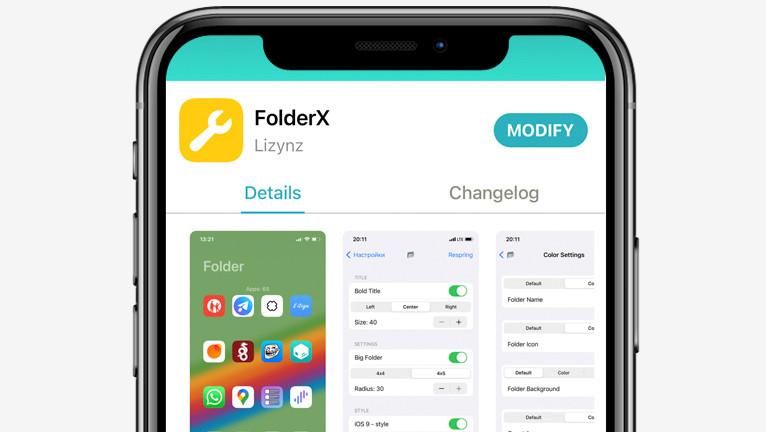 Lizynz, a developer with a passion for jailbreaking, has recently released an exciting new tweak for iOS 15 — iOS 16. This free tweak allows users to customize the appearance of their folders on their Home Screen, giving them even more control over the look and feel of their iOS device. Folder X works with Fugu15 Max, Dopamine, and Palera1n.
What is Folder X?
Folder X is a versatile jailbreak tweak that enables users to enhance the appearance of folders on their Home Screen with ease. This tweak was designed with rootless jailbreaks in mind, meaning it is compatible with the latest jailbreaks like Fugu15 Max Beta 8, palera1n, and Dopamine Jailbreak. With Folder X, you can customize the appearance of folder on iOS 15.
Once you've installed the Folder X tweak, a dedicated preference pane will be added to your Settings app. This allows you to customize various aspects of your folder's appearance, such as the font size and positioning of the folder title (left, center, or right), enabling the iOS 9-style look, defining colors, and increasing the number of rows, among other options.
With this easy-to-use customization feature, you can fully tailor your folder's design to your preferences and make your folder stand out from the rest. In addition to its extensive customization options, the Folder X tweak also comes with several other features. For instance, you can choose to hide animations, the folder background, or the folder label altogether.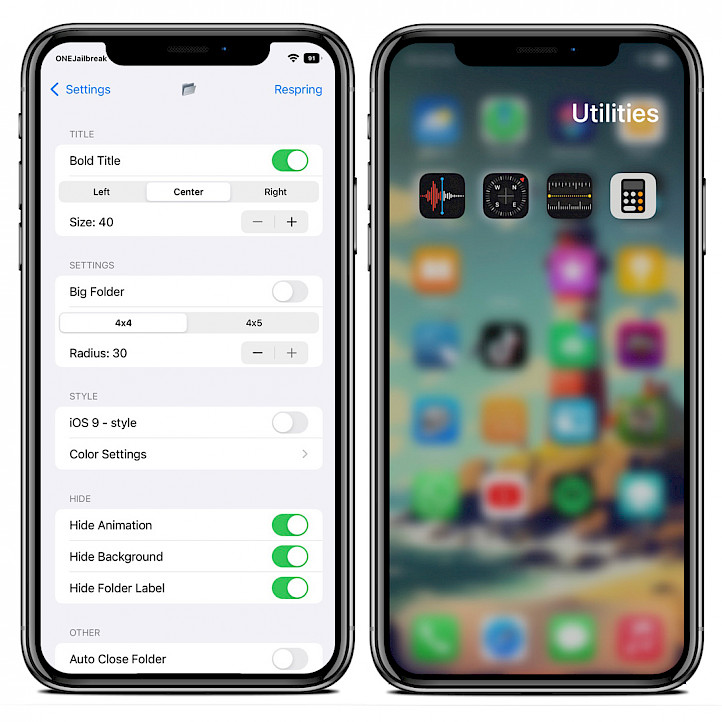 In another section, the developer has also included toggles for automatically closing folders, tapping to close folders, and dragging multiple folders and widgets at once. With these added functionalities, Folder X provides a user-friendly way to fully customize folders.
Add Repository
Folder X tweak was released as a free package that can be downloaded and installed from the private Lizynz Repository. Add Folder X Repo to your package manager and install the folder customization tweak for iOS 14 up to iOS 16. Fugu15 Max Jailbreak is also supported.
To install FolderX tweak on iOS 14 – iOS 16, follow those steps:
Open the Sileo app from the Home Screen.
Tap on the Sources tab, then select Edit.
Add the following repository URL:


https://lizynz.github.io/

Install FolderX tweak from the newly added Repo.
Respiring your iPhone to apply changes.
Access FolderX tweak preferences form Settings app.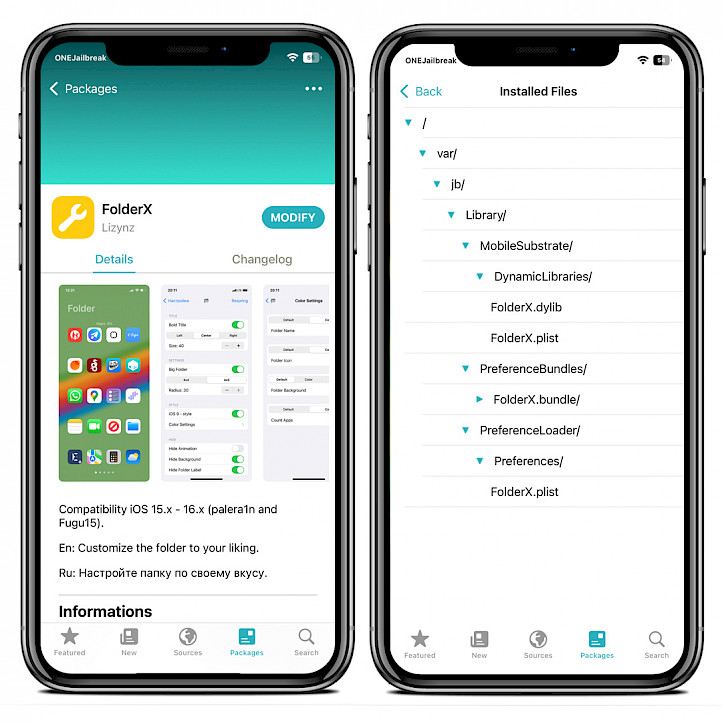 For added convenience, you can quickly add the repository to your preferred package managers (Cydia, Sileo, Installer, Zebra) by using the convenient quick links provided below. With just one click, you can easily add the repository and download Folder X tweak.
What's new
Updated Folder X to version 1.1.4.
Adds support for iOS/iPadOS 14.
Updated launcher style.
Added new title hide options.
Added support for Dopamine.
New feature Launcher.
Fix bug when the device did not boot on iOS 15.1.1 and below.
Solved memory problem.
Settings move to the standard menu.
Add switch to hide folder background.
Sponsored links
Post a comment