FloatingDockPlus 13/14 brings iPad Dock and multitasking for iOS

qbap |
Cydia Tweaks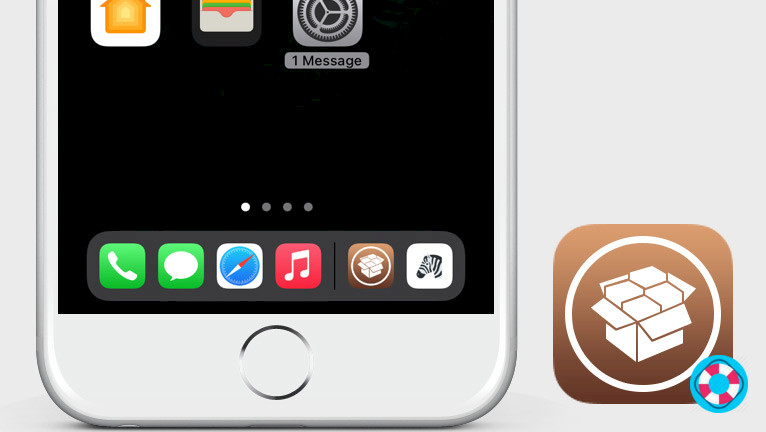 There are a couple of amazing tweaks for your Dock on jailbroken devices, and FloatingDockPlus stand out with some great features. The tweak brings some best iPad features to your iPhone like recently opened apps on the dock and multitasking.
Add FloatingDockPlus 13/14 Repo to your package manager.
What is FloatingDockPlus?
FloatingDockPlus 13/14 is a jailbreak tweak that delivers iPad Dock features to iPhone, adds dock to App Switcher, and allows multitasking in Split-View and Slide View modes on your iPhone. This tweak works with all modern jailbreaks running iOS 13 and iOS 14, like unc0ver.
By default, the Dock on your iPhone is very limited and on older iOS firmware is also nostalgic. FloatingDockPlus tweak changes it by making the Dock float and adds to it several great new features like dock gestures, change dock color, and set up to 15 dock icons.
Once installed, a dedicated preference pane is added to the Setting app. From here you can turn on the tweak, activate multitasking features, set up dock gestures, define suggested and recent apps, make the dock transparent, and set the max number of dock icons.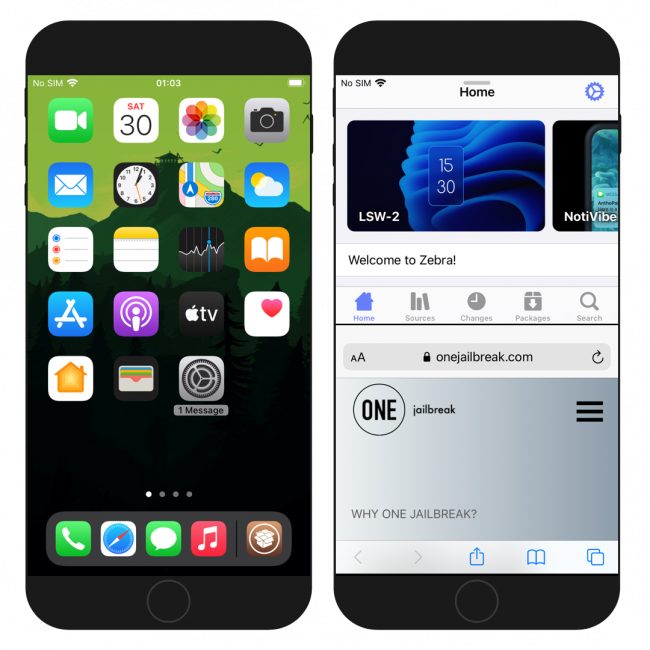 FloatingDockPlus 13/14 supports dock gestures. You can double-tap or swipe in four directions on the Dock to activate assigned functions like open Notification Center, Control Center, App Switcher, Reachability, Goto Home Screen, App Library, and Lock your Device.
What's more, there is also an option to show the dock in App Switcher, and define blacklist apps that will be blocked from running in a multitasking environment on your iPhone. This feature was reserved for iPad-only devices but why not have it on your iPhone as well.
FloatingDockPlus tweak enables you to open multiple apps in Split-View and Slide View modes. Now it also supports vertical split-view like on Android devices. To use multitasking on your iPhone it's required to slide the app icon from the dock to open the app window.
The latest version of FloatingDockPlus 13/14 works with iOS 13 and iOS 14. To run the tweak on older firmware install the 1.3.4.1 version of the FloatingDockPlus. For iOS 11 and iOS 12, there is a free FloatingDock tweak that offers fewer options, and it's cut off from the multitasking feature.
This is one of the best tweaks released for the Dock on jailbroken devices. I would recommend you buy the tweak and install it on your iPhone if you need to have more control over the Dock. FloatingDockPlus 13/14 tweak is in my top 10 tweaks from Cydia Repos.
FloatingDockPlus 13/14 is released as a paid tweak available for $1.99. Existing owners of the FloatingDockPlus tweak will get 25% off. If the price is for you still too expensive there are also free alternative dock tweaks such as HalFiPad, MiniXS, or Dock Controller for iOS 15.
For iOS 11 and iOS 12 you can install FloatingDockPlus. The tweak was built on top of FloatingDock and gives you the following options in addition to the already great features FloatingDock provides such as multitasking, and dock gestures.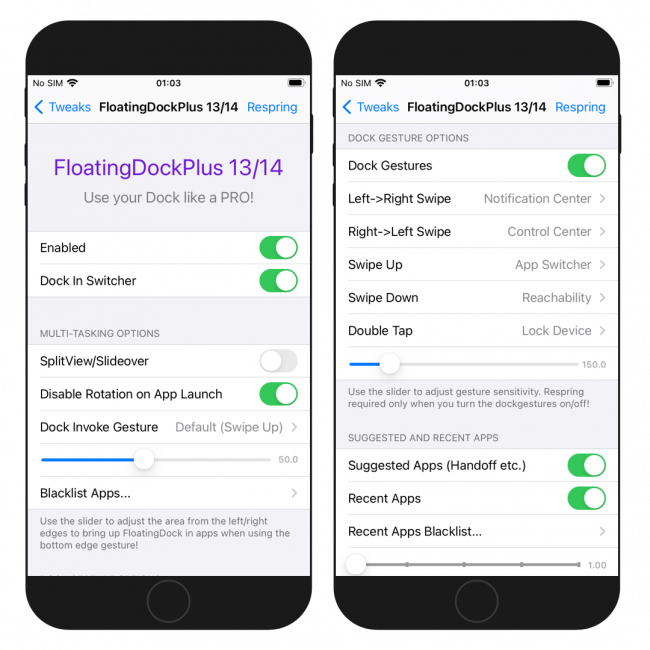 Repository
FloatingDockPlus 13/14 tweak was moved to the Havoc Repo because Packix is shutting down. Add the official FloatingDockPlus Repo to Cydia Sources and install the dock and multitasking tweak on your iPhone. The free FloatingDock tweak is still available via BigBoss Repo.
Open the Cydia app from Home Screen and tap on the Sources tab.
Next tap on Edit → Add buttons and enter https://havoc.app/ Repo URL.
Search for the FloatingDockPlus 13/14 tweak in the newly added repo.
When installed respiring your device to apply changes.
To configure FloatingDockPlus go to the preference pane located in the Settings app.
Alternatively, please use the quick links available at the top of this page to add the repository to your favorite package manager (Cydia, Sileo, Installer, Zebra) with just one click.
What's new
Fixed application blacklist not working on iOS 14 for Split View.
Fixed App Crash on XSMax & XR for apps that are not optimized for these devices.
Added option to blacklist certain apps from not showing up in the recent section.
Added support for A12 devices jailbreaks.
Now works with the latest unc0ver and checra1n jailbreaks.
FloatingDockPlus13 was renamed to FloatingDockPlus 13/14.
Minor Bug Fixes.
Post a comment