Euphoria Activator12: Unlock iPhone and activate signal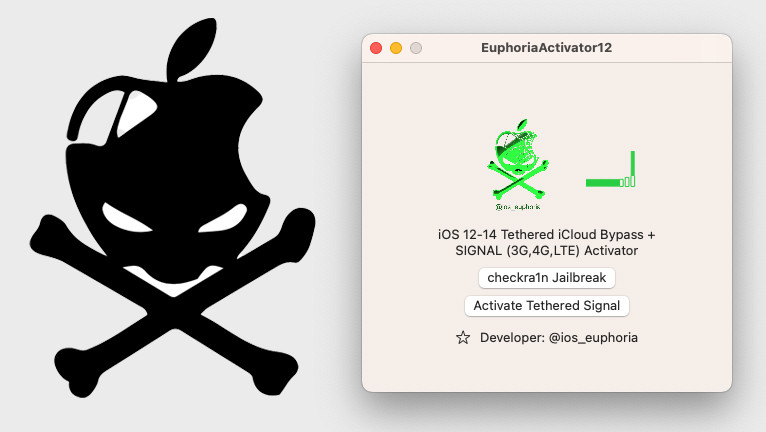 Euphoria continues to push the limits, releasing new iCloud bypass tools for iOS devices in rapid succession. The latest addition to his portfolio is Euphoria Activator12, an iCloud bypass tool for iOS 12 to iOS 14 with full signal support, available to users for free.
Download Euphoria Activator12 iCloud Bypass for iOS 12 – iOS 14
What is EuphoriaActivator12?
Euphoria Activator12 is a new iCloud bypass tool for checkra1n jailbreak compatible devices running iOS 12, iOS 13, and iOS 14. This tethered bypass allows you not only to remove the activation lock but also enable signal (3G, 4G, LTE) on supported iPhones.
checkra1n jailbreak is the main engine to get read and write privileges to iOS file system. After jailbreaking a compatible iPhone you will be able to use the iCloud bypass tool and finally activate tethered signal on your jailbroken device. This powerful combination of jailbreak and iCloud bypass tool provides a seamless solution for fully unlocking your iPhone.
Euphoria Activator12 was released only for macOS. At present, there are no plans to expand the availability of EuphoriaActivator12 beyond Mac computers. This tool, designed to unlock iPhones with signal activation, will remain exclusive to macOS and will not be made available for Windows or Linux systems. However, Euphoria is working on a new tool for Windows.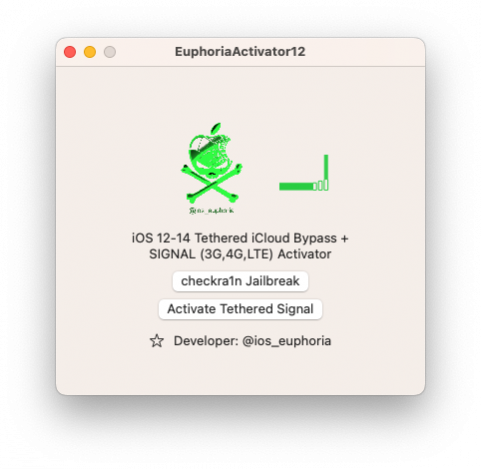 This tethered iCloud bypass with signal activation toolkit comes with pre-build checkra1n, eliminating the need for a separate jailbreak download. To ensure a successful jailbreak and activation of signal on your iPhone, it is crucial to properly enter DFU mode before proceeding.
Warning: It is important to note that bypassing iCloud security measures is not ethical and could potentially compromise user data. Additionally, such activities may be illegal and could result in consequences for those who engage in them.
DFU mode is a crucial component in jailbreaking iOS with checkm8. In Device Firmware Update mode, the device is able to communicate with a computer, but the operating system and bootloader are not loaded, allowing for the bypass of iCloud activation.
Euphoria is the mastermind behind several other iCloud bypass tools for iOS, including Goldra1n, DarkRa1n, GreenSn0w, and partially GodsHand. These tools are built on the Palera1n and checkra1n jailbreaks for iOS 12 to iOS 16.2 and some of them are compatible with Linux systems.
If you are struggling to remove the iCloud activation lock, the iRemoval PRO iCloud bypass tool for Windows may be the solution you need. This tool is based on the checkra1n jailbreak and is compatible with iOS 12 through iOS 16 with signal activation support. In contrast to Euphorias free tools, the iRemoval PRO offers full support to its users after purchase.
Supported devices
Euphoria Activator12, the iCloud Bypass Toolkit for iOS 12 to iOS 14, is compatible with all iPhones and iPads that support checkm8. To use this toolkit, some device models may require a DSCD cable, which enables communication between a computer and an iOS device. This allows for access to the device's file system, making the iCloud bypass process possible.
Supported iPhones
iPhone 6 & iPhone 6 Plus (only Disable & Passcode and Unavailable with SIM).
iPhone SE (required DSCD).
iPhone 6s & iPhone 6s Plus (required DSCD).
iPhone 7 & iPhone 7 Plus.
iPhone 8 & iPhone 8 Plus.
iPhone X.
Supported iPads
iPad Air 2 WiFi iPad5,3 (A1566) (required DSCD).
iPad Air 2 4G iPad5,4 (A1567) (required DSCD).
iPad Mini 4 WiFi iPad5,1 (A1538) (required DSCD).
iPad Mini 4 4G iPad5,2 (A1550) (required DSCD).
iPad 5 2017 WiFi iPad6,11 (A1822) (required DSCD).
iPad 5 2017 4G iPad6,12 (A1823) (required DSCD).
iPad 6 2018 WiFi iPad7,5 (A1893).
iPad 6 2018 4G iPad7,6 (A1954).
iPad 7 2019 WiFi iPad7,11 (A2197).
iPad 7 2019 4G iPad7,12 (A2198)(A2200).
iPad Pro 10.5 WiFi iPad7,3 (A1701).
iPad Pro 10.5 4G iPad7,4 (A1709) (A1852).
iPad Pro 12.9 2nd Gen WiFi iPad7,1 (A1670).
iPad Pro 12.9 2nd Gen 4G iPad7,2 (A1671) (A1821).
iPad Pro 9.7 WiFi iPad6,3 (A1673) (required DSCD).
iPad Pro 9.7 4G iPad6,4 (A1674)(A1675) (required DSCD).
iPad Pro 12.9 WiFi iPad6,7 (A1584) (required DSCD).
iPad Pro 12.9 4G iPad6,8 (A1652) (required DSCD).
How to install Euphoria Activator12
Euphoria Activator12 is a free software program, designed exclusively for macOS. It's important to note that macOS has strict measures in place to protect against malware and unauthorized developers. As a result, you may encounter difficulty opening or installing the app.
To install Euphoria Activator12 on your macOS, follow those steps:
Enter the following commands in the terminal app:


sudo xattr -d http://com.apple.quarantine ./EuphoriaActivator12.app
​​​​​​​sudo chmod +x ./EuphoriaActivator12.app

Double-click on the Euphoria Activator12 app.
Tap on  → System Preferences → Privacy & Security.
In Security section allow Euphoria Activator12 app on "Allow anyway".
Double-click on the EuphoriaActivator12 app and follow on-screen instructions.
What's new
Initial release of Euphoria Activator12.
Added support for iOS 12 – iOS 14.
Included checkra1n jailbreak.
Sponsored links
Post a comment