Tap "Trust" to allow the app to run.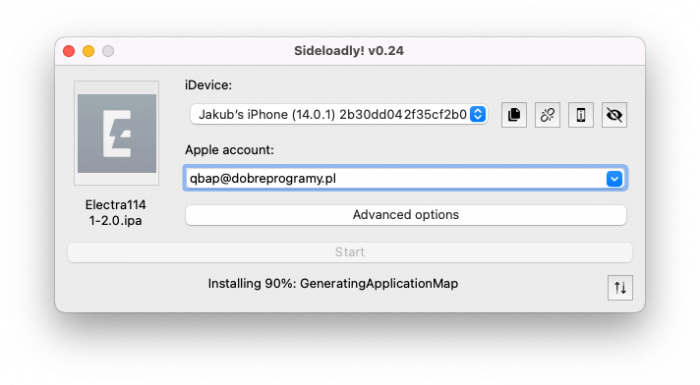 Note: If you don't have a developer certificate, you can use your free Apple account to sign and install Electra1141-2.0 IPA and use it for up to 7 days before it needs to be re-signed.
Install Electra no computer
How to Jailbreak iOS 11.4.1
Jailbreaking your iOS 11.4.1 device with Electra is a simple and straightforward process. With Electra Jailbreak, you can unleash the full potential of your device and access a vast array of jailbreak tweaks and customizations. The same method applies to jailbreak iOS 11 – iOS 11.4.1.
To jailbreak iOS 11.4.1 and install Sileo using Electra app, follow these steps:
Download Electra IPA and sideload it on your device.
Launch the Electra app from your Home Screen.
Tap on the "Jailbreak" button displayed in the main app window.
Wait patiently as all necessary exploits are executed to complete the jailbreak.
Once the jailbreak is installed, you can access the Sileo app from your Home Screen.
Whenever you reboot, the jailbreak will be disabled. Open the app again and tap on "Jailbreak". If the app expires, install it again with the preferred method. Once jailbroken, you probably think about what's next. View our list of over 70 Best Cydia Repos with access to tweaks and apps.
Tip: To remove jailbreak installed with Electra App restore the automatic APFS snapshot created before jailbreak. Use apps like SnapBack or Succession to manage snapshots, or if you prefer command-line tools to manage APFS on iOS install snaputil or snappy.
What's new
Updated Electra Jailbreak to version 2.0.
Ships with Sileo 1.9.1 (the last version to support iOS 11).
Update to Chimera bootstrap.
Update to libhooker.
Backport some fixes from Chimera 1.5 and Odyssey.
Auto-select between async_wake/mach_swap/mach_swap2.
Removed voucher_swap/v1ntex exploits.
Increase jailbreak success rate on A7 – A8 on iOS 11.2 and newer.
Update liboffsetfinder64 to latest version.
Replace jailbreakd with jailbreakd2.
Post a comment