Edge 2 tweak colors your iPhone screen edges on iOS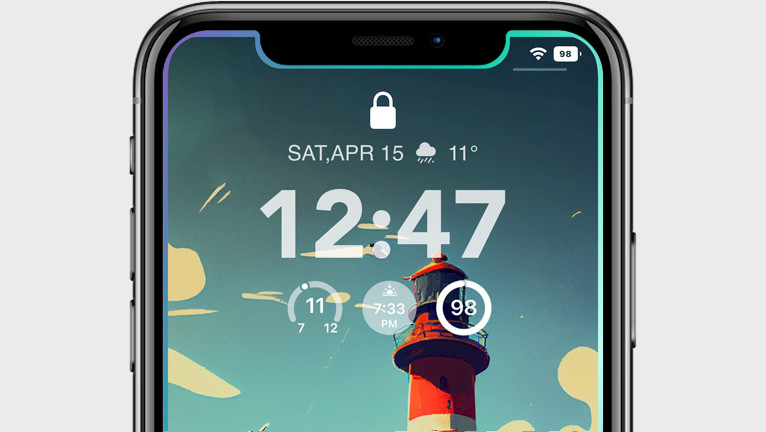 Edge is a jailbreak tweak that tends to elicit a love-it-or-hate-it response. Its concept is to inject some vibrancy into your device by encircling the entire screen with an animated color edge. While some may find it unnecessary, others will undoubtedly appreciate the added aesthetic flair. Edge 2 brings support for iOS 15 and iOS 16.
What is Edge 2?
Edge 2 is the highly anticipated successor to Edge Tweak, designed to add a splash of color to your iPhone. It comes with an animated color edge that encircles the entire screen, complete with easy customization options. The tweak has recently been updated to support iOS 15 – iOS 16, and can be used with all modern jailbreaks, including XinaA15, Fugu15 Max, and palera1n.
Once you've installed Edge 2 tweak, a new preference pane will be added to your Settings app. This pane not only allows you to enable the tweak, but also provides a range of basic customization options to suit your preferences. The developer has included three main sections in this pane: Animation Options, App Options, and Display Options.
These sections make customizing your Edge 2 experience a breeze. In the Animation Options section, you can choose to enable animated gradients and adjust the animation delay to your liking. Meanwhile, the App Options section allows you to define specific apps that won't be affected by the tweak, giving you more control over your device's appearance.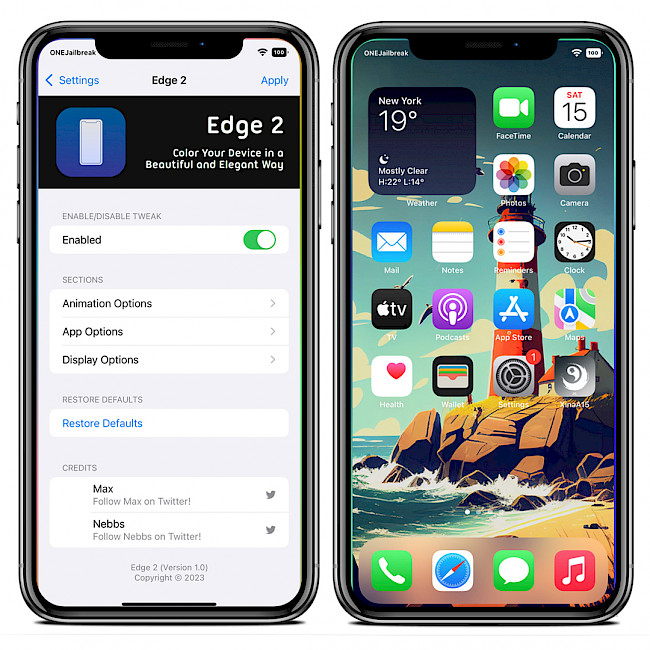 In addition, the Display Options section gives you even more customization choices. You can adjust the border weight, select the display mode (lock screen, springboard only, or system-wide), and even set your own custom gradient colors. With the ability to define up to four different gradient colors, your screen border will come to life with a stunning color animation.
iPhone X users will particularly enjoy the notch and rounded corners feature, which adds an extra touch of style to their device. For those running iOS 13, the previous version of the Edge tweak is still available to download and use. And even for those on iOS 14, the tweak should still work seamlessly with the latest jailbreaks such as unc0ver, checkra1n, Taurine, and Odyssey.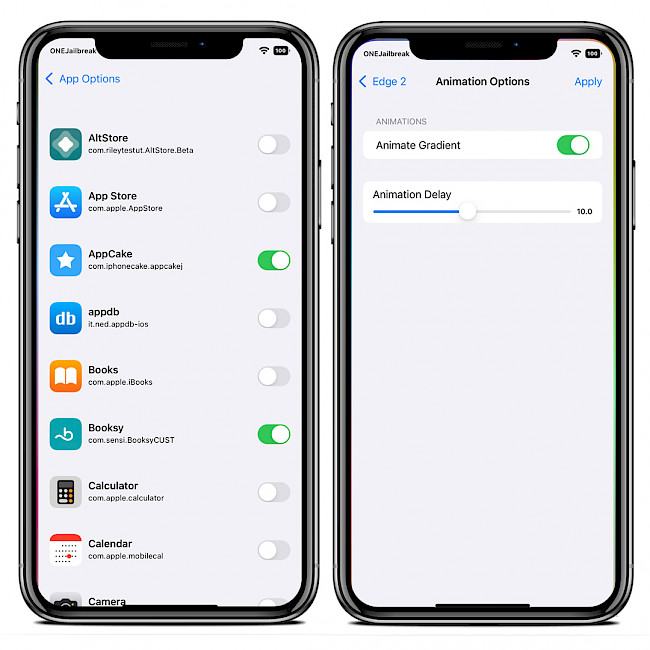 Edge 2 has recently received a new update, bringing it to version 1.0.1. This latest release addresses a couple of key issues that users may have encountered. Firstly, the update has resolved an issue with dependencies not installing properly. Additionally, Edge 2 version 1.0.1 has addressed a problem with libraries not loading correctly in rootless mode.
Add Repository
Edge 2 tweak was released as a free package that can be easily downloaded from ItzNebbs personal repository. Add Edge 2 Repo to your package manager and install the latest version of the tweak. Bring color to your iPhone by adding an animated color edge around the entire screen on iOS 15. Once installed, you can configure the tweak form Settings app.
To install Edge 2 tweak on iOS using Sileo, follow those steps:
Open the Sileo app from the Home Screen.
Tap on the Sources tab, then select Edit.
Add the following repository URL: https://repo.itznebbs.com
Once the repository has been added, you can install Edge 2 tweak.
After installation is complete, respring your iPhone for the changes to take effect.
Now you can access Edge 2 preferences from Settings app.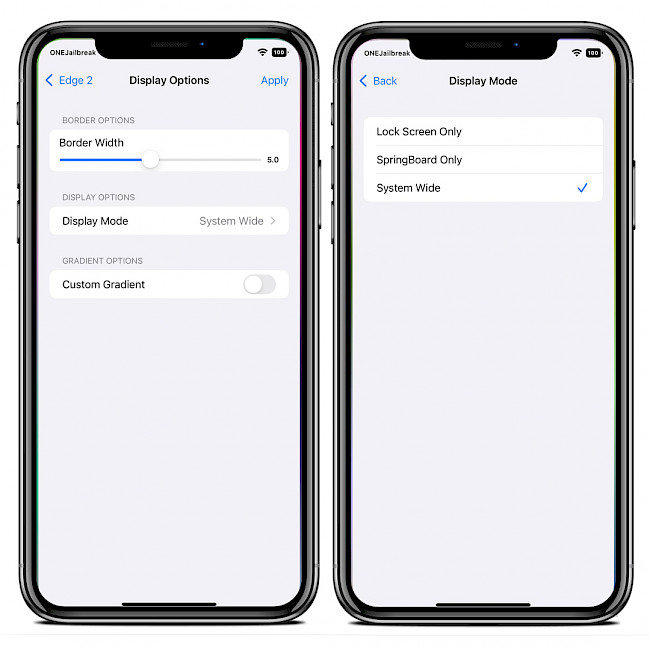 For added convenience, you can quickly add the repository to your preferred package managers (Cydia, Sileo, Installer, Zebra) by using the convenient quick links provided below. With just one click, you can easily add the repository and download Edge 2 tweak.
What's new
Updated Edge 2 tweak to version 1.0.2.
Fixes dependencies not installing.
Fixes libraries not loading (rootless).
Added iOS 15 support.
Fixes border not matching notched devices.
Added official support for iOS 14.
Added Timed Animations.
Overall improvements and bug fixes.
Sponsored links
Post a comment