Dynamic Peninsula tweak brings Dynamic Island to notch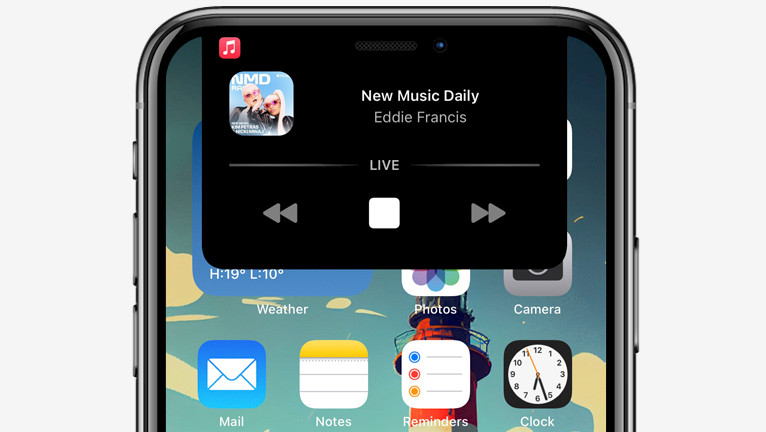 On both the iPhone 14 Pro and iPhone 14 Pro Max with iOS 16, you can easily check your alerts and see what activities are currently in progress on the Dynamic Island on your Home Screen, or in any app you're using. Dynamic Peninsula tweak brings similar functionality to notched iPhones running jailbreak on iOS 12 up to iOS 16.4.
Add Dynamic Peninsula Repo to your package manager:
What is Dynamic Peninsula?
Dynamic Peninsula is a jailbreak tweak that brings Dynamic Island inspired feature to notch iPhones running iOS 12 up to iOS 16. This tweak supports both rootful and rootless jailbreaks including recently released Fugu15 Max Beta and Dopamine. Download Dynamic Peninsula and bring most of the iPhone 14 Pro Dynamic Island effects to all notched devices.
After the installation process of Dynamic Peninsula tweak is completed a dedicated preference pane is added to the Settings app. From here you can enable the tweak and toggle animations for items displayed on your screen. Elias Limneos provided this tweak with eleven beautiful designed widgets ready to use on iPhone X, iPhone 11, iPhone 12, and iPhone 13.
Enabling a Fake Notch on older devices such as the iPhone 6, iPhone 7, and iPhone 8 allows you to take advantage of the Dynamic Peninsula tweak as well. With this feature, you can easily view your alerts and current activities, just like on the newer models, without upgrading your device.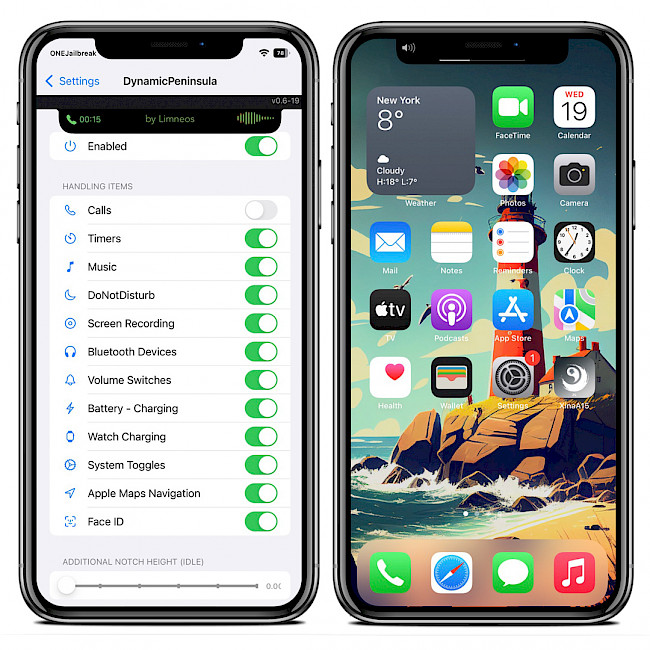 Dynamic Island tweak
When it comes to your device, there is a wide range of handling items that you can expect to receive. These can include incoming and outgoing calls, timers, music and Now Playing app alerts, Do Not Disturb events, screen recording notifications, Bluetooth device connections, volume and mute switch events, battery charging and low battery notifications, watch charging events, system toggle events, Face ID alerts, and Apple Maps navigation.
In addition to its features, the Dynamic Peninsula tweak also offers some customization options. With the tweak's preference pane, you can easily adjust the height of the notch and widen the status bar to your liking. These options allow you to fine-tune the look and feel of your device.
Dynamic Peninsula is a premium paid tweak, but it is definitely worth the investment. Whether you're looking to add the Dynamic Island feature from the iPhone 14 to your device, or simply want to give your older device a fresh new look, Dynamic Peninsula delivers on both fronts.
With its range of customizable options and seamless integration with your device, Dynamic Peninsula offers a premium experience that is sure to please. So if you're looking for a way to enhance the functionality and aesthetics of your device, Dynamic Peninsula is a great choice.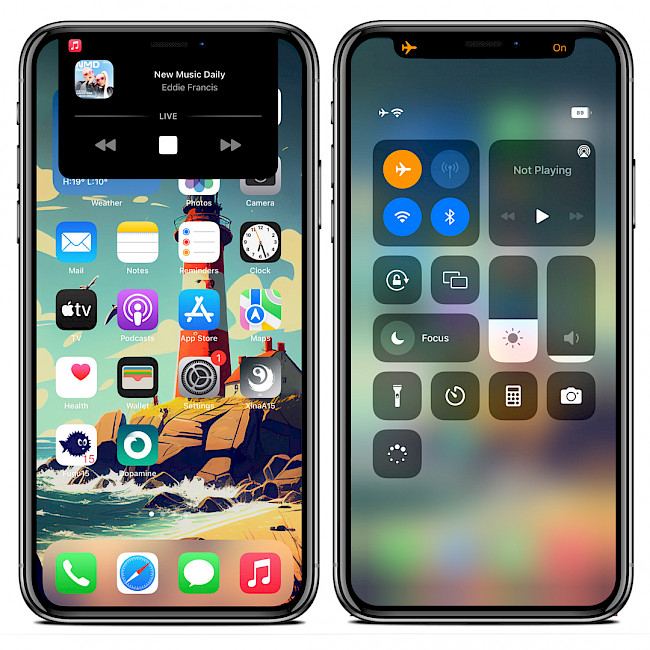 Dynamic Peninsula tweak
One of the main benefits of the Dynamic Peninsula tweak is that it allows for a more interactive and engaging experience with the notch on devices that don't typically utilize it for anything special. By using widgets such as timers, music, and screen recording, you can now directly interact with these features from the Dynamic Peninsula itself.
Moreover, the support for the Dynamic Peninsula tweak from Limneos includes unique and visually animations. These animations add an extra layer of visual appeal to your device, such as a charging ring animation that displays when your handset is connected to a power source or a waveform animation that appears during phone calls. More widgets may be added in the future.
It's worth noting that the Dynamic Peninsula tweak supports both OLED and LCD displays. However, the tweak's visual impact is more impressive on OLED displays. The tweak can be used with unc0ver, but also other jailbreaks including Dopamine based on Fugu15.
Add Repository
Limneos Repository contains the latest version of the Dynamic Peninsula installation package. To download the Dynamic Island for notch iPhones it's required to add the official Repository to Cydia Sources. The tweak will create a new preference pane in the Settings app. Please note that the tweak was released in two separate packages for rootful and rootless jailbreaks.
To install Dynamic Peninsula tweak on your iOS device, follow these steps:
Open the Sileo app from the Home Screen.
Tap on the Sources tab, then select Edit.
Add the following repository URL: https://limneos.net/repo
Search for Dynamic Peninsula or Dynamic Peninsula-rootless package.
Install the tweak and respiring your iPhone to apply all changes.
Access the Dynamic Peninsula from the Settings app.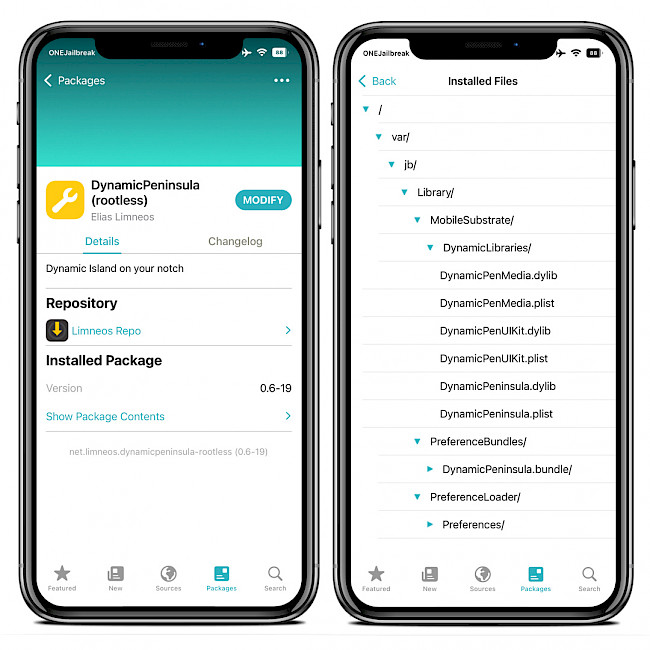 For added convenience, you can quickly add the repository to your preferred package managers (Cydia, Sileo, Installer, Zebra) by using the quick links provided at the top of this page. With just one click, you can easily add the repo to purchase Dynamic Peninsula for $3.99.
Note: To purchase the tweak you must use a modern package manager like Sileo, Saily, Zebra, or Installer. Cydia is outdated, and it doesn't offer an option to buy tweaks.
What's new
Updated Dynamic Peninsula to version 0.6-74.
Fixed an iPad Pro crash issue.
Fixed all crash issues across devices and iOS versions.
Fixed mediaserver crashes during playback or calls.
Fixed NowPlaying UI not responding correctly.
Added Face ID option.
Added Maps Navigation option.
Added persistent option for non-notched devices.
Fixed duration slider not updating.
Fixed DynamicPeninsula not dismissing when killing music app.
Added basic support for iOS 12. Now works on iOS 12 to iOS 16.
Added option to use Fake Notch on non-notched devices.
Added support for several system events (Wi-Fi, Bluetooth etc.)
Added Apple Watch charging detection.
Sponsored links
Post a comment