Detector IPA Malware detection tool for iOS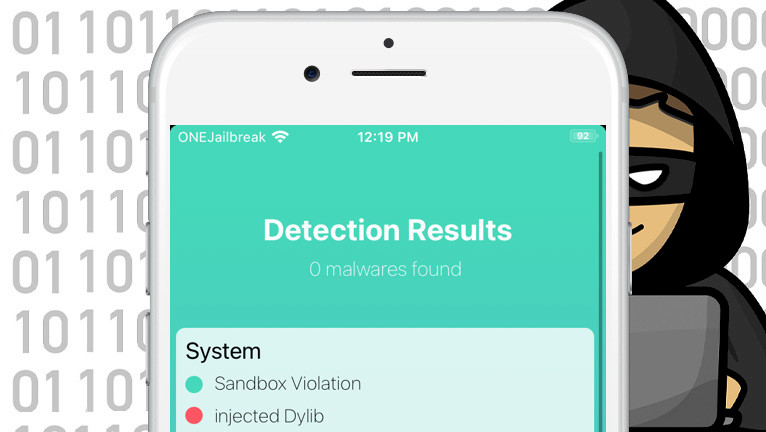 When you install tweaks or apps from 3rd-party or hacked repositories, it may happen that it will not only include the package but also a Malware. To avoid, potentially data steal or harming your iPhone or iPad, use an app like Detector for iOS 9 – iOS 16.
Download Detector IPA
What is Detector?
Detector is a fast tool allowing you to verify if something suspicious is happening on your device. Use this simple app to detect Malware installed on your iPhone or iPad running iOS 9 and never. Michel Barnich created the tool for modern jailbreaks and non-jailbroken devices.
After installing the Malware detection tool, you can access the Detector app from the Home Screen. The tool doesn't offer any option to configure and when you launch it you will see some basic information about the device such as model and iOS version, and start detection button.
Michel Barnich, the developer behind Detector, designed it to keep your device and your Privacy safe from any malware, or otherwise malicious apps. It was created with simplicity in mind, with the one-click Malware Detection, anyone will know if something is wrong with the device.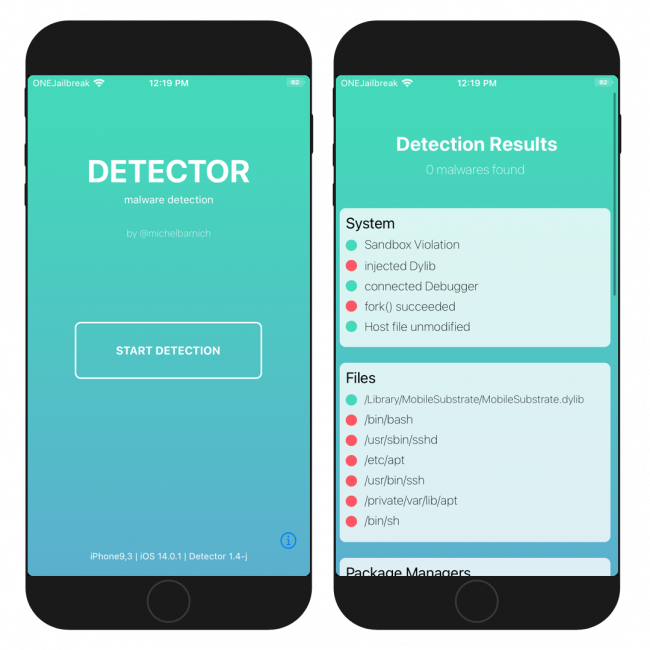 When you tap on the "Start Detection" button, the tool will immediately display some information about access to the system by sandbox violation, injected Dylib, connected Debugger, fork() succeeded, host file was modified, and possible access to system files.
The Detector app also checks if it can detect installed package managers. With this tool, you can easily find out if your iDevice is jailbroken. But, the main feature of the tool is scanning installed apps for potential malicious components installed with the sideloaded apps.
Note: Green dot displayed next to vulnerability means that everything is fine. Red dot means exactly the opposite and you should be worried. Be aware that if you jailbreak your device for obvious reasons, some detected vulnerability will display a red dot.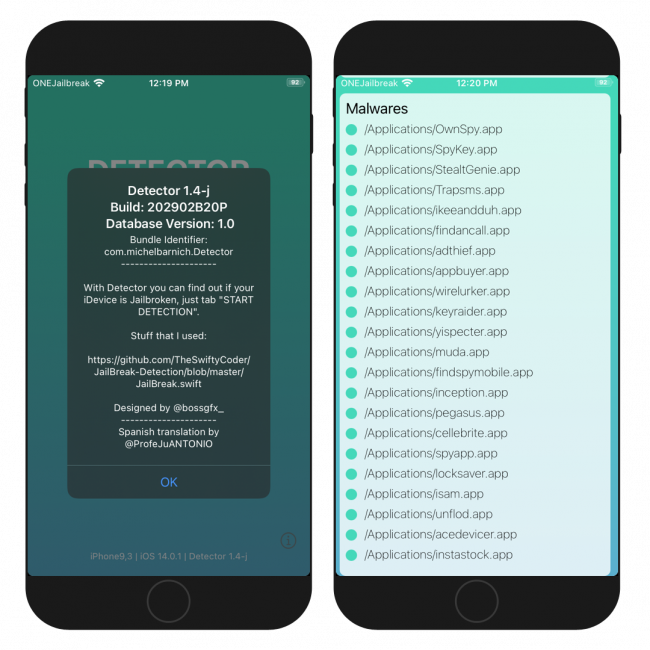 Detector uses a database to detect Malware software on your device. This tool will only inform you about potential harming software. It will not remove unwanted malware from your iDevice. This free malware scanner works with iPhones, iPads, and watchOS devices.
How to install Detector IPA
Detector IPA was released as a free package that can be easily sideloaded on your device with a tool like Sideloadly. What's more, Detector IPA is compatible with the TrollStore app (uses a system bug) that can install the app permanently on your iPhone or iPad without revokes.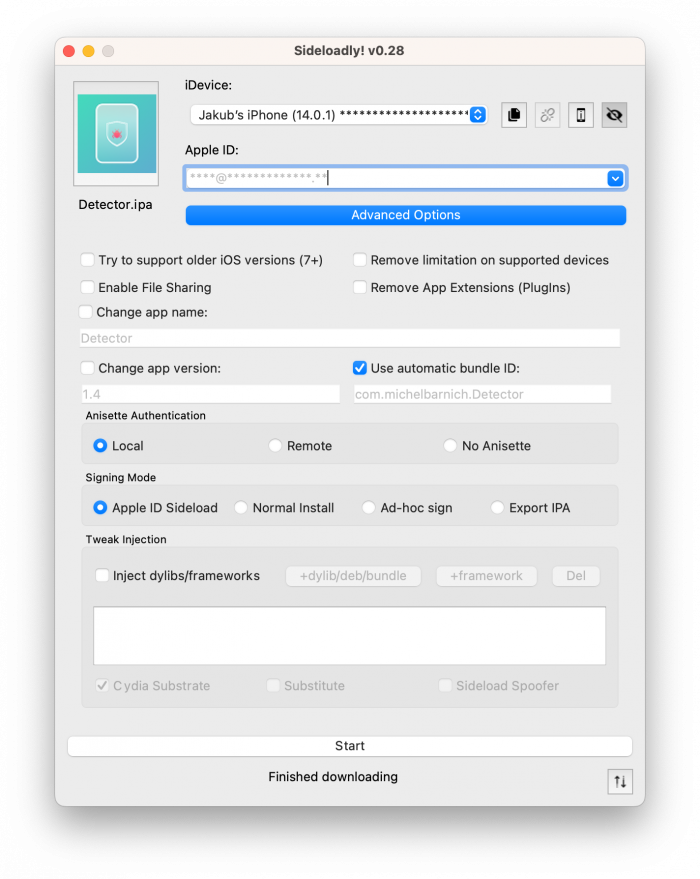 Step 1. Download Detector IPA (link on top of this page).
Step 2. Open Sideloadly application.
Step 3. Connect your iPhone / iPad to the computer via USB.
Step 4. Click on the IPA icon to select the app to install.
Step 5. Enter your Apple ID to sign IPA file.
Step 6. Click the Start button to install the IPA file on your device.
Step 7. Provide the password for your Apple ID.
Step 8. Open Settings app from the home screen.
Step 9. Navigate to General → VPN & Device Management.
Step 10. Click on the developer app with your e-mail.
Step 11. Tap on Trust to allow the application to run.
Tip: If you don't have regular access to a PC, use Bullfrog Assistant. This app can sign IPA files directly on your iPhone or iPad using the free Apple certificate. It's a great alternative for Sideloadly and AltStore, and it doesn't require a connection to a PC to install IPA files.
Install Detector IPA with TrollStore
Detector app was released as an IPA package that can be installed only with TrollStore on compatible iOS 14 and iOS 15 devices. You can install this Malware detection tool for iOS with regular sideloading apps, but with TrollStore it stays installed permanently.
Install TrollStore on firmware between iOS 14 up to iOS 15.4.1.
Download Detector IPA and save it on iCloud.
Share the downloaded IPA file with the TrollStore app.
TrollStore will install Detector automatically when loaded.
Access the Detector app from the Home Screen.
Compatibility: iOS 14.0 – iOS 15.4.1, iOS 15.5 beta 1 – iOS 15.5 beta 4, iOS 15.6 beta 1 – 15.6 beta 5. No other firmware releases are or will be supported. No support for iOS 15.5, no support for iOS 15.6, and no support for iOS 16. This app is possible because there is a bug in iOS.
Repository
Detector is also available for jailbroken devices as a DEB package that can be downloaded from the Michel Barnich private repository. Add Detector Repo to your package manager and install the simple Malware detection tool for iOS to remove malicious apps from the system.
Open the Cydia app and tap on the Sources tab.
Tap on Edit → Add buttons and enter https://repo.michelbarnich.com/ Repo URL.
Install the Detector package from the new repository.
Respiring your iPhone to apply all changes.
Open the Detector app from your Home Screen.
Alternatively, please use the quick links available at the top of this page to add with just one tap the repository to your favorite package manager (Cydia, Sileo, Installer, Zebra).
What's new
Updated Detector to version 1.4j.
Install Errors are fixed.
Initial release.
Sponsored links
Post a comment