ControlConfig: MacDirtyCow CC modules editor for iOS

qbap |
iOS Apps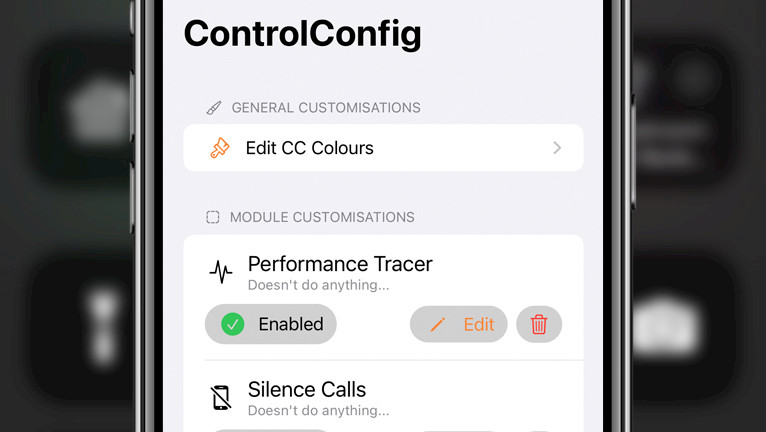 Control Center on iOS is a convenient feature that provides quick access to frequently used settings and controls on your device. It can be accessed by swiping down from the top right corner of the screen on iPhones. ControlConfig mobile application extend the functionality of Control Center on iOS 15 and iOS 15, all without jailbreak.
Install ControlConfig IPA on your iPhone:
What is ControlConfig?
ControlConfig is a new MacDirtyCow mobile application that provides a comprehensive module management solution, including the ability to access and manage hidden modules displayed in the Control Center of iOS 15 and 16. With ControlConfig, you can easily take control of your device and optimize its functionality of Control Center modules to suit your needs.
Once you have completed the installation process for ControlConfig IPA with TrollStore, you can easily access the app from your device's Home Screen. From the app's main screen, you will be able to explore a variety of features, including adding new modules, customizing the Control Center by changing the background and module colors, and respring your device.
All features provided by ControlConfig are executed using the MacDirtyCow exploit allowing you to apply system changes without the need to jailbreak. You can try to use the app on anything running iOS 16.1.2 and lower. However, the developer provides support for iOS 15 and iOS 16.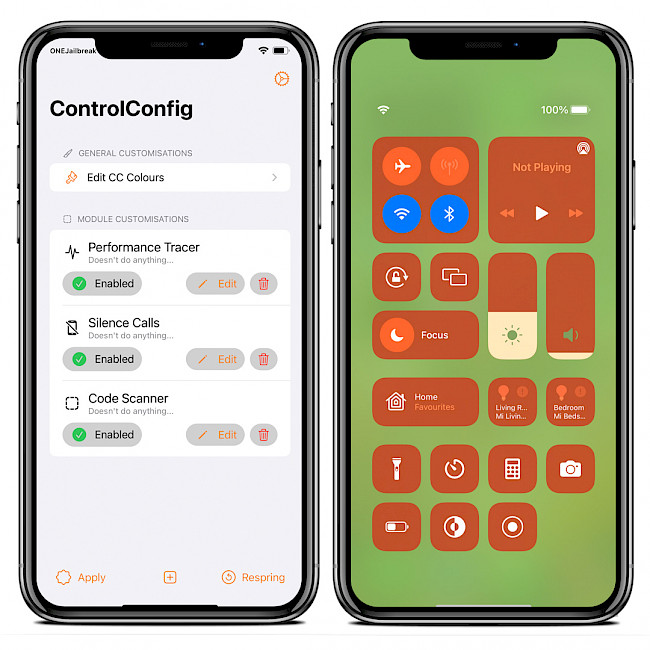 In the general customization section of ControlConfig, you can access the "Edit CC Colors" feature. This powerful tool enables you to modify the control center background and module colors. With this feature, you can adjust both the color and the blur values. Additionally, the preview function allows you to view the changes before you respring to apply changes.
Note: This is an Alpha version of ControlConfig, and it may not work correctly. If you have any issues with infinite respring bug restart your iPhone to revert changes.
While ControlConfig offers a range of customization options, its primary feature is the ability to enable and adjust the behavior of control center modules. While you cannot add new modules with this app, you can easily activate any hidden modules. Additionally, the App Launcher Action feature allows you to use a module to launch any app of your choice or execute a Shortcut.
On the app settings page, you can customize the respring method, you can activate debug mode, the in-app console, and experimental features. If you encounter any issues, you can export the log data to your device's clipboard for easy debugging.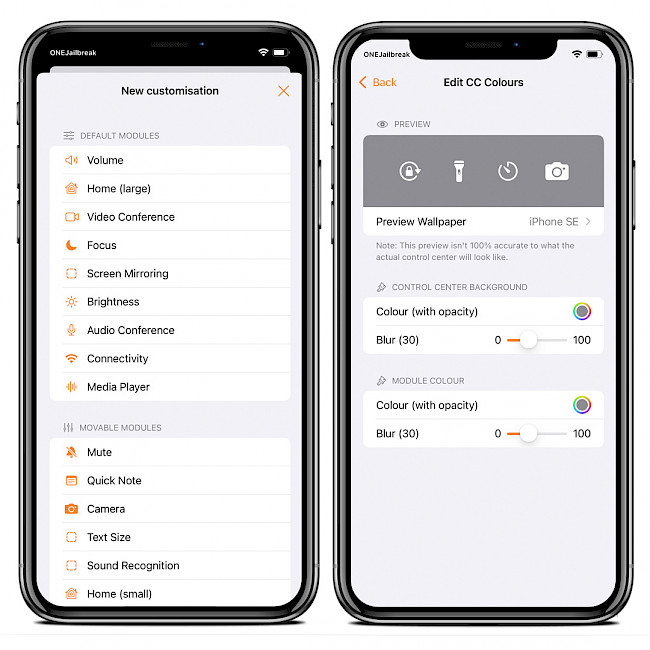 ControlConfig provides you with access to a vast array of 40 different modules. While some of these modules may be more familiar to users, such as text size or appearance, others may not be as readily apparent, such as sound recognition, feedback assistant, magnifier, announce notifications, stopwatch, voice memos, NFC Tag reader, guide access, and accessibility shortcuts. Nonetheless, all of these modules offer valuable functionality.
Tip: Please note that you have to actually go to iOS settings and add the default modules in there for them to show up.
Download ControlConfig IPA
ControlConfig IPA can be sideloaded onto your iPhone using an IPA installer like Sideloadly (available for Windows and macOS) or SideStore the on-device IPA signing tool for iOS 14 – iOS 16. Both methods allow you to install ControlConfig IPA on your non-jailbreak devices.
To install ControlConfig IPA on your iOS device using Sideloadly app, follow these steps:
Download ControlConfig IPA from the link below.

Run Sideloadly application on your PC or Mac.
Connect your iPhone or iPad to the computer via USB.
Load the IPA file into the app to begin the installation process.
Enter your Apple ID to sign the ControlConfig IPA file.
Click the "Start" button to begin sideloading the IPA file onto your device.
When prompted, enter the password for your Apple ID.
Open the Settings app from the Home Screen.
Navigate to "General" → "VPN & Device Management".
Click on the developer app associated with your email.
Tap "Trust" to allow the app to run.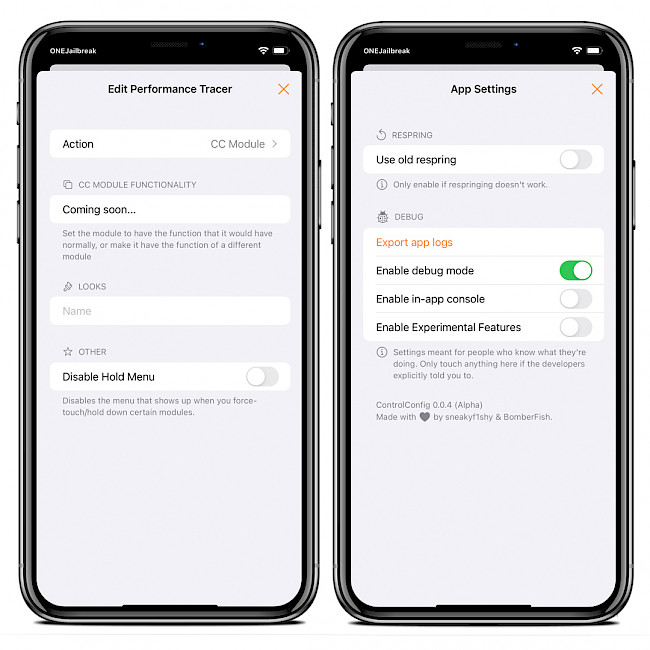 Note: If you don't have a developer certificate, you can use your free Apple account to sign and install ControlConfig IPA and use it for up to 7 days before it needs to be re-signed. What's more, you can sideload the IPA also with TrollStore on iOS 15 – iOS 15.4.1.
What's new
Updated ControlConfig IPA to version 0.1.0 Alpha.
Named all modules, and added icons for all modules.
Default modules now named in settings.
Hidden modules are now enabled.
Backup system for restoration (not 100% done).
Better logging/application.
New user interface of the app.
Added module color changer with preview.
App picker for launching apps.
Respring custom actions.
Overall improvements and bug fixes.
Post a comment