Complications tweak

qbap |
Cydia Tweaks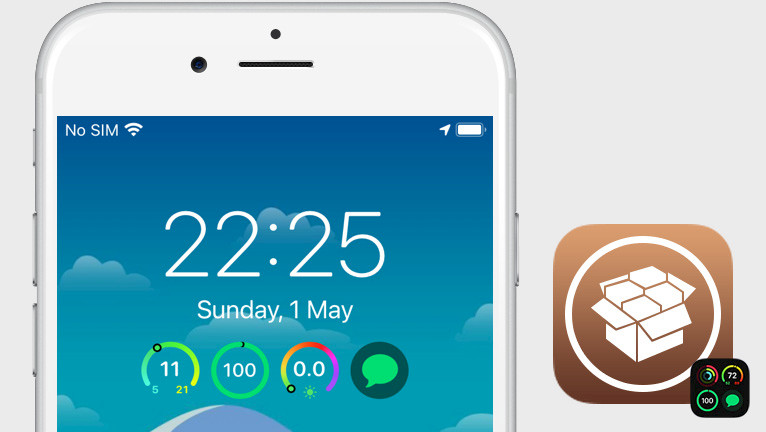 When jailbreaking your iPhone, the Lock Screen can become much more functional than simply displaying notifications. With tweak like Complications, you can add WatchOS-inspired widgets displaying useful information on Lock Screen at a glance.
What is Complications?
Complications is a jailbreak tweak that brings the Apple Watch widgets to your iPhone's lock screen. The tweak is full compatibility with the latest jailbreaks running iOS 15 on all devices and offers backward compatibility up to iOS 12. This is a paid tweak available for $1.99.
Once installed, a dedicated preference pane is added to the Settings app from where you can configure all options to your liking. Toggle on/off the tweak, define positioning offset, choose the number of displayed rows and columns with Complications widgets, etc.
The jailbreak offers a variety of tweaks for customizing the lock screen of your device. Among them, the Complications tweak stands out for its beautifully animated 34 widgets. These widgets display useful information from your preferred apps, allowing you to stay informed without having to unlock your phone. Additionally, the widgets are designed to update regularly.
There is no need to own an Apple Watch to use Complications on your iPhone. The only requirement is to jailbreak your device with a preferred tool like unc0ver or checkra1n. Complications tweak comes with over 30 built-in widgets for your device.
These include Activity Rings, Air Quality Index, Alarm, Battery, Battery: Accessories (Apple Watch, AirPods, etc.),Calculator, Calendar, Compass, Date, Find my Friends, Flashlight, Home, Humidity, Mail, Maps, Messages, Music, News, Phone, Podcasts, Rain Percentage, Reminders, Remote, Stocks, Sunrise / Sunset, Timer, UV Index, Voice Memos, Volume, Wallet, Weather Temperature, Weather Conditions, Wind, World Clock (Digital or Analog).
To change a widget, simply long-press and hold the icon on the lock screen. This will open a dedicated menu, showcasing all of the available widgets that the tweak offers. Additionally, you can also add any app shortcut to the lock screen, alongside your other widgets, for quick and easy access. This feature provides access to your most frequently used apps.
Ben Giannis is the designer and developer behind Complications and many other jailbreak tweaks. He has done an excellent job in creating the widgets Lock Screen tweak. The widgets seamlessly blend with your wallpaper, featuring beautiful animations and provide a level of customization for positioning to fit any desired design.
Complications tweak is a great alternative for the Watermelon tweak ($1.49) offering similar features. If you like to place rounded widgets below the clock on the lock screen booth tweaks will do the job. Complications is a bit more expensive and offer 14 more widgets.
One of the major new features in iOS 16 is the ability to add widgets to the Lock Screen. This feature provides a convenient way to view important information, such as the weather, time, date, battery levels, upcoming calendar events, alarms, all from the Lock Screen.
Complications appears to have been ahead of its time, as it offers similar functionality as an Apple feature, but with more widgets available. Additionally, it has been available and fully functional for multiple years, and supports older devices running iOS 12, iOS 13, and iOS 14.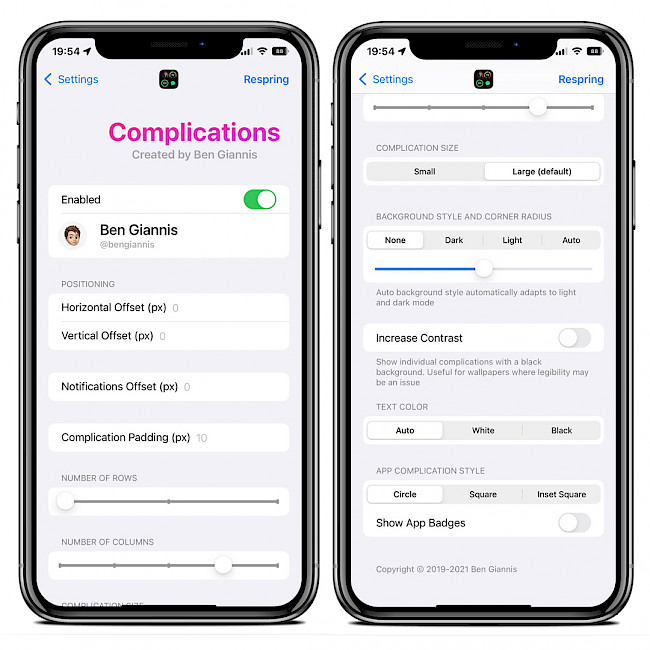 Add Repository
Havoc Repository contains the latest version of the popular Apple Watch widgets tweak developed for your iPhone's Lock Screen. To install Complications tweak on your iPhone it's required to add the official Cydia Repo to your package manager.
Note: Complications tweak was not updated to be compatible with iOS 15, and it is not functioning on the latest jailbreaks. However, iCraze has released a ComplicationsFix that addresses this issue and allows the tweak to run on XinaA15 and Palera1n Jailbreaks.
To install Complications tweak on your jailbroken iOS device, follow these steps:
Open the Cydia app from the Home Screen.
Tap on the Sources tab, then select Edit.
Add the following repository URL: https://havoc.app and https://repo.icrazeios.com
Install Complications and ComplicationsFix from the new repositories.
To apply all changes respiring your iPhone.
Configure Complications tweak from the Settings app.
Alternatively, please use the quick links available below to add the repository to your favorite package manager (Cydia, Sileo, Installer, Zebra) with just one tap.
What's new
Updated Complications to version 4.0.
Complications is now available on the Havoc repo.
Full compatibility with iOS 14 on all devices.
Added "Increase Contrast" option for better legibility on some wallpapers.
Added option for custom padding between complications.
Fixed an issue where the Messages badge would sometimes display "0".
Other bug fixes and improvements.
Post a comment