CLEO GTA San Andreas modloader for iOS

qbap |
Cydia Tweaks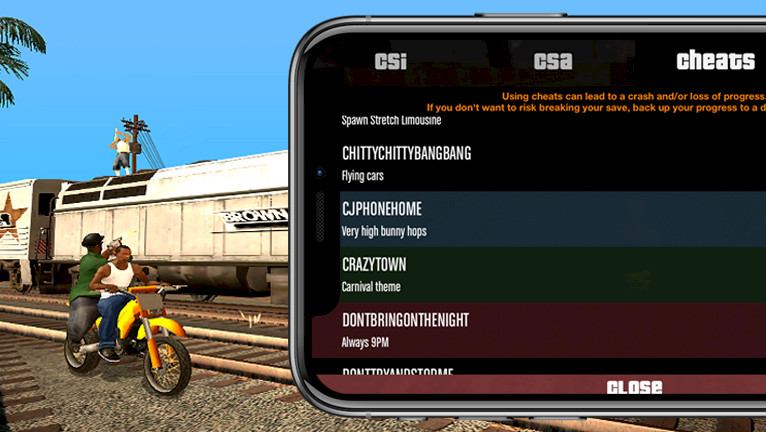 GTA San Andreas has captivated players for years with its immersive gameplay and extensive modding community. With the use of the CLEO iOS tool, players can easily enhance their gameplay by loading in various mods and customizations on iOS.
What is CLEO iOS?
CLEO iOS is a modloader for Grand Theft Auto: San Andreas (GTA San Andreas),the mobile version of the popular open-world action-adventure video game developed by Rockstar North. Enable cheats, unlock 60 FPS, and load CSA or CSI scripts in GTA San Andreas for iOS.
GTA San Andreas was initially released on the PlayStation 2 in 2004, but was later re-released for several other platforms, including iOS devices. The iOS version of GTA San Andreas allows players to explore the fictional state of San Andreas, engage in various missions and activities, and interact with the game's open world in a way that is similar to the original console version.
Once installed on your jailbroken device, the CLEO iOS modloader adds a new menu to the Grand Theft Auto: San Andreas game, accessible by swiping down on the screen anywhere within the GTA app. The menu allows you to control scripts, cheats, and CLEO's options.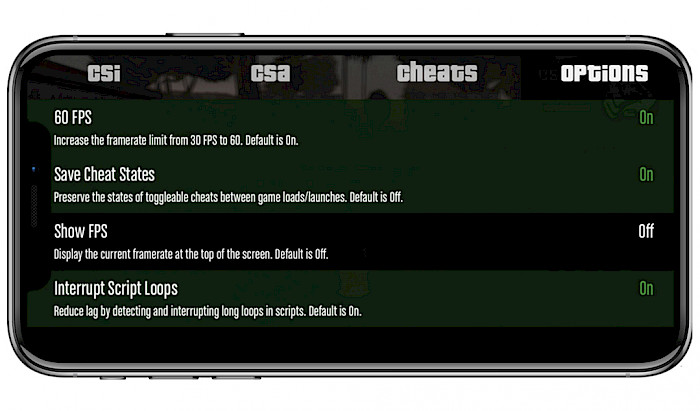 CLEO iOS app boasts a range of features to enhance your Grand Theft Auto: San Andreas experience. Firstly, it provides file support for a variety of scripts and language extensions including CSA scripts, CSI scripts, and FXT language extensions. The app also offers convenient mod loading, with support for archive (.img) file modding and automatic file replacement. Additionally, the app features a cheat menu, as well as support for 60 FPS gameplay.
A "CSI" script, recognizable by its .csi file extension, is a type of script that requires activation to run. The CLEO iOS app locates these scripts and displays them in the CSI tab within the menu. The status of each script, either "Running" or "Not running," is indicated with green indicating a running script and white indicating a script that has not been activated.
Note: Keep in mind that a single script may have multiple issues, though only one will be displayed by the system. It's important to note that this system is not foolproof, so it's recommended to exercise caution when using scripts, even if they do not display warnings.
In addition to CSI scripts, CLEO also supports "CSA" scripts, recognizable by their .csa file extension. These scripts share many features with the CSI menu and can be used similarly. The CLEO iOS menu also includes a Cheats tab that features a list of cheats.
Each cheat option is accompanied by its code and a description. This allows you to activate various cheats in Grand Theft Auto: San Andreas for iOS, such as enabling flying cars, increasing money, altering the in-game time, and much more.
CLEO for iOS offers even more benefits to enhance your gaming experience. It enables you to increase the framerate limit from 30 FPS to 60 FPS for smoother gameplay. The current FPS is displayed at the top of the screen for easy monitoring. The app also minimizes lag by detecting and interrupting prolonged loops in scripts. Furthermore, the app is able to preserve the states of toggleable cheats between game loads or launches.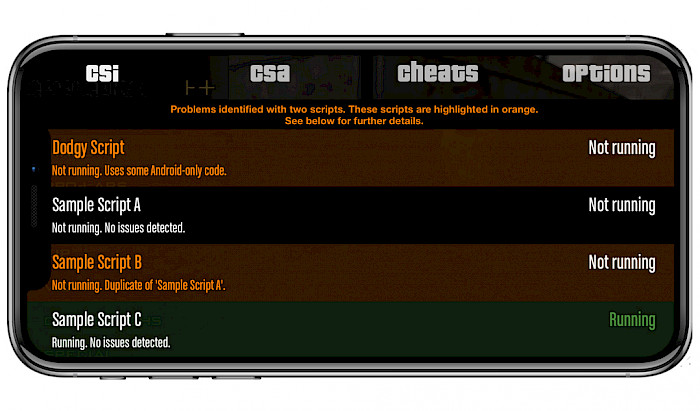 Download CLEO IPA for iOS
iOS is released as a DEB package that can be installed on a jailbroken environment with iOS 13 – iOS 15. Install the tweak and enhance your gameplay by loading in various mods and customizations, providing an even more personalized and dynamic experience.
To install CLEO for iOS tweak on your jailbroken iOS device, follow these steps:
Download Cleo for iOS DEB package.

Share the file with Sileo Package Manager.
Install the recently downloaded Cleo package.
To apply all changes respiring your iPhone.
Once installed the tweak can be enabled from GTA: SA game.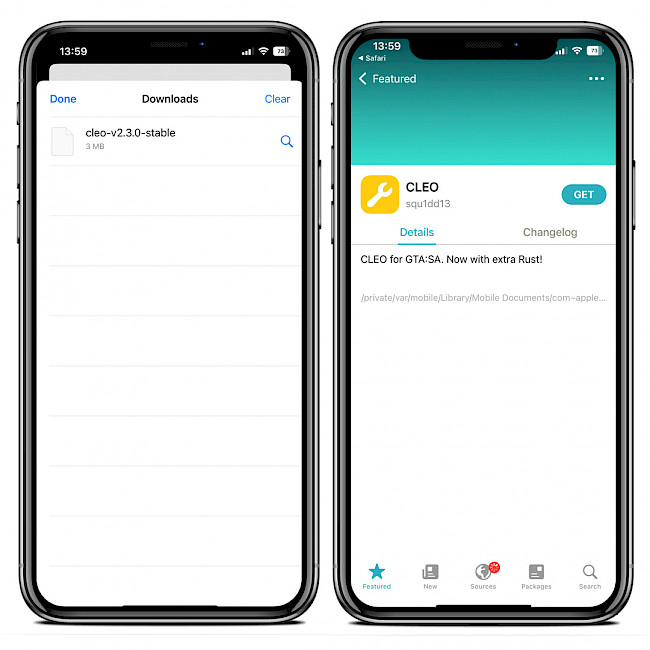 Script installation
Loading game mods by installing scrips using CLEO for iOS offers several benefits to enhance your Grand Theft Auto: San Andreas for iOS gaming experience. Mods can not only enhance various aspects of the game such as graphics, gameplay mechanics, and performance, but also unlock new content, such as weapons, vehicles, give you an advantage over other players.
To use a script with CLEO iOS:
Find the script you want to use.
Locate the GTA app's data folder with Filza in:

/var/mobile/Containers/Data/Application

Open the Documents folder within the app data folder.
Create a folder named CLEO.
Copy any CSI, CSA, or FXT files from the script into the CLEO folder.
Restart the GTA San Andreas game.
Tip: Optionally, you can organize your GTA San Andreas mods by creating additional folders within the CLEO folder, which will also be searched by CLEO and added to the game.
What's new
Updated CLEO iOS to version 2.5.0.
Adds support for the Thai language.
Support for using CLEO in multiple languages.
Visual refresh and offers improved readability.
Minor improvements to update system.
iOS 15 is now supported on Palera1n jailbreak.
Added the ability to swap game files on-the-fly.
Post a comment