Once installed the tweak can be enabled from GTA: SA game.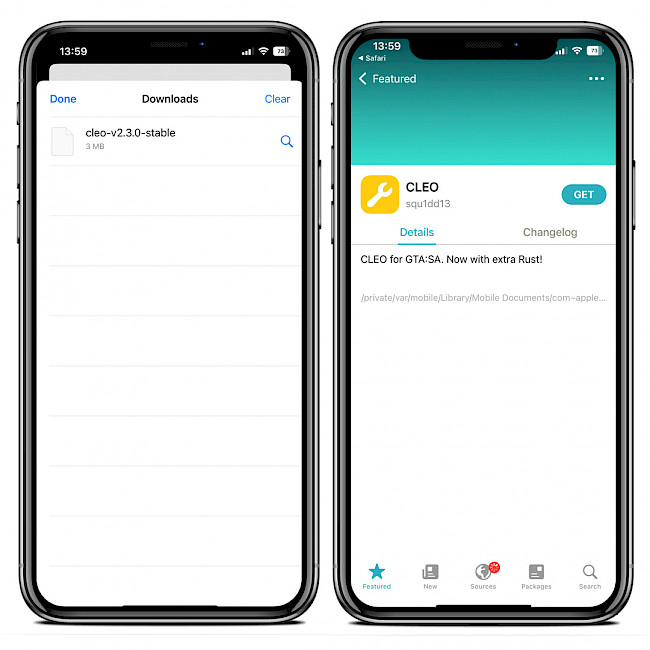 Script installation
Loading game mods by installing scrips using CLEO for iOS offers several benefits to enhance your Grand Theft Auto: San Andreas for iOS gaming experience. Mods can not only enhance various aspects of the game such as graphics, gameplay mechanics, and performance, but also unlock new content, such as weapons, vehicles, give you an advantage over other players.
To use a script with CLEO GTA SA iOS:
Find the script you want to use.
Locate the GTA app's data folder with Filza in:


/var/mobile/Containers/Data/Application

Open the Documents folder within the app data folder.
Create a folder named CLEO.
Copy any CSI, CSA, or FXT files from the script into the CLEO folder.
Restart the GTA San Andreas game.
Tip: Optionally, you can organize your GTA San Andreas mods by creating additional folders within the CLEO folder, which will also be searched by CLEO and added to the game.
What's new
Updated CLEO GTA SA iOS to version 2.6.0.
Adds support for the Thai language.
Support for using CLEO in multiple languages.
Visual refresh and offers improved readability.
Minor improvements to update system.
iOS 15 is now supported on Palera1n jailbreak.
Added the ability to swap game files on-the-fly.
Post a comment