CircleApps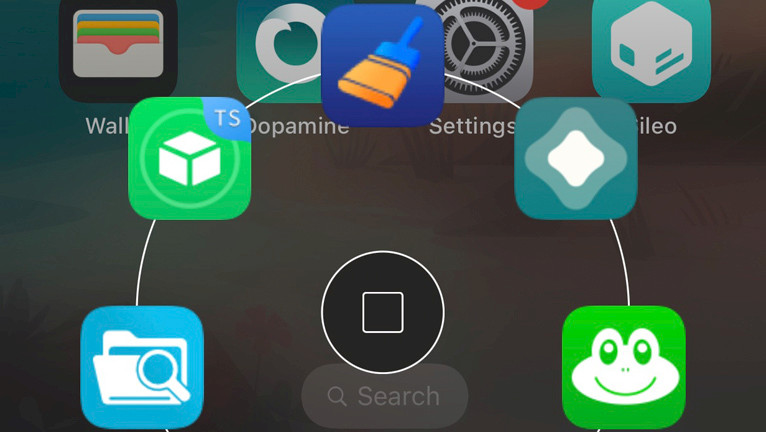 Sugiuta, an exceptionally skilled iOS tweak developer, continues to amaze with a growing repertoire of tweaks. His latest creation, CircleApps, is an ingenious app launcher tweak designed specifically for iOS 15 and iOS 16. CircleApps tweak 7-day trial version supports now rootless environment running Dopamine and Palera1n jailbreaks.
Add CircleApps Repo to your package manager and install the tweak:
What is CircleApps?
CircleApps (CircleApps15) is designed specifically for the rootless environment, introduces an innovative round app launcher that grants you seamless access to your most recently used or favorite apps, no matter where you are on your screen. Whether you find yourself immersed in an app or navigating your Home Screen, activating the CircleApps is as simple as a single touch.
Upon installation, CircleApps seamlessly integrates a new preference pane into your Settings app. Within this pane, you gain complete control over the CircleApps tweak for iOS, allowing you to enable it and tailor all available options according to your preferences.
You have the freedom to choose whether the circular app display should showcase your recently opened apps or your carefully curated favorites list. This intuitive configuration empowers you to personalize your experience and ensures that CircleApps tweak for iOS effortlessly aligns with your unique application usage patterns.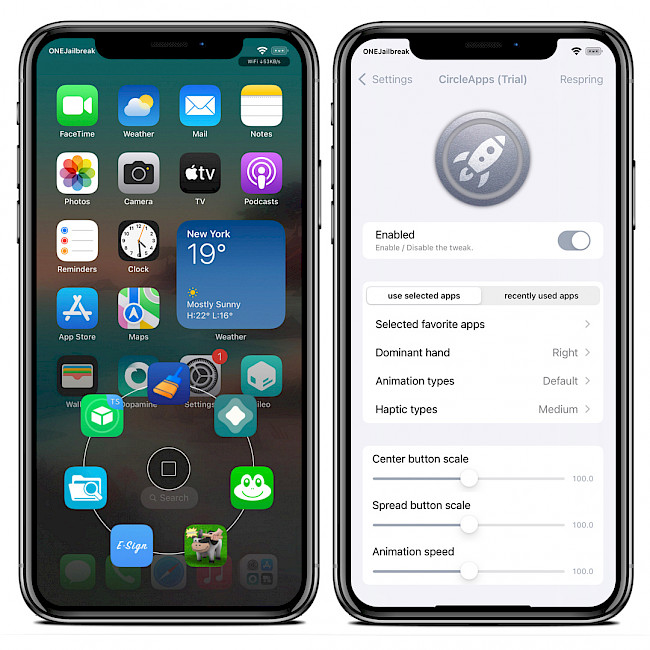 Within the configuration pane of the tweak, you have the ability to customize various aspects of CircleApps to suit your preferences. Not only can you modify animation types, but you can also choose the dominant hand for effortless activation.
Additionally, you have the freedom to define haptic feedback types, as well as manipulate parameters such as the center and spread scale, and animation speed of the activation wheel. This level of customization ensures that the activation process becomes effortless.
Although CircleApps is a premium tweak, the developer has generously provided a 7-day trial period, allowing everyone to experience its remarkable functionality firsthand on their devices. CircleApps tweak supports rootless jailbreaks such as Dopamine and Palera1n.
This trial period ensures that you can thoroughly test and evaluate the tweak's capabilities before making a purchase. By offering this opportunity, the Sugiuta demonstrates commitment to customer satisfaction and their confidence in the value that CircleApps brings to iOS.
Add Repository
To download CircleApps tweak, you must add the official Havoc Store to Sileo Sources. Add CircleApps Repository to your package manager and install this amazing tweak that brings app launcher to iOS 15 – iOS 16. CircleApps it was released for rootless jailbreaks. You can try CircleApps15 tweak for free for 7 days from Sugiuta's Repo.
To install CircleApps tweak on your iOS with Sileo, follow those steps:
Open the Sileo app from the Home Screen.
Tap on the Sources tab, then select Edit button.
Add the following repository URL:


https://havoc.app
https://sugiuta.github.io/repo/

Find the CircleApps tweak and tap to download the package.
Sileo will ask you to respring the device to finish the installation.
From the Settings app, access CircleApps it preferences.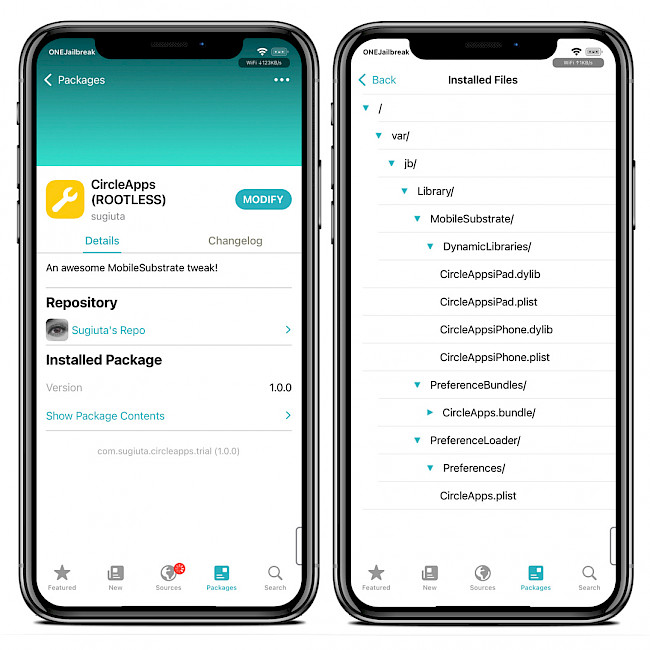 For added convenience, you can quickly add the repository to your preferred package managers (Cydia, Sileo, Installer, Zebra) by using the quick links provided at the top of this page. With just one click, you can easily add the repo to purchase CircleApps for iOS 15 – iOS 16.
What's new
Initial release of CircleApps tweak.
Post a comment