ChatWall tweak: Add wallpaper to Messages app

qbap |
Cydia Tweaks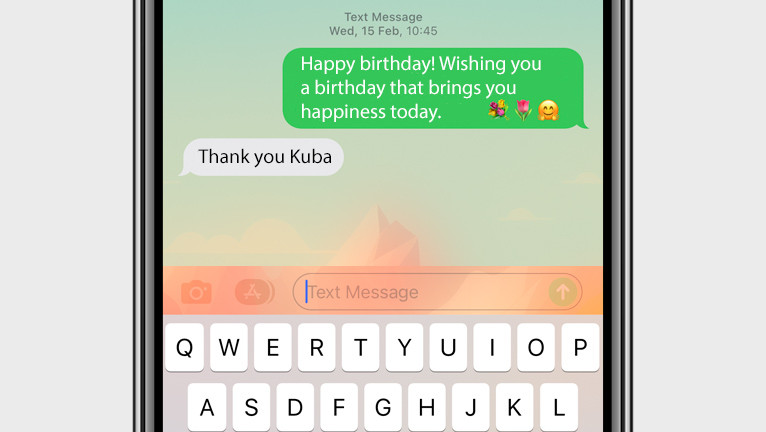 Add unique wallpaper backgrounds to conversation list and individual chats in Messages app using the free ChatWall tweak. This highly customizable tweak for iOS 14 and iOS 15 that allows you to choose an image from your photo library, among other things. Give your iOS messaging experience a fresh new look with ChatWall tweak.
What is ChatWall?
ChatWall is a free jailbreak tweak that allows you to add a wallpaper to Messages app on your jailbroken device. The wallpaper effect is applied to both the conversation list and individual conversations, offering a new realm of creative possibilities that are typically limited by iOS.
Once installed, the ChatWall tweak will create a dedicated preference pane within the Settings app. From here, you can enable the tweak, choose an image for your wallpaper, and specify where you'd like the wallpaper to appear – whether it be in your people list, your chats, or both.
You have several customization options available to you with ChatWall tweak. First, you can choose an image from your Photo Library to use as your wallpaper. Then, you can adjust the blur amount of the wallpaper using a slider. If you prefer a minimalist look, you can also hide the chat box background and the app strip from the message composition text field.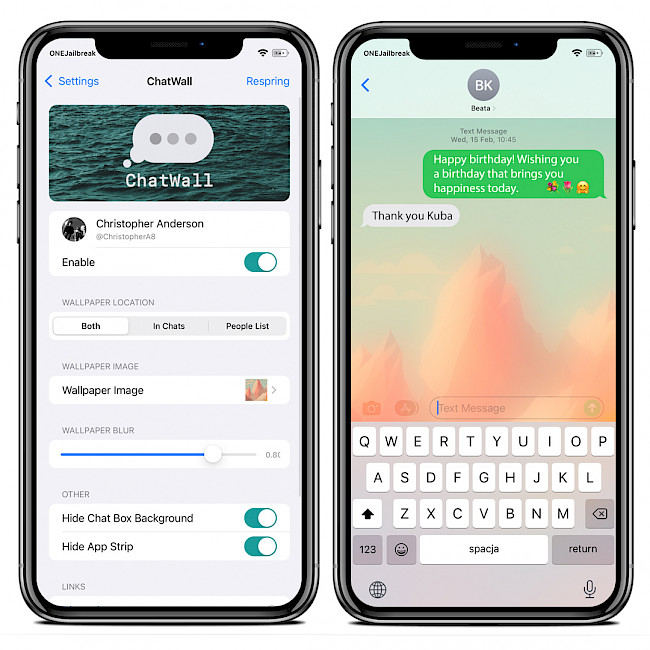 Although it is possible to add a wallpaper directly from a photo, it may not be the most effective approach due to the readability. A better option is to use a simple pattern on the wallpaper that can help make the text more prominent and easily readable.
ChatWall tweak is designed to be compatible with iOS 14 through iOS 15. However, Christopher Anderson recently updated the tweak to also support the latest iOS versions, including rootless iOS 15, and iOS 16. Now you can run the tweak also with Palera1n and XinaA15 jailbreaks.
ChatWall tweak was released as an open source project, and its files are available for review and download through the GitHub Repository. The tweak's source code is primarily written in Objective-C, and it requires theos libraries for successful project compilation.
Add Repository
ChatWall was released as a free package that can be installed through the Havoc Repository with ease. The latest version 1.0.8 was moved from Packix Repository to Havoc, and it brings support for iOS 15. Install ChatWall tweak and add a wallpaper to the stock Messages app.
To install ChatWall tweak using Sileo, follow those steps:
Open the Sileo app from the Home Screen.
Tap on the Sources tab, then select Edit button.
Add the following repository URL: https://havoc.app
Find the ChatWall tweak and tap to install the package.
Sileo will ask you to respring the device to finish the installation.
From the Settings app, enable the ChatWall tweak.
Alternatively, please use the quick links available below e to add the repository to your favorite package manager (Cydia, Sileo, Installer, Zebra) with just one tap.
What's new
Updated ChatWall tweak to version 1.0.8.
Added support for iOS 15.
Fixed black border around message tap backs.
Fixed blur view not resizing in landscape orientation.
Overall code improvements and bug fixes.
Post a comment