Cercube IPA for YouTube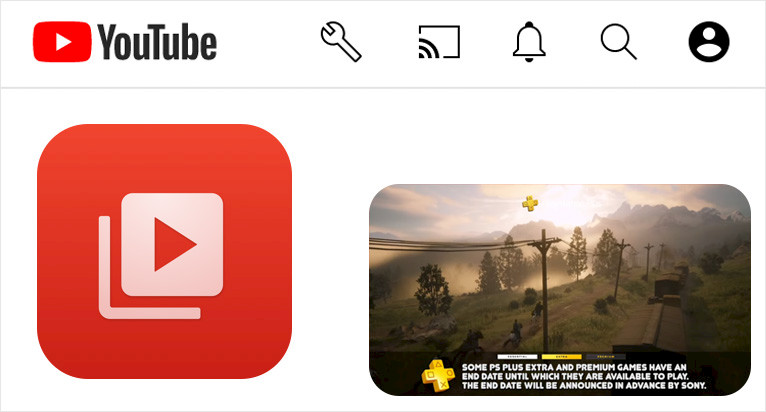 The YouTube app on iOS lacks some useful features required by users. Cercube for YouTube adds to the app an adblocker, an option to download videos, PiP mode, an auto-reply feature, and more. Install the latest version of Cercube 5 for YouTube on iOS.
Download Cercube IPA
What is Cercube?
Cercube is one of the most popular tweaks for the YouTube app. It offers a lot of useful features such as blocking ads, downloading videos up to 4k quality, converting videos to audio, enabling background playback and Picture-in-Picture mode, or auto-reply videos.
When you are running a jailbroken environment you can install Cercube tweak directly on the App Store YouTube app. Otherwise, download Cercube IPA and install it on any other device running iOS 13, iOS 14, iOS 15, or iOS 16. The IPA file contains the YouTube app and Cercube.
When you will install the popular YouTube tweak for iOS you will find a new wrench icon in the navigation top bar. Once taped you will access all settings provided by Cercube 5. Toggle on background playback (useful when playing music), automatically replay videos when they finish playing, block in-app ads, and video ads, and select video quality for WiFi and Mobile Data.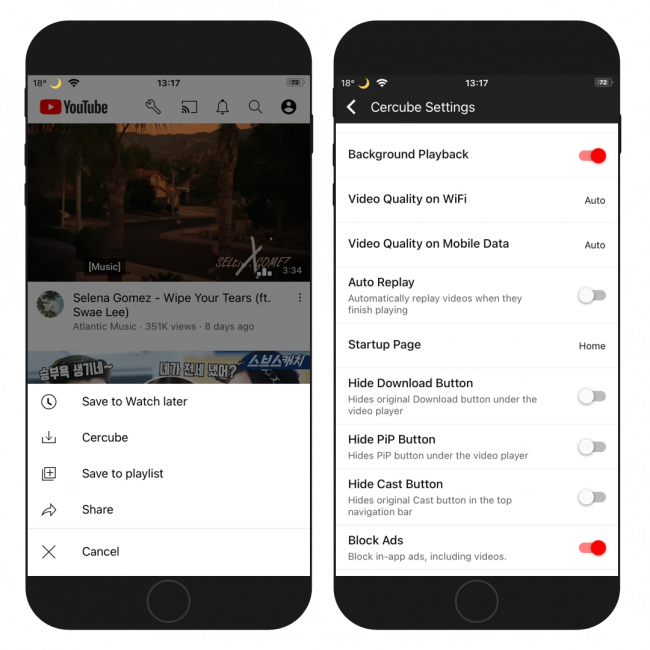 From here you can also select the default tab to always open when launching the YouTube app, hide the original download button under the video player, hide the original cast button in the top navigation bar, hide the PiP button under the video player, and configure the tab visibility (toggle on or off) and arrangement by long pressing on any item and moving it along.
One of the most demanding features of the YouTube app, to enhance the overall user experience, is an option to download videos for offline viewing. Cercube 5 allows you to download videos of up to 4k quality to the Camera Roll, and convert videos to audio files.
To download a YouTube video on your iPhone using Cercube 5 simply tap on the three dots icon displayed under the video, and from available options select Cercube. The tweak will ask you about the video quality and format to download. All files (audio and video) will be accessible from the Downloads section. You can quickly access it from the bottom navigation bar.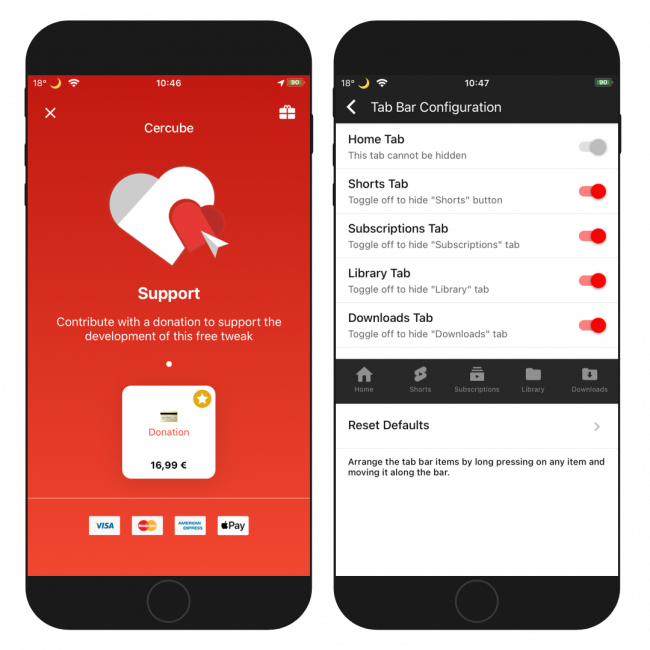 When you installed Cercube 5 via the Repository on a jailbroken device, you can update the tweak by searching for the package in Cydia and update it from there. Cercube will prompt a message in the YouTube app when an update was released. If you sideloaded the Cercube IPA, then you have to download the latest IPA file of Cercube from this page and re-install it.
Cercube for YouTube is a partially free tweak and it requires you to log in to the Cercube account. To access some features such as the Downloads and favorites videos section, or use the option to download YouTube videos you must make an $18 donation. If you don't own an account you can create one from the tweak. If this is too expensive try YouTube++ or uYou.
uYou tweak is packed with the same features for free! Remove YouTube Ads, enable background playback for YouTube videos, download Videos/Audio/Shorts for offline playback (4K video is also supported), and play videos in PiP (Picture In Picture). uYou tweak is the best free alternative for Cercube 5. No jailbreak required.
Is Cercube better or uYou?
Both tweaks are amazing and offer similar features for the YouTube app. The main difference between the two is that Cercube 5 requires registration and it is a paid tweak and uYou was released as absolutely for free. Both support the latest version of the YouTube app.
Install Cercube for iOS
Cercube for YouTube was released as a DEB and an IPA package. The DEB file can be easily installed on any jailbroken device and injected into the YouTube app installed from the App Store. Cercube IPA can be signed and installed on any iOS device. No jailbreak is required.
To sign the IPA file yourself it's required to use a computer. There are also a few Cydia Impactor alternatives that offer on-device IPA signing tools. Feel free to check them out.
Download and sign Cercube IPA
Cercube for YouTube was released as an IPA package. The file contains the YouTube app with the already injected Cercube. An IPA file can be installed on an iPhone, but first, it must be signed with a certificate. Cercube 5 can be installed on iOS 14 and iOS 15 without a jailbreak.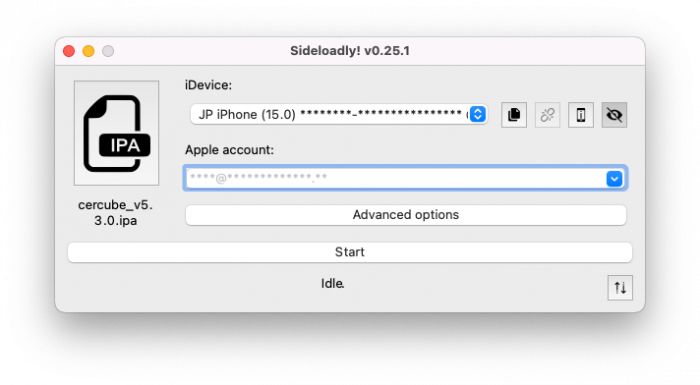 Step 1. Download Cercube IPA (link available at top of this page).
Step 2. Open the Sideloadly application from the installation folder.
Step 3. Connect your iDevice with Sideloadly through Wi-Fi or USB.
Step 4. Click on the IPA icon and from the Open dialog box select the Cercube IPA.
Step 5. Enter your Apple ID required to install the IPA file.
Step 6. Click the Start button to install the IPA file on your iPhone.
Step 7. Provide the password for your Apple ID to sign the app.
To make the install process easier we included on top of this page quick URL links allowing you to download, sign and install the Instagram Cercube IPA file with just one click through your favorite tools such as Sideloadly, ReProvision, or AltStore. Instagram Cercube IPA was signed by your own certificate; it's required to trust it to open the app on your device.
Step 8. Open the Settings app from the home screen.
Step 9. Navigate to General → VPN & Device Management.
Step 10. Click on the developer app with your e-mail.
Step 11. Tap on Trust to allow Cercube for YouTube to open.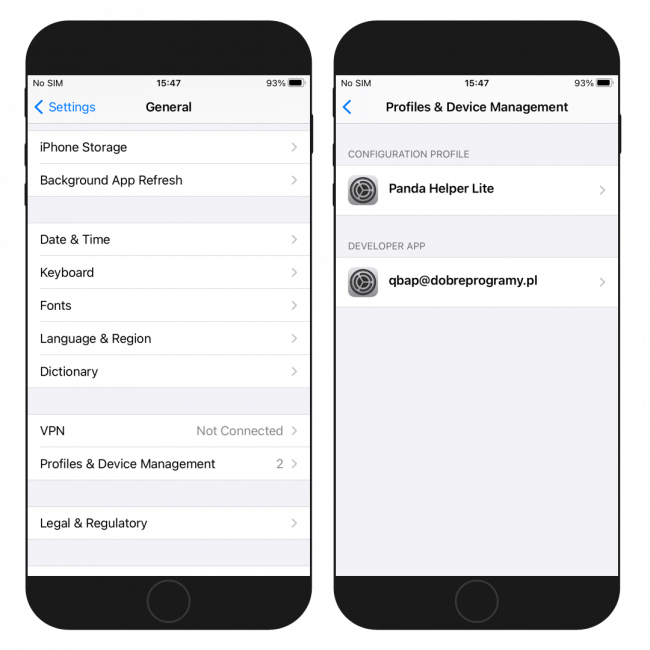 Install Cercube without a PC
Cercube IPA can be also installed without using a computer. Below you can find two links for a signed version of Cercube that can be installed through the Safari browser. The YouTube tweak was signed with a globally available certificate that can get revoked (will not work).
Step 1. Tap on "Install Cercube" from the Safari browser.
Step 2. When the message prompt "would like to install Cercube" tap Install.
Step 3. The Cercube for YouTube app icon will appear on your Home Screen.
Step 4. When the app will be downloaded correctly no error will appear.
Step 6. Run Cercube for iOS from the Home Screen.
When the installation goes well, it's also required to trust the newly added certificate from the Settings app. Follow the instruction from the previous installation guide, starting from Step 8.
Repository
Cercube tweak was released through the private Alfhaily Repository. The tweak is compatible with all devices running iOS 9.0 or later and can be installed on jailbroken devices. Be aware that the tweak requires you to install the YouTube app from the App Store.
Tap on the Cydia app icon from the Home Screen.
Switch to the Sources tab and tap Edit → Add.
Add the https://apt.alfhaily.me repository URL.
Cydia will automatically refresh the packages available in the repo.
Search for Cercube YouTube tweak and install the package.
Restart the Springboard to complete the installation.
Access Cercube tweak preferences from the YouTube app.
Alternatively, please use the quick links available below to add the repository to your favorite package manager (Cydia, Sileo, Installer, Zebra) with just one tap.
Add-on
CercubePlus includes the Cercube tweak with added extra features. This add-on was released as an IPA file that can be installed on all devices. It offers all features offered by Cercube and plus it comes with injected iSponsorBlock, YouPiP, YTUHD, YTSpeed, YouTubeHeader, and YouTube Dislike Return. CercubePlus is compatible with iOS 11 and newer.
Cercube Plus will skip annoying sponsor ads inside the videos using SponsorBlock engine, enable YouTube's native PiP, unlock VP9 codec, and in effect, enables video quality of 2K and 4K, and brings back Dislike counts under YouTube videos using ReturnYoutubeDislike's API.
Download Cercube++
Cercube++ is a modified version of the original Cercube for YouTube tweak. The hacked version enables paid features for free and comes with some additional options. It was created by Laxus and released through iOSGods App. Cercube++ works on iOS 8 and newer.
With Cercube++ tweak for YouTube you can enable background playback, block all ads, save videos in high resolution, save videos as audio-only, and save public playlists (beta). You can download the hacked IPA for sideloading here.
Additionally, the Cercube++ IPA brings back dislike counts under YouTube videos using ReturnYoutubeDislike's API, brings back the old video quality selector, offers an option to enable/disable the annoying suggested videos, and removes YouTube Premium upsell alerts.
What's new
Updated Cercube to version 5.3.10.
Fix crashes when querying videos.
Bug fixes and performance improvements.
Fixed crash when using Cercube button from action sheet.
Added Cercube and PiP buttons to video overlay.
Added 2160p option to automatic quality selection.
Added dark mode support for Cercube settings.
Added support for YouTube v16.34.7.
Added support for downloading public playlists (beta).
Sponsored links
Post a comment