Carrierizer2 tweak: Change carrier text on iOS 15

qbap |
Cydia Tweaks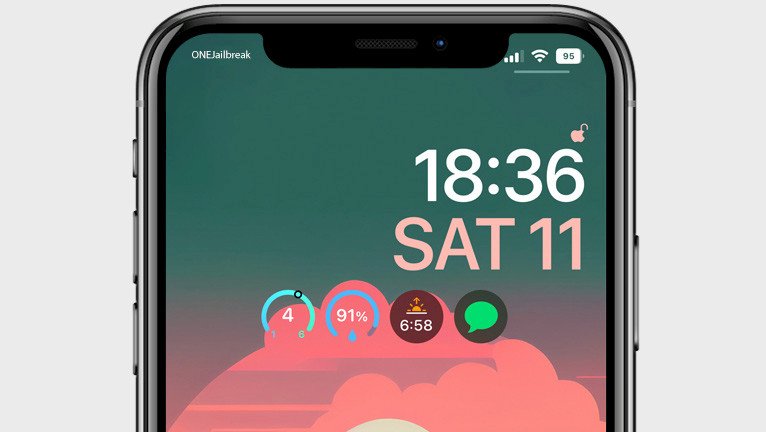 One of the popular reasons people jailbreak their iPhone is to change the carrier text displayed in the status bar. With jailbreak tweaks for iOS such as Carrierizer2, you can customize the carrier text to display any preferred text, among other things.
What is Carrierizer2?
Carrierizer2 is a jailbreak tweak for iOS 15 that enables you to customize the carrier text displayed on your device's status bar. With its recent update, the tweak now fully supports XinaA15 jailbreak for iOS 15 to iOS 15.1.1, making it an essential tool to change the carrier text.
Upon completion of the Carrierizer2 tweak installation, a dedicated preferences' pane is added to the Settings app, allowing you to configure all options according to your preferences. With a user-friendly interface, the tweak makes it easy to customize your Status Bar on iOS.
Carrierizer2 tweak offers a wide range of customization options for your iOS device. With the ability to enable and configure the carrier text, you can change it to your preferred display name, such as ONEJailbreak or emoji. Additionally, you can choose to display a custom text when there is no SIM card or service available. The tweak also offers the option to hide the carrier text, cellular icon, notch, and colored dots, giving your device a clean and minimalistic appearance.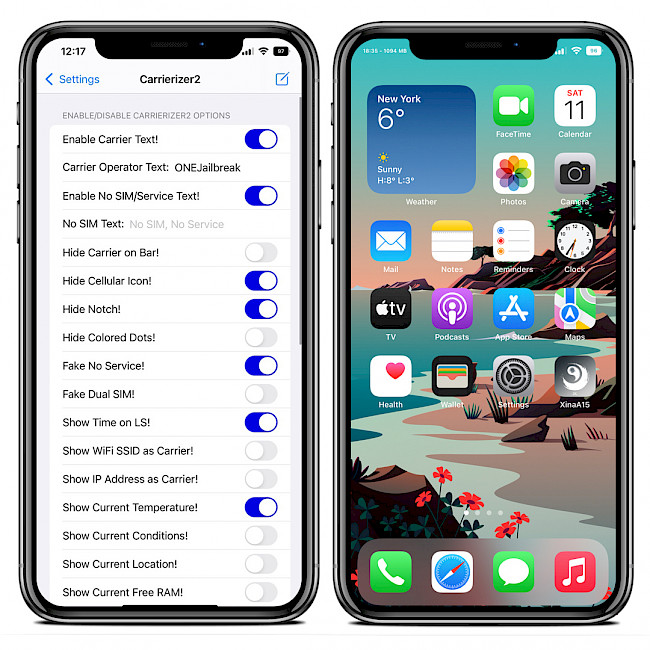 With the fake no service and dual SIM options, you can give the illusion that you have no signal or a different device type. Carrierizer2 tweak also allows you to display various information, such as the current time, Wi-Fi SSID, IP address, temperature, conditions, location, and free RAM, on your Status Bar. With these features, Carrierizer2 tweak is a must-have for jailbreak enthusiasts looking to personalize their device.
Carrierizer2 is a versatile jailbreak tweak that is compatible with all jailbreaks from iOS 12 up to iOS 15. For those running older jailbreaks on iOS 11 and below, there is also the Carrierizer tweak available, offering a limited but still useful option to change the carrier text. Whether you're running the latest iOS or an older version, Carrierizer2 and Carrierizer offer an easy way to personalize your device's appearance and make it truly your own.
Alternatively you can try to download StatusMagic. This MacDirtyCow app offers customization options for the iOS status bar without the need for jailbreak. It is compatible with iOS 14 to 16.1.2 and enables you to alter the carrier text, clock text, and breadcrumb text. Moreover, it offers the flexibility to hide any desired icons in the Status Bar. StatusMagic works on XinaA15 Jailbreak.
Add Repository
CydiaGeek released Carrierizer2 tweak through the BigBoss Repository and private CydiaGeek.yourepo.com. Add Carrierizer2 Repo to your package manager and install the tweak on iOS 12 – iOS 15. Use the tweak to change carrier text on iOS 15, among other things.
To install Carrierizer2 for iOS 15 using Cydia, follow those steps:
Open the Cydia app from the Home Screen.
Tap on the Sources tab, then select Edit button.
Add the following repository URL: http://apt.thebigboss.org/repofiles/cydia/
Search for Carrierizer2 and install the package.
Respiring your iPhone to apply all changes.
Access the Carrierizer2 tweak from the Home Screen.
What's new
Updated Carrierizer2 tweak to version 1.1.7.
Added support for XinaA15 Jailbreak.
Small code improvements.
Post a comment