BioProtect XS tweak protects apps with Face ID or passcode

qbap |
Cydia Tweaks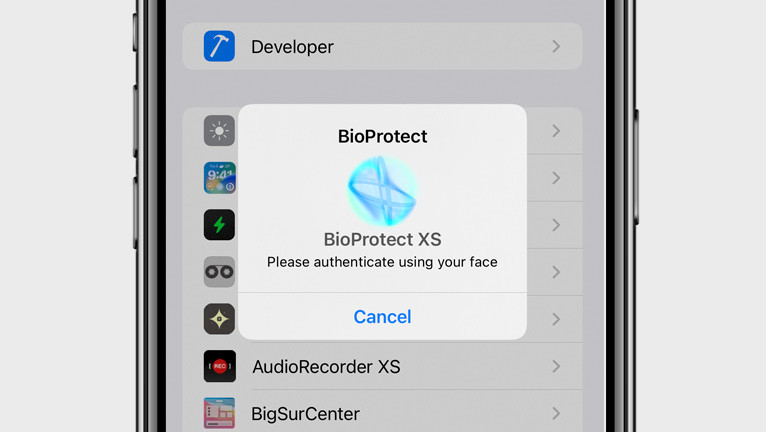 To protect your Home Screen, Apple requires a Face ID, Touch ID, or passcode. However, the BioProtect XS tweak allows you to take this protection a step further by enabling it for select apps and Control Center modules on iOS 12 – iOS 15.
Add BioProtect XS Repo to your package manager.
What is BioProtect XS?
BioProtect XS is a fantastic way to secure your apps and other items from unauthorized access. It listens for events such as app launches, and if the item in question is marked as protected, BioProtect XS tweak will block it until you unlock it with Face ID, Touch ID or passcode.
After installation is completed, BioProtect XS creates a dedicated preference pane in the Settings app from where you can configure all options to your liking. Toggle the tweak on and off, and configure protection settings globally or for selected apps and important items.
Limneos recently released a new version of BioProtect XS with added support for iOS 15 – iOS 15.7.2. No you can run the tweak with Palera1n and XinaA15 Jailbreaks running on iOS 15. Add a layer of protection to your apps and other critical items, preventing them from being opened.
BioProtect XS can be configured to protect not only apps located on the Home Screen, but also other system items. Block unauthorized access to folders, settings panes, Control Center items, power-off, SIM unlock, App Switcher, Siri Access, and Icon arrangement.
It also offers an experimental PhotoLibrary Forced Protection feature. If protection for Photo.app is enabled, BioProtect XS will attempt to block access to photos from any non-protected app until authenticated. You can try this feature instead of blocking the entire Photo app.
On top of that, BioProtect XS allows you to set a passcode as an alternative protection method. This passcode can be set and customized from the BioProtect XS preference pane, even on devices without a Touch ID sensor. This passcode is different from the system passcode.
The tweak also includes a range of customization options, such as enabling vibration feedback upon successful or failed authentication, and unlock session reminder. You can also select Wi-Fi networks on which you like to automatically disable BioProtect XS when connecting to them.
Limneos Development creates high-quality commercial tweaks for jailbroken devices, like BioProtect XS. This protection tool for iOS is priced at $2.99. It works with all modern jailbreaks running iOS 12 up to iOS 15.7. AudioRecorder XS is another tweak from Limneos.
In conclusion, BioProtect XS is a powerful tweak for adding an extra layer of security to your iDevice. It allows you to authenticate access with passcode or biometrics, and offers a range of customization options to suit your needs. Whether you want to protect against unauthorized access or simply add a touch of style to your iPhone, BioProtect XS is a great choice.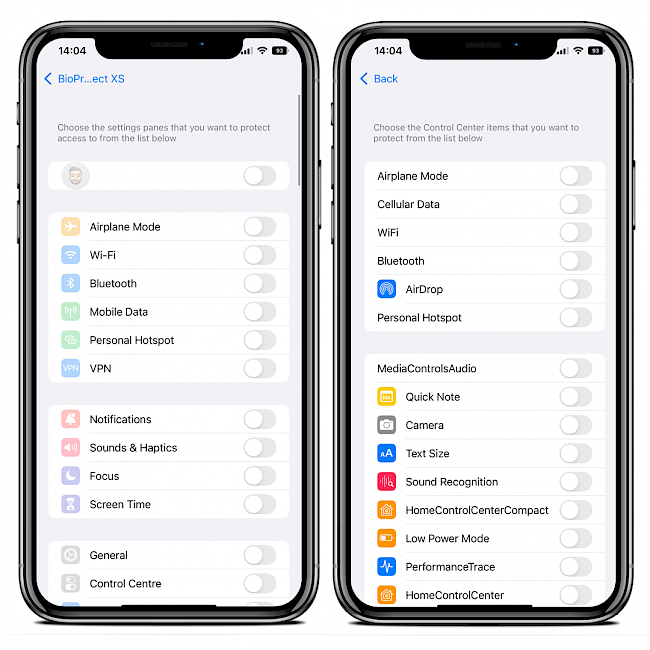 Alternatively, if BioProtect XS does not meet your requirements, you can try Bio Locker tweak from IArrays. This lightweight tweak offers similar features to protect your iDevice.
Add Repository
Limneos Repository contains the latest version of the BioProtect XS installation package. To download the apps' protection tweak on your iPhone it's required to add the official Repository to Cydia Sources. The tweak will create a new preference pane in the Settings app.
To install BioProtect XS tweak on your iOS device, follow these steps:
Open the Sileo app from the Home Screen.
Tap on the Sources tab, then select Edit.
Add the following repository URL: https://limneos.net/repo.
Search for BioProtect XS and install the package.
Respiring your iPhone to apply all changes.
Access the BioProtect XS from the Settings app.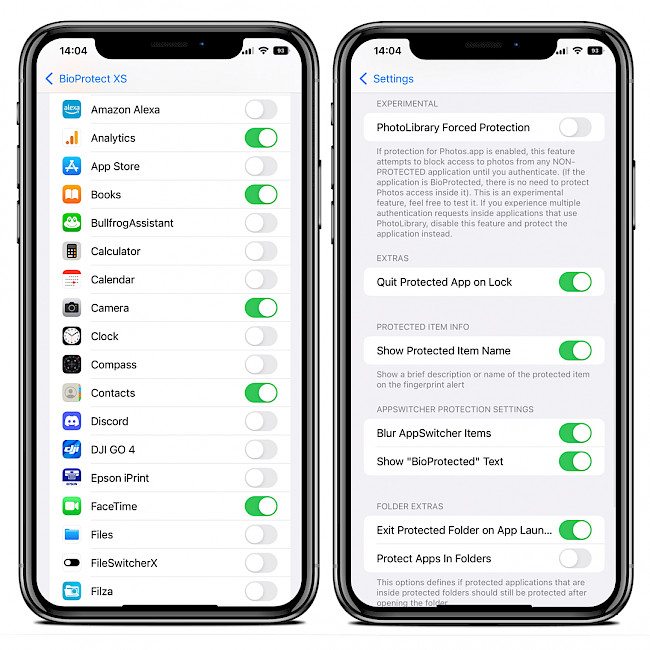 Alternatively, please use the quick links available at the top of this page to add with just one tap the repository to your favorite package manager (Cydia, Sileo, Installer, Zebra).
Note: To purchase the tweak you must use a modern package manager like Sileo, Saily, Zebra, or Installer. Cydia is outdated, and it doesn't offer an option to buy tweaks.
What's new
Updated BioProtect XS to version 4.5.
Added support for iOS 15 – iOS 15.7.2.
Added support for iOS 14.
Now with BioProtect Control Center Module.
Added iOS 13 support.
Post a comment