Barmoji tweak: Emoji Bar for keyboard on iOS 13 - iOS 15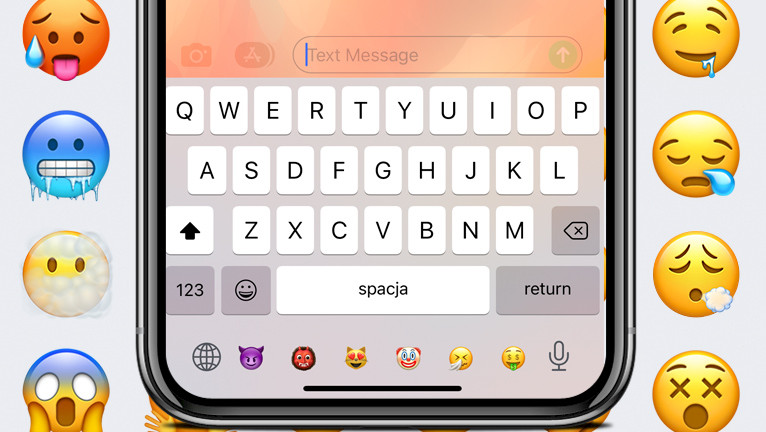 If you're looking to enhance your emoji typing experience on iOS devices, Barmoji is an innovative and popular jailbreak tweak worth considering. This tweak makes excellent use of the extra space on the iPhone X keyboard by replacing the empty space with a convenient Emoji Bar, allowing you to quickly access your favorite emojis.
What is Barmoji?
Barmoji is a free jailbreak tweak that enhances the stock keyboard's functionality, enabling you to access emojis quickly from the prediction bar. Originally designed for iOS 13, this tweak adds a selectable emoji view between the globe and dictation buttons on iPhone X's search bar. Barmoji can be also installed on the latest rootless jailbreaks such as Fugu15 and Dopamine.
After installation, the Barmoji tweak creates a new preference pane in the Settings app. This pane allows you to not only enable the tweak but also customize all its options according to your personal preferences. With this feature, you can tailor Barmoji to suit your needs, making it an even more valuable addition to the keyboard and make your messages even more expressive.
Lessica recently updated Barmoji to support iOS 15, along with the Palera1n and XinaA15 jailbreaks. However, this new version is not yet available in any repository and can only be installed by downloading a DEB package. Barmoji 2023.3 also includes a feature that allows you to select custom emojis from the tweak's preference pane. With this option, you can now add your custom selected emojis to your keyboard for quick access.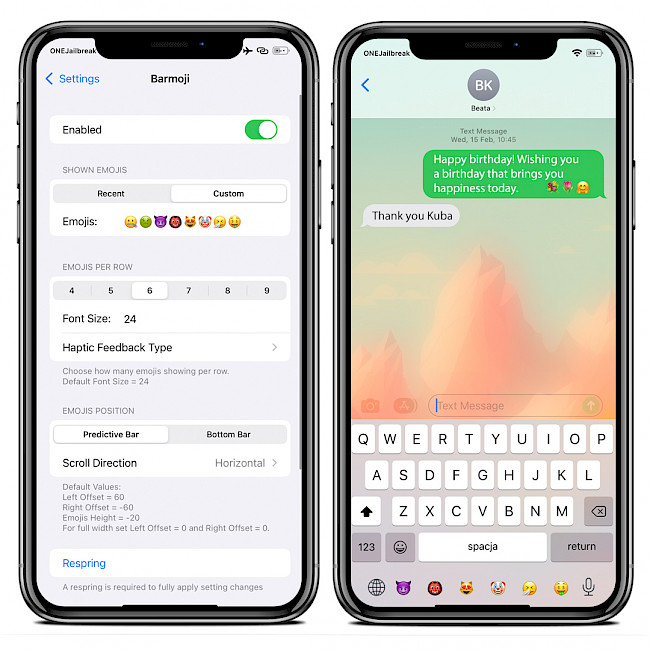 Barmoji offers a range of customization options to adapt the tweak to your personal preferences. You can easily toggle the tweak on or off on demand, as well as choose between using Recent or Custom Emojis. Additionally, you have the option to enable or disable displaying the Emoji bar at the bottom of the keyboard, set font size, and number of emojis per row.
What's more, the tweak also allows you to enable or disable the native Predictive bar, giving you more control over your keyboard's layout. Furthermore, you can configure haptic feedback according to your liking, picking from a range of options that include None, Extra light, Light, Medium, Strong, Strong 2, and Strong 3. Finally, you can even set a preferred scroll direction, selecting either horizontal or vertical scrolling depending on your preference.
The developer has added a Respring button in the preference pane, enabling you to save any changes you make on demand. This button is a convenient feature that saves you time by eliminating the need to manually respring your device after making changes to tweak settings.
Barmoji tweak was originally created by CPDigitalDarkroom and released as an open-source project through the GitHub repository. Later, MiRO92 modified the tweak to bring support for newer devices. Recently, Lessica (developer of TrollSpeed) forked the project to deliver iOS 15 support, ensuring that Barmoji remains compatible with the latest jailbreaks.
You can also download the Barmoji tweak v2023.3 from DaoDao's personal repository, which supports rootless jailbreaks like Dopamine and Fugu15 Max Beta 8. To use the package, you'll also need to download and install the Legacy arm64e support package from ElleKit.Space.
Add Repository
Barmoji tweak was initially released as a free package that could be installed on iOS 10 through iOS 13 by adding the official CPDigitalDarkroom Repo to your package manager. However, if you want to use Barmoji on the latest jailbreaks, including XinaA15 or Palera1n, a separate package has been released. This DEB file can be easily installed using Sileo or Filza.
To install Barmoji tweak using Sileo, follow those steps:
Open the Sileo app from the Home Screen.
Tap on the Sources tab, then select Edit button.
Add the following repository URL:


https://repo.cpdigitaldarkroom.com
https//xiangfeidexiaohuo.github.io
https://ellekit.space

Find the Barmoji tweak and tap to install the package.
Sileo will ask you to respring the device to finish the installation.
From the Settings app, enable the Barmoji tweak.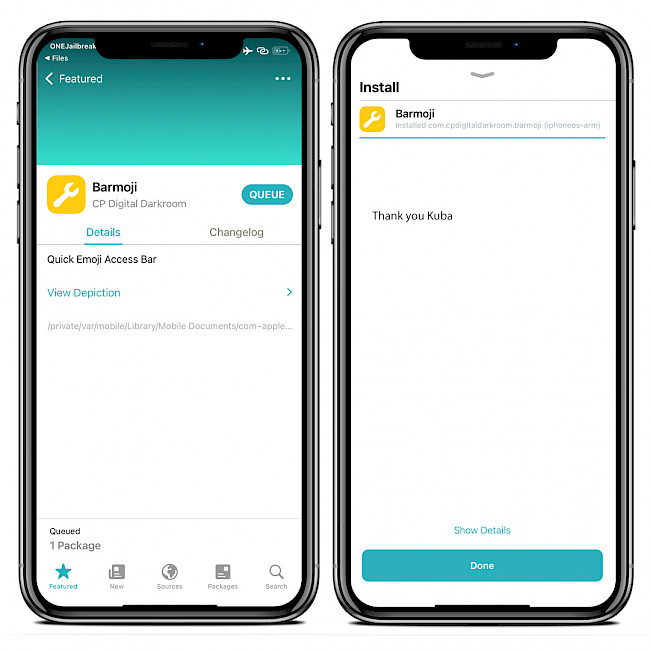 For added convenience, you can quickly add the repository to your preferred package managers (Cydia, Sileo, Installer, Zebra) by using the quick links provided at the top of this page. With just one click, you can easily add the repo to download Barmoji tweak for iOS.
What's new
Updated Barmoji tweak to version 2023.3.
Added support for iOS 15.
Add option to set emojis per row.
Add option to adjust left and right offsets.
Add option to set custom height for bottom bar.
Removed full width option, just 0 left and right insets for full width.
Add option to hide the globe button.
Add option to hide the dictation button.
Fix Barmoji being displayed during dictation.
Fix Barmoji being displayed while in landscape bottom bar.
Sponsored links
Post a comment