AudioRecorder XS is the audio recorder for iOS 15 and iOS 16

qbap |
Cydia Tweaks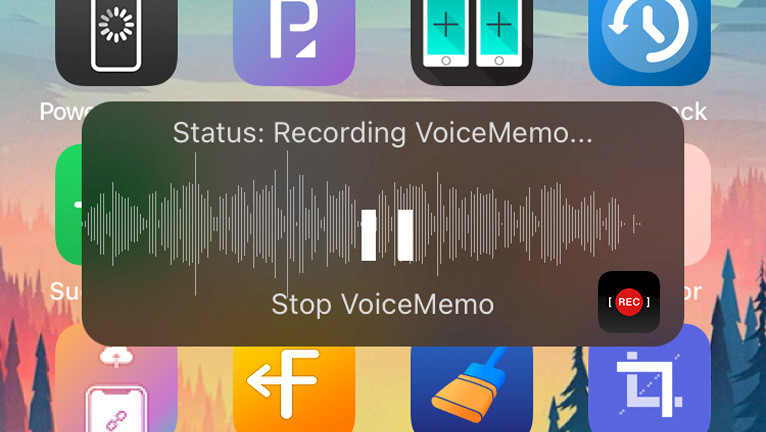 AudioRecorder XS was the first phone call recorder created for iOS devices. If you need to record conversations on your iPhone this is still the best solution for your device. With this tool, you can capture every sound played or recorded on iOS.
Add AudioRecorder XS Repo to your package manager.
What is AudioRecorder XS?
AudioRecorder XS is the best jailbreak tweak that allows you to record your phone calls, voice memos, and system audio directly on your iPhone. The tweak supports all CallKit services including Telephony, FaceTime, Skype, Viber, Messenger, WhatsApp, LINE, and Instagram.
Once installed, a new dedicated preference pane is added to the Settings app. From here you can enable the tweak globally and configure some settings. There is an option to automatically notify the remote party with a warning voice message that the call will be recorded.
Audio Recorder XS doesn't use a workaround remote server to record your calls like other App Store recording tools. This amazing tweak comes with a dozen options, and it's definitely the number one recording tool for iOS. It works only on jailbroken devices running iOS 12 – iOS 16.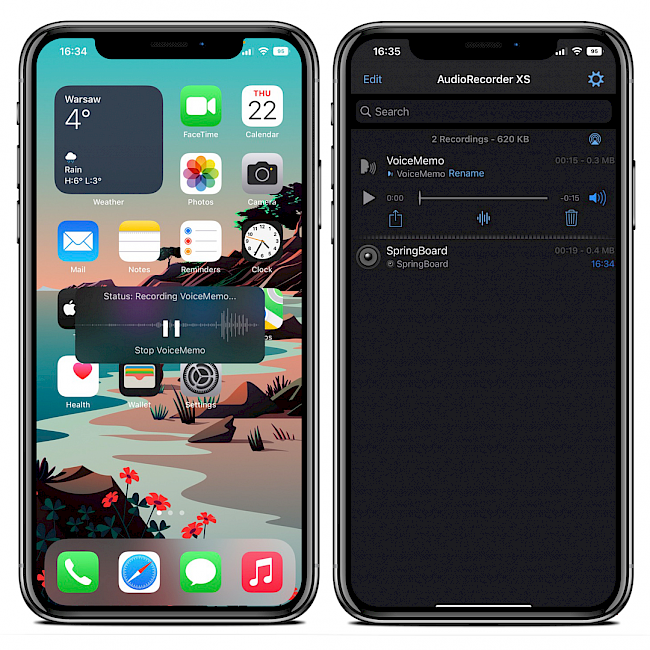 You can also enable it to automatically record all calls or only specific numbers available on your contacts list or added manually. Those recording settings can be defined per app.
Limneos Development is creating great commercial tweaks for jailbroken devices and AudioRecorder XS is one of the best products released so far. This native audio recording tool for iPhone is priced at $3.99. It works with all modern jailbreaks running iOS 12 up to iOS 16.
By default, it's required to activate AudioRecorder XS tweak to start capturing audio from your iPhone. The tweak comes with a UI Activator Methods module allowing you to select many ways to run the app. Use 3D Touch to force-touch on the status bar, motion to shake the device, multitouch gestures to use four-finger tap, connection with Apple Watch, and many others.
I like to activate AudioRecorder XS interface by taping on the Status Bar.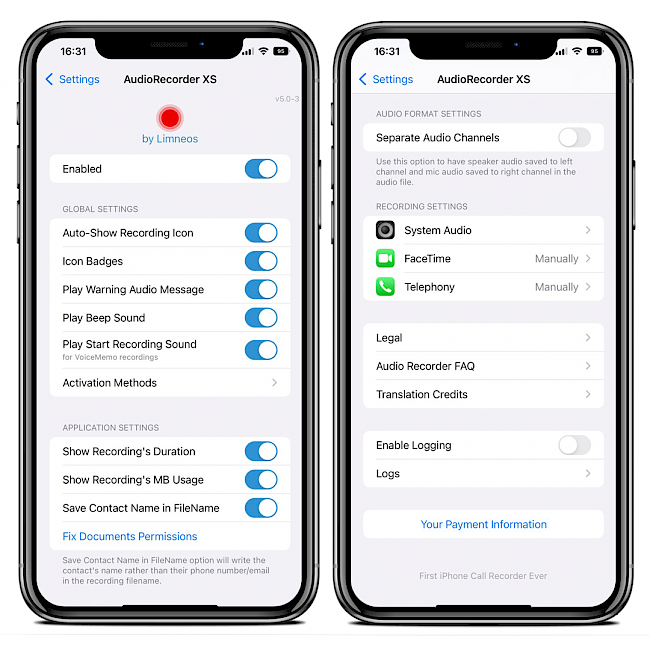 AudioRecorder XS also installs a file management tool available from the Home Screen. When you run the app you can view all recordings, and play the audio with a built-in visualizer for recordings. There is an option to rename the files, view the audio duration, and size of the MP3.
Furthermore, Audio Recorder XS tweak can log all actions, share recordings with all supported devices on your device, run a Web Server in the background, add backups of recordings in iCloud / iTunes, or automatically sync recordings with Dropbox and Google Drive accounts.
Use this tweak not only to record voice memos, and iPhone calls but also any sound coming from your device. Share multiple recordings in one ZIP package, send the MP3 files via e-mail or Messenger, or save speaker and microphone audio as separate audio channels.
AudioRecorder XS 5.0 brings support for the latest jailbreaks for iOS 15. Now you can install the audio recorder tweak on Palera1n Jailbreak running on iOS 15 – iOS 16, and the latest version of XinaA15 Jailbreak released for iOS 15.0 – iOS 15.1.1 on A12-A15 devices.
This app has everything that would you expect of an iPhone phone call recording tool. On top of that, AudioRecorder XS offers an audio editor for editing, trimming, fading, muting, and applying various effects to recordings. You can also import audio files from other apps.
What's more, the audio recorder for iOS 14, iOS 15 and iOS 16 offers the ability to set any recording as a ringtone. Share action to set any audio file as a ringtone, system-wide, and also export AudioRecorder recordings to e.g., Voice Memos and vice versa.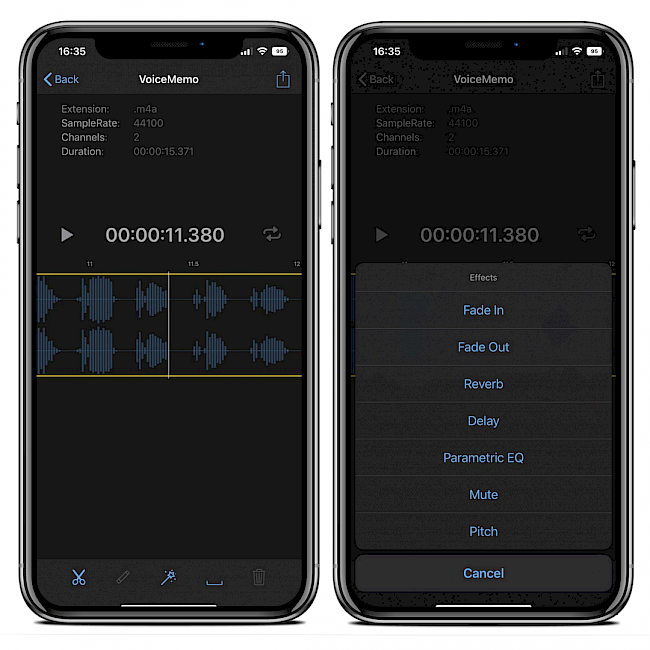 Add Repository
Limneos Repository contains the latest version of the AudioRecorder XS. To install the call recording tweak on your iPhone it's required to add the official Repository to Cydia Sources. The tweak will add a new Home Screen icon and a new preference pane in the Settings app.
Open the Sources tab in the Cydia app.
Tap on Edit → Add buttons and enter https://limneos.net/repo Repo URL.
Search for AudioRecorder XS and install the package.
Respiring your iPhone to apply all changes.
Access the AudioRecorder XS app from the Home Screen.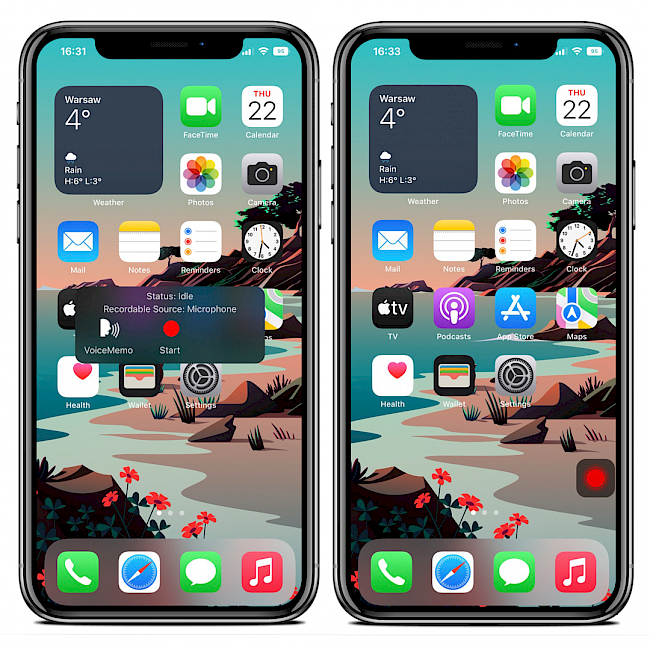 Alternatively, please use the quick links available at the top of this page to add with just one tap the repository to your favorite package manager (Cydia, Sileo, Installer, Zebra).
Info: If you are running iOS 8 – iOS 11.4.1 you can install AudioRecorder 2 tweak that is also released through the Limneos Repository. On iOS 7 and below try AudioRecorder.
What's new
Updated AudioRecorder XS to version 5.0.2.
Support for iOS 15 and iOS 16.
Returned Dropbox synchronization support.
Fixed icons in now playing view at the lock screen.
Fixed a crash issue when compressing multiple recordings.
Removed substrate dependency to overcome a jailbreak crashing issue.
Added option whether to include recordings in iCloud/iTunes backups.
Made storing contact names in filenames the default option.
Added dark mode support.
Fixed inability to delete records when searching.
Fixed a crash issue when playing recordings and switching to a speaker.
Added spectrum analyzer option.
Fixed system audio recording status showing the correct app that started the audio.
Fixed play/pause button missing touches and closing the playing cell.
Post a comment