Appabetical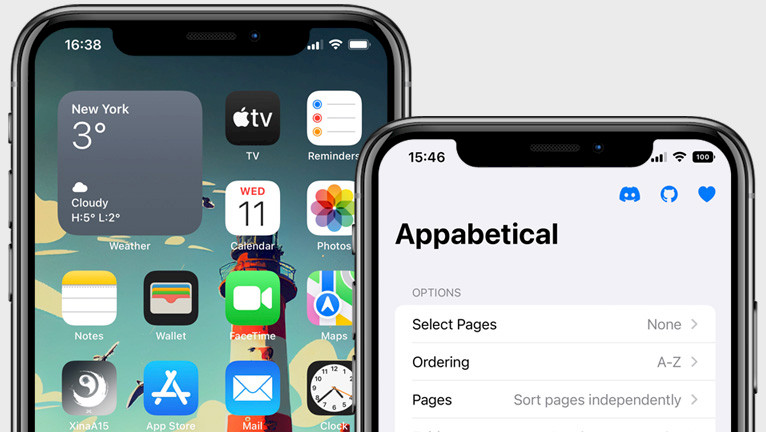 It appears that the concepts for developing TrollStore apps to adjust system settings have been exhausted. Appabetical is one of the remaining tools available for TrollStore that provides you with the ability to sort icons alphabetically on the Home Screen.
What is Appabetical?
Appabetical for TrollStore is a unique and useful application that enables you to organize app icons on the Home Screen in various ways, including alphabetically (A-Z and Z-A) and by color. Icons customized with third-party themes available for TrollTools are also supported.
Once Appabetical IPA is installed with TrollStore, the application icon will be added to the Home Screen. The app was designed with the safety of your device as a top priority. Therefore, the sorting algorithm operates by creating a temporary copy of the relevant system files.
Appabetical only replaces the system file if the validation process described previously returns a positive result, guaranteeing that the integrity of the original file is upheld. In the case that this check fails for any reason, the process is immediately halted, preventing any changes.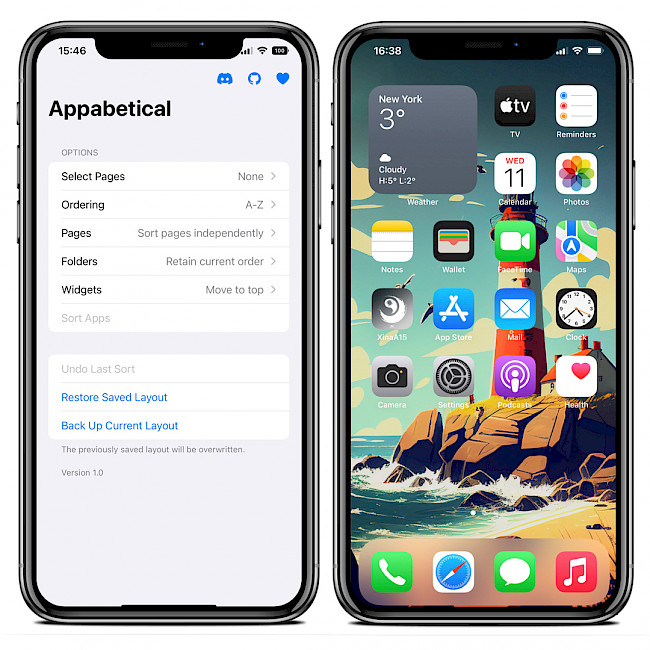 Appabetical configuration panel allows you to customize your sorting preferences, giving you the flexibility to sort all icons across all pages or to sort pages independently. Additionally, it provides the option to sort all the pages together and sort folders separately or mixed in with apps. There is also the ability to back up a Home Screen layout, and undo an accidental sort.
This tool to sort your icon apps on Home Screen by A-Z or color was created by Matthew Anisovich, the mastermind behind TrollTools. The project also involved the expertise of Rory Madden, the developer of CarTube, a YouTube app for CarPlay on all TrollStore devices.
Note: Appabetical version 1.1 includes the MacDirtyCow exploit, enabling the tool to run on all devices with iOS 14 – iOS 16.2 installed without jailbreaking. Therefore, the latest IPA release can be also installed with regular signing tools like AltStore or Sideloadly.
Appabetical was released as an open-source project under GPL License, with the source code released through the GitHub. This allows developers and other interested parties to contribute to the project, submit bug reports, or even fork the project and create their own versions.
The tweak was written in a combination of Swift and Objective-C programming languages. The developer released only one version of the app. As of 22 Dec 2022, the latest version of Appabetical IPA has been updated. With this tool, you can sort app icons automatically.
Download Appabetical IPA
Appabetical was released as an IPA package that can be installed only using the TrollStore IPA Installer on any iPhone device. The app takes the advantage of an iOS exploit allowing it to access and modify not allowed file system files on iOS 14 – iOS 15.4.1 (and some betas).

iOS 14: Install the app with TrollStore.
iOS 15.0 – 15.4.1: Install the app with TrollStore, AltStore​​​​​​​, or Sideloadly.
iOS 15.5 – 16.1.2: Install the app with AltStore or Sideloadly (excludes iOS 15.7.2 & 15.7.3).
iOS 16.2+: Not supported, and never will be.
To install Appabetical IPA on your iOS device using TrollStore app, follow these steps:
Install TrollStore on firmware between iOS 14 up to iOS 15.4.1.
Download Appabetical IPA 1.1.1 and save it on iCloud.

Share the downloaded IPA file with the TrollStore app.
TrollStore will automatically install Alphabetical when the file is loaded.
You can access Appabetical from the Home Screen.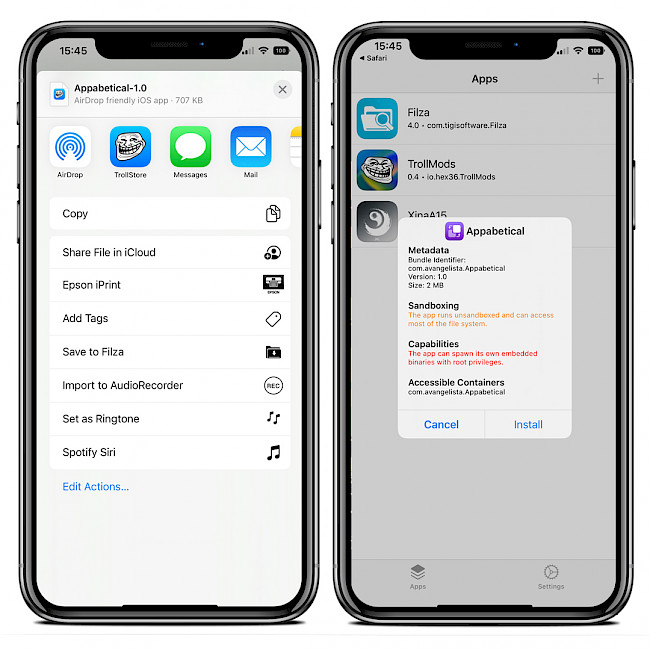 TrollStore compatibility: iOS 14.0 – iOS 15.4.1, iOS 15.5 beta 1 – iOS 15.5 beta 4, iOS 15.6 beta 1 – 15.6 beta 5. No other firmware releases are or will be supported. No support for iOS 15.5, no support for iOS 15.6, and no support for the latest releases of iOS 16.
What's new
Initial release of Appabetical 1.1.1.
Added better respring to support iOS 16.
Added support up to iOS 16.1.2.
Implemented MacDirtyCow exploit.
Post a comment