Aerial 2 tweak: Color Status Bar icons on iOS 13 - iOS 15

qbap |
Cydia Tweaks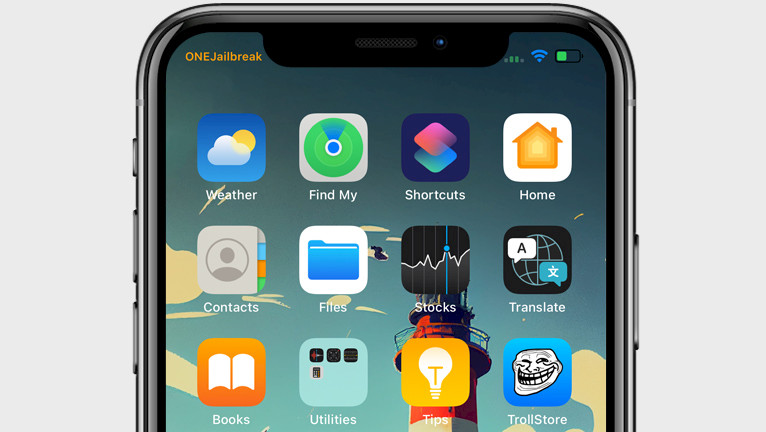 Elevate the visual appeal of iOS 13 – iOS 15.7.2 by installing the Aerial 2 tweak. With this powerful tweak, you can effortlessly customize the colors of your Status Bar icons, creating a unique and eye-catching look for both your Home Screen and Lock Screen.
What is Aerial 2?
Aerial 2 is a powerful tweak that adds a touch of color to all Status Bar icons on your iOS 13 to iOS 15 device, provided that it is jailbroken. Although it is not officially compatible with iOS 15, users have reported that it runs smoothly on devices with XinaA15 and Palera1n Jailbreaks.
Upon installation, Aerial 2 creates a dedicated preference panel within the Settings app. From here, you can conveniently toggle the tweak on or off and customize the colors of over 28 Status Bar icons. Keep in mind, however, that the tweak limits color options to a pre-defined set of just over 10 hues, rather than allowing for free color selection.
With Aerial 2, you can personalize the colors of a wide variety of Status Bar items on iOS 13 to iOS 15. As for colors, you can choose from any of the following pre-defined options: Red, Pink, Purple, Midnight, Blue, Green, Yellow, Orange, Brown, and Grey. Additionally, Black and White are also available to use. And if you prefer no color at all, you can select "None" option.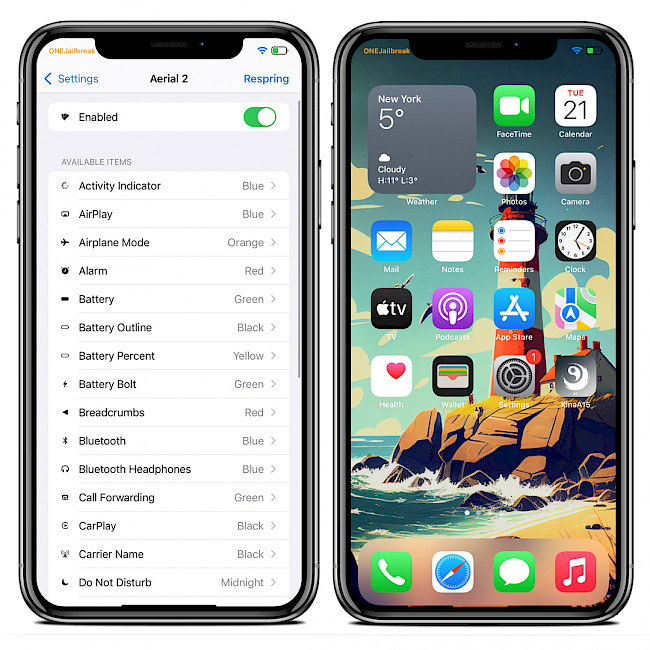 These include icons for Activity Indicator, AirPlay, Airplane Mode, Alarm, Battery, Battery Outline, Battery Percent, Battery Bolt, Breadcrumbs, Bluetooth, Bluetooth Headphones, Call Forwarding, CarPlay, Carrier Name, Do Not Disturb, Headset Battery, Location, Lock, Network Type, Rotation Lock, Service Strength, Siri, Student, Sync, Time, TTY, VPN, and Voice Control.
All changes are applied immediately without the need to respring your device. Aerial 2 is the successor of Aerial tweak offering the same features but for newer devices. Now the tweak works on modern jailbreak giving your Status Bar a pop of color and make it truly your own.
Aerial 2 offers even more customization options when used in tandem with the StatusMagic. The app provides a non-jailbreak solution for status bar customization and is works with iOS 14 to iOS 16.1.2. With the combination of Aerial 2 and StatusMagic, you can personalize the carrier text, clock text, and breadcrumb text, as well as selectively hide any icons in the Status Bar.
Add Repository
Aerial 2 tweak was released as a paid package available for purchase ($1.99) from the Havoc Repository. The tweak allows you to add colors to your icons, resulting in a more vibrant and personalized experience. Notably, both Palera1n and XinaA15 jailbreaks are supported.
To install Aerial 2 tweak for iOS using Sileo, follow those steps:
Open the Sileo app from the Home Screen.
Tap on the Sources tab, then select Edit button.
Add the following repository URL: https://havoc.app/
Search for Aerial 2 and install the package.
Respiring your iPhone to apply all changes.
Access the Aerial 2 tweak from the Settings app.
Alternatively, please use the quick links available below to add the repository to your favorite package manager (Cydia, Sileo, Installer, Zebra) with just one tap.
What's new
Updated Aerial 2 tweak to version 1.0.3.
Added support for iOS 14 and iOS 15.
Overall bug fixes and improvements.
Post a comment